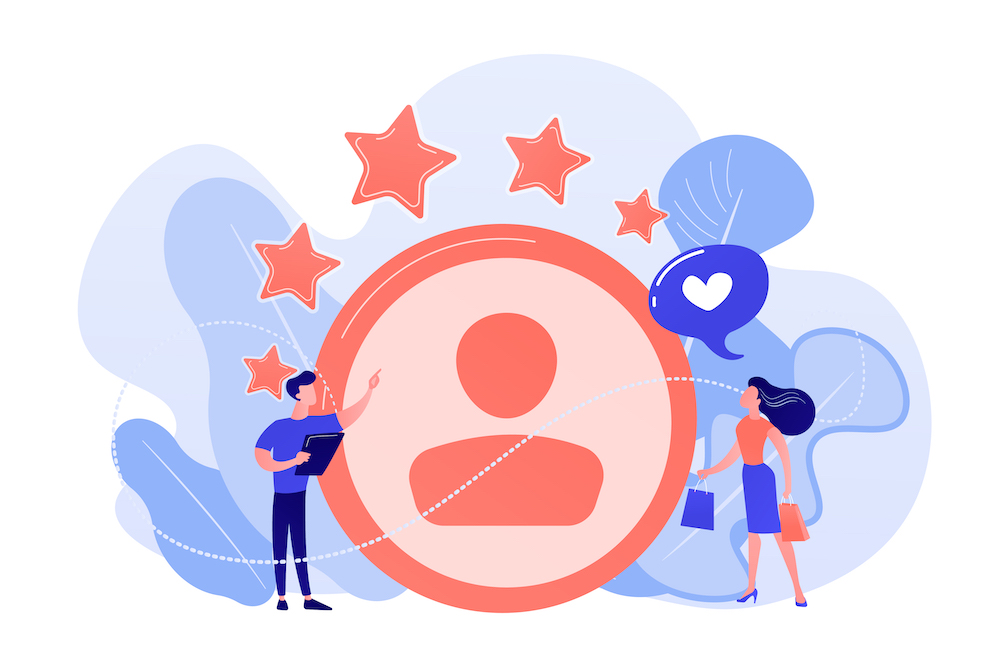 Defining and finding your ideal customer ensures that you can optimally close a sale. As such, the B2B persona framework is a way of characterising your ideal customer, although essential information must still be clarified. It is also essential to gather as much information as possible from the sales team.
Several tools may facilitate this process.
What is a buyer persona?
In inbound marketing, a buyer persona is a company's ideal customer. The buyer persona's profile is determined by multiple criteria and information. A buyer persona represents a panel of people with similar issues and interests. 
The number of buyer personas depends upon one's sector of activity and offered products. In any case, defining one or more buyer personas allows a company to better target its potential clientele and to better adapt its communication strategy.
The key is to be as precise as possible in defining one's ideal customer. A different buyer persona may be defined for each product or service offered.
What are the advantages of defining a B2B buyer persona?
Identifying a buyer persona allows for a company to understand the interests, needs and problems faced by consumers. Pinpointing these key elements enables a better understanding of customers' consumption habits along with the obstacles they may encounter.
With these elements at hand, you have everything you need to come up with the ideal offer, according to the market, your target group and consumer expectations. 
This step is the starting point of any marketing strategy and will allow you to define the ideal "buyer journey". It should thus not be neglected. Knowing the expectations and needs of your customers enables creating the best content and tailoring your strategy to meet their needs.
How should you define your B2B buyer persona?
What essential information should you gather?
The aim is to list all the things to be taken into account to best address each of your potential customer's issues, needs and objectives. Amongst others, here is what should be collected: 
Their professional situation: studies, position, decision maker or not, responsibilities, etc.
Their company's characteristics: sector of activity, offered products and/or services, etc. 
Their objectives: number of prospects, turnover, improvement in customer satisfaction, etc.
Their problems: obstacles to buying, resources, etc.
Their needs: tools needed, expectations of your product, types of content followed, etc.
Their behaviour: communication process, gathering competition information, reporting handling, buying process, etc.
You may either interview your customers or use social media to gather this initial information. Many elements may also be found on the Internet. In addition to a company's website, you may explore corollary information, such as competitors' websites, online market research, forums, etc. 
Filling in information with the sales team
Now that you know what information you need, how should you acquire it? To do so, teamwork is essential.
Your sales team has the most accurate information about the market, customers and prospects, along with their needs and issues. Everyone in close contact with a customer or prospect must be consulted.
As such, all salespeople must be surveyed, along with the after-sales service, the marketing team, etc. Bringing these different visions together allows for a precise definition of the buyer persona.
Gathering your own information
Although this step will most probably be faster than the previous, it is not to be underestimated. Collecting information about your own company is equally essential: sector of activity, definition of your products, way of working, issues, needs, ambitions, etc. 
Gathering all these elements in one place will help you confirm whether you are effectively responding to the created buyer persona's main issues.
Capitalising on data
Gathering and sorting information
Once all the information has been collected, it must be synthesised, sorted, and analysed. This is a painstaking and tedious task. The aim is to gather all elements at your disposal and to highlight the major trends defining your buyer persona. 
To make the task of analysing and centralising information easier, we advise you to use a collaborative table. Each of your collaborators will be able to add information in dedicated spaces; everyone will see in a glance which elements are missing to the elaboration of the perfect buyer persona. 
Updating information
The buyer personas you define are not fixed in time. You must ensure that you continually update collected information, along with the resulting analyses. 
In order to update your definition of buyer personas, keep an eye out for changes in their behaviour and study the results of your inbound strategy over time.
The tools at your disposal
Depending upon your needs, it may be useful to create design-oriented templates, allowing your salespeople to quickly understand what is your company's ideal type of customer. 
To support you, here are several buyer persona templates, with varying degrees of sophistication.
All information is gathered by theme, from which a telling image of the buyer persona is derived, as well as a summary of their ambitions. Graphs are available to assess the maturity of the prospect. A "key goals" section is dedicated to the prospect's behaviour, while the "personality" section highlights the obstacles and optimal points of contact.
For e-commerce, the aim is to determine online buying behaviour, in order to know where and when to position yourself. This model therefore focuses on consumption habits, types of products purchased, average basket and average income. 
The SaaS model, or lead generation model
This buyer persona model is used when you want to generate leads in an inbound marketing context. As such, the target is considered proactive and willing to ask about your offer. 
As targets are more informed, they may also be increasingly distrustful. The buyer persona model therefore includes an "Objections" section that salespeople can use to anticipate all obstacles, get around them and offer content that is adapted to their prospects.
The buyer persona model for companies
This is the buyer persona model that you are most likely to be interested in, as it allows you to qualify prospects and to better organise your B2B solicitation.
With this tool, data collection is focused on the company type, its sector, its growth, its ambitions and objectives, its size, etc. At the same time, data related to collaboration spirit, such as team size or decision-making committee size, are included.
Companies contacting you need your product to solve one of their problems. To this extent, this tool enables identifying personas' behaviour, along with its brakes and values. 
This tool is very collaborative, including an empty space for your sales teams to add notes.
Defining your buyer persona develops a better understanding of your target and allows you to create a strategy better adapted to their needs. It is the first step in implementing your sales strategy. The definition of the buyer persona must be done precisely and collaboratively. Depending on the needs and characteristics of your business, several buyer persona models exist: it is up to you to choose the one that suits you, along with the tool most suited to your needs.
---
FAQ
What are the advantages of defining a buyer persona?
Defining a buyer persona allows you to better understand your customers and prospects, their expectations and needs, and to adapt your sales strategy to them.
What information do you need to collect to define a buyer persona?
You need to collect a lot of personal information about your buyer persona, including information about the company, its needs, its obstacles, its habits, its ambitions, etc.
What tools can be used to define the buyer persona?
Several buyer persona models exist to help you not to forget any element and to better analyse them in order to draw the best strategy. The models depend upon your company and the context.