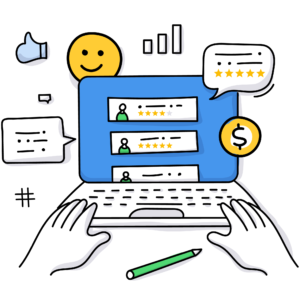 Customer reviews are an integral part of most businesses' online communication strategies.
Not only do they affect your company's presence and visibility, but they also have a strong impact on your prospects' purchasing decisions.
This is why it is important to collect as many as possible, and on a regular basis, in order to constantly feed your different review platforms.
But here's the problem: collecting reviews can be a tedious task, requiring your teams to give up time they could have spent qualifying other leads or closing more sales.
Rest assured, no-code is the solution you need. With it, you will be able to automate your review requests and generate them without wasting time.
Why are customer reviews important?
What is a good customer review?
A customer review is a testimony of the experience of one of your consumers with your product/service. It can therefore be positive or negative, depending on the customer's feelings.
It is often expressed as a comment on social networks, forums, or on specialized websites such as Google My Business. On these websites, a note can also be attributed to your product, generally from 0 to 5.
These reviews are an opportunity for your company to strengthen relationships with its current customers by opening a dialogue with them. But they also are extremely valuable for your potential prospects. When looking to make a purchase or researching the quality of your services, if they are interested in your product, there is a high probability that they will check the reviews of other consumers in order to make their final decision.
How do customer reviews impact lead generation and sales?
When a user is looking to buy a product, one of their first actions will be to search for it on Google. It is important for your product to be easy and quick to find.
The number of reviews, and the quality of these reviews will influence your local SEO and therefore your website's ranking. Google takes into account your customers' reviews to determine your website's ranking on its pages. According to a 2020 Moz study, they come in third place on the podium of elements that impact Google's final decision. Also, the better the ratings, the more specialized platforms such as G2, Capterra or even Google My Business will recommend your product.
Once the user is aware of the different products that are available, they will have to compare them and choose among those that correspond to their criteria.
And for that, they will have a look through customer reviews!
If 89% of people globally, consult customer reviews before purchasing a product, it is not without reason. Consumers trust other consumers who have already tested the product. This allows them to understand the strengths and weaknesses of the product, but also to be reassured about the quality of the product and their final choice. Thanks to these comments, the user will be able to make their choice easily: and obviously, if your product has higher ratings than your competitors, your sales will be boosted!
Finally, getting reviews is also an important element for the development of your products. Thanks to them, you will be able to understand what works, and what doesn't, and how to optimize.
How do I request reviews?
After understanding the importance that reviews can have for your business, you now need to understand how to get more of them.
First of all, it is important to be present on specialized platforms such as Google My Business. Note that Google remains the preferred platform for people to consult customer reviews: 81% of them use Google to consult local businesses reviews.
You can also choose to create a profile on Trustpilot, where companies ranging from food to home services are present, or on sites such as Capterra or Appvizer which are specialized in software.
Then, it's time to encourage your users to leave reviews. To do this, you can use different strategies: displaying requests directly on your website, sending SMS or email campaigns to ask for reviews, and many others.
But it should not just be another thing on a salesperson's list. We know how valuable time is for salespeople and it should be focused on sales. That's why we offer you an option to automate your review requests by emails easily thanks to no-code.
---
How can no-code get you more reviews?
What are the advantages of no-code when requesting reviews?
No-code can be a real added value in your review request process. It will allow you will to automate the request for customer reviews. In other words, your sales representatives will be able to concentrate on their sales process in their sales prospecting software, while generating customer reviews with a simple click.
Meanwhile, the generated reviews will contribute to getting more leads without requiring additional effort from your teams.
Which tools do you need to automate review requests?
To set up your notification request automation, three tools are necessary: Zapier: the automation platform we will be using in this guide, noCRM.io and Mailjet.
noCRM.io, the sales tool that will optimize your prospecting process

noCRM.io is a sales prospecting management tool created by salespeople for salespeople. Your teams will be able to use it to optimize their sales process from prospecting to closing.
It includes many features to boost your sales, and tools such as the free sales script generator which will allow your teams to better qualify their prospects.
No need to spend time filling in tons of fields: noCRM.io is intuitive and designed so that your salespeople can really focus on managing their leads.
Mailjet, the emailing solution that will boost customer loyalty

Mailjet is an emailing platform that will optimize your conversion rates. Using its intuitive drag and drop editor, create your own email templates to customize your email campaigns.
Also, the solution allows you to segment your recipients into different lists to better target your prospects and contacts by sending them appropriate emails according to their stage in your sales process.
Thanks to the customization options, the available A/B testing, and the reporting tools, Mailjet will allow you to maximize the performance of your campaigns.
---
How do you get more customer reviews with noCRM and Mailjet?
In this guide, we will show you how to automate your review requests on Google My Business, using noCRM and Mailjet.
Once the process is set up, every time your sales reps close a deal, all they will have to do is to move the lead to the next step in their noCRM sales pipeline, and your email will be automatically sent from Mailjet.
A considerable time saver for your sales representatives!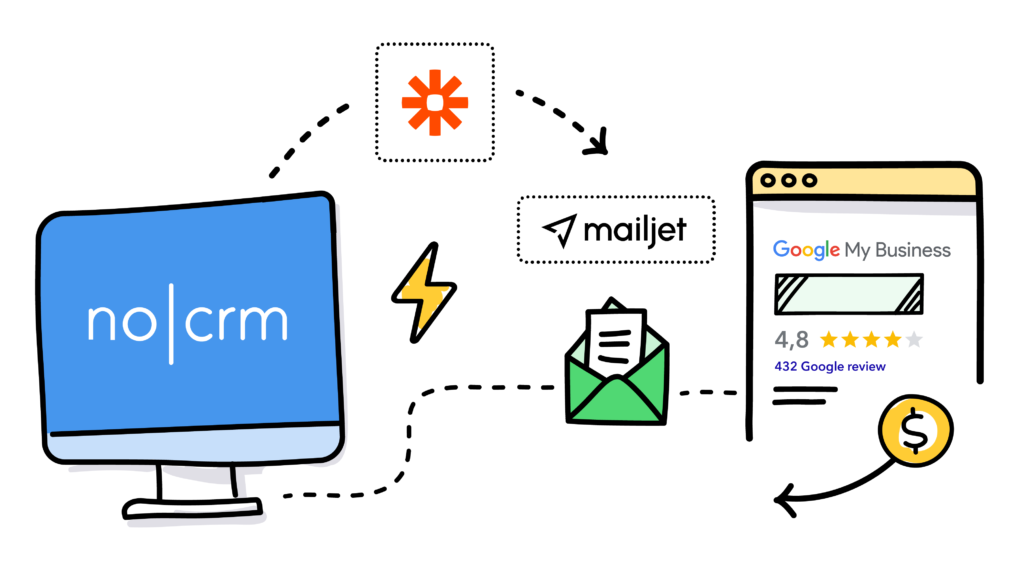 Preparing for the automation process:
Before creating the Zap that will allow you to launch your process, a bit of set-up must be done beforehand:
Go to noCRM.io, and create a pipeline in which the last step of the process is named "Review Request". If you already have a pipeline, you can add a step to it by accessing your admin panel. When one of your salespeople moves a customer into this step, it will trigger the email to be sent for a review request.
In Mailjet, create your review request email template, not forgetting to include a link to Google My Business in a call-to-action. To maximize your conversion rate, don't forget to add personalization fields to your email, such as the customer's first name, or their business name.
Create a dedicated contact list for your customers in Mailjet. Each new customer you want to send a notification request to will be added to this list.
Connect your noCRM account, as well as your Mailjet account, to Zapier.
Creating the automation process:
Click on create a Zap in Zapier. After that, you just need to follow these steps:
In the "Trigger" window that appears, choose noCRM.io as the "Trigger App".
Then "New Lead Step Changed To…" as "Trigger Event". You will then need to fill in the name of the step we created earlier, i.e. "Review Request", or whatever name you chose.
This will allow Zapier to detect when one of your leads is moved into this step of your pipeline.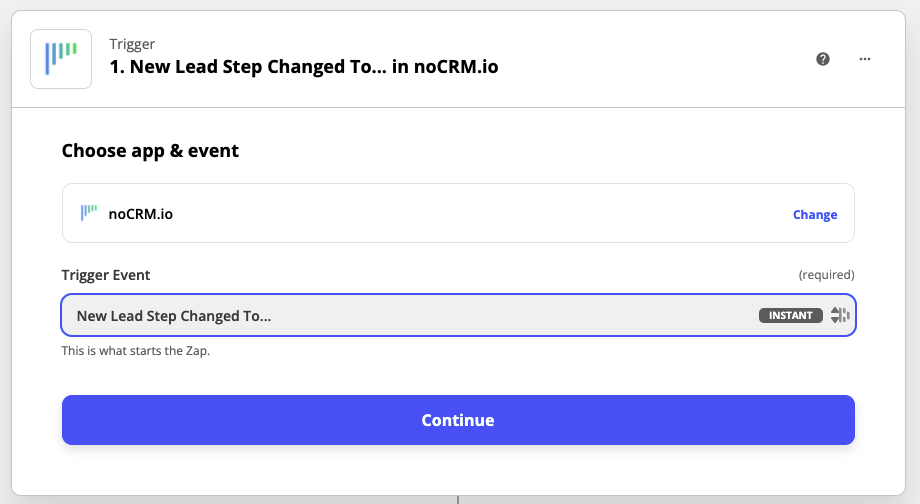 Create an Action by choosing the Mailjet app, and "Subscribe Contact to Mailjet List" as the "Action Event".
Then select the name of the dedicated list you created earlier in the "Contact List" field. In the "Email" part, you will then have to fill in the first step of our Zap, which was used to detect the lead and his email.
This way, each new lead moved into the "Review Request" step of your pipeline will be automatically added to your customer list in Mailjet.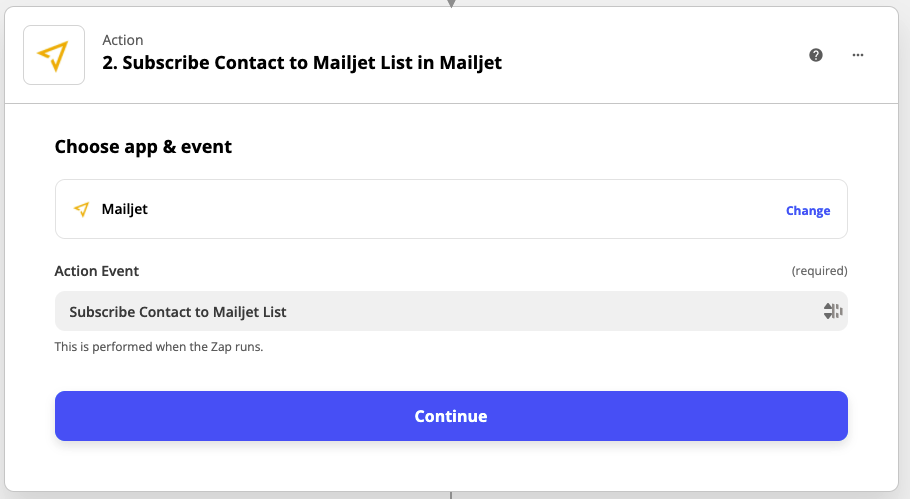 We now come to our last step: create an action and choose the Mailjet app, then "Send Email Using a Mailjet Template" as the "Action Event". After this, you'll just have to select the template you have created for your notification requests and fill in the requested fields in order to configure and customize it.
With this step, the email will be sent as soon as a new contact is added to your list.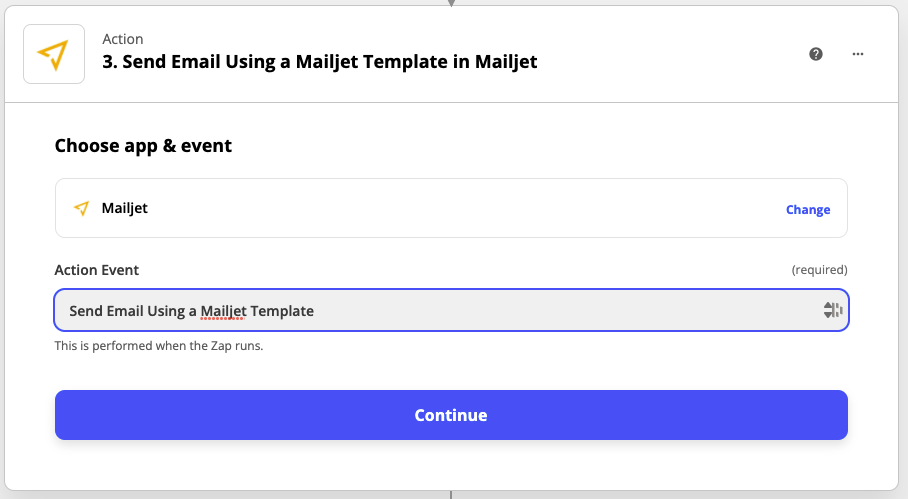 Your review request automation process is now ready! All you and your sales people have to do now, is manage your prospects and leads as you normally do. When a deal is closed, you will simply have to move the lead to the next step as you usually do throughout your sales process in noCRM.io.
This process will allow you to get more customer reviews on Google My Business, meaning more leads, and more sales!
This use case was given to us by our partner Hopweb, which helps small and medium-sized businesses on their web strategy.
Hopweb allows many companies to develop their brand image and improve their visibility on the web thanks to their know-how and the design of visual identities and websites.