Closing leads is essential for your business and results, but despite the satisfaction that salespeople get from it, we've all come across lost sales.
Seeing the glass half full: these lost sales mean that there is room for improvement. But for that, you need to analyze and understand why you are losing leads, so that you can implement the optimizations needed.
To help you with this process, noCRM has just launched its new feature "Tags on closing". Read on to learn more!
Why should you categorize your lost sales?
When you lose a lead, you might go to your sales system, tag the lead as "lost" and move on without asking further questions.
However, there is probably a reason why you are losing deals. Stacking up lost sales without analyzing them, will not do your business any good. You won't know why you are actually losing them and will keep repeating the same mistake over and over again.
So what if you decide you want to analyze them?
It will probably take hours and hours to get through all of those lost leads, to understand why each of them has been lost.
This is why as soon as you set a lead as "lost" in your sales system, you need to be able to categorize it by "lost reason", so that you can have a clear and quick view of the main problem you are encountering.
How can you categorize lost sales with noCRM?
To tackle the problem mentioned above and allow our users to categorize their lost sales, noCRM has just launched its new feature "Tags on closing".
How do "tags on closing" work?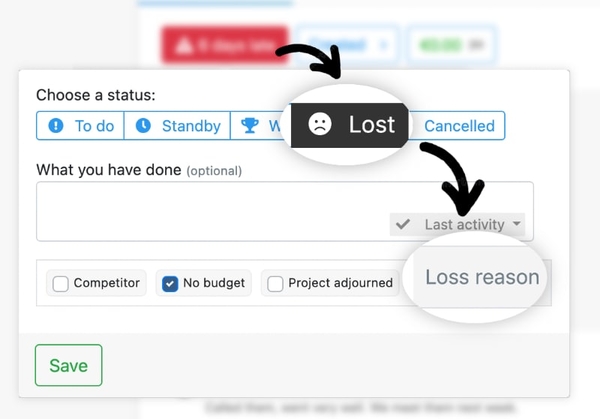 On your noCRM account, when you create a new lead category ("Loss reason" for instance), you can now also define your own customized tags. Learn more on how to do it here.
Once you have set up the new lead category and the tags, whenever you change a lead's status to "lost" or "cancelled", noCRM will suggest you select, in just a click, the reasons for the loss amongst the ones you have set.
You will then be able to access the data of your lost leads and analyze the main loss reasons.
That's it, you now have a clear view of what's not working in your sales process and what you need to improve!