Know the reason why you lose your deals
This article answers the following questions:
Managing leads can bring a satisfying result when you close a new deal, but many of the leads we spend lots of time trying to close end up in nothing.
Knowing the reason WHY you're losing deals is crucial to improve your sales. In fact, if 60% of the deals you lose are because of your price, it's probably time to rethink your price; if it's because they opt for the competition, it's time to analyze what the competition is doing better than you; and so forth.
With noCRM's "tags on closing" system, you can obtain clear data on the reasons people don't do business with your company. Let's see how it works.
How to activate tags on closing?
First, make sure you're using either the Expert or the Dream Team editions of noCRM.
Then, as the admin of your noCRM account, follow these steps:
Go to the Admin panel
Click on "Lead Categories"
Create a new category called "Loss reason" for example
Inside that new category, create the reasons as tags: "too expensive", "no budget", "competition", "project cancelled"...
Once the category and its corresponding tags are created, click on the button "Linked statuses" at the right of the Category's name, and link it at least to 'Cancelled' and 'Lost'.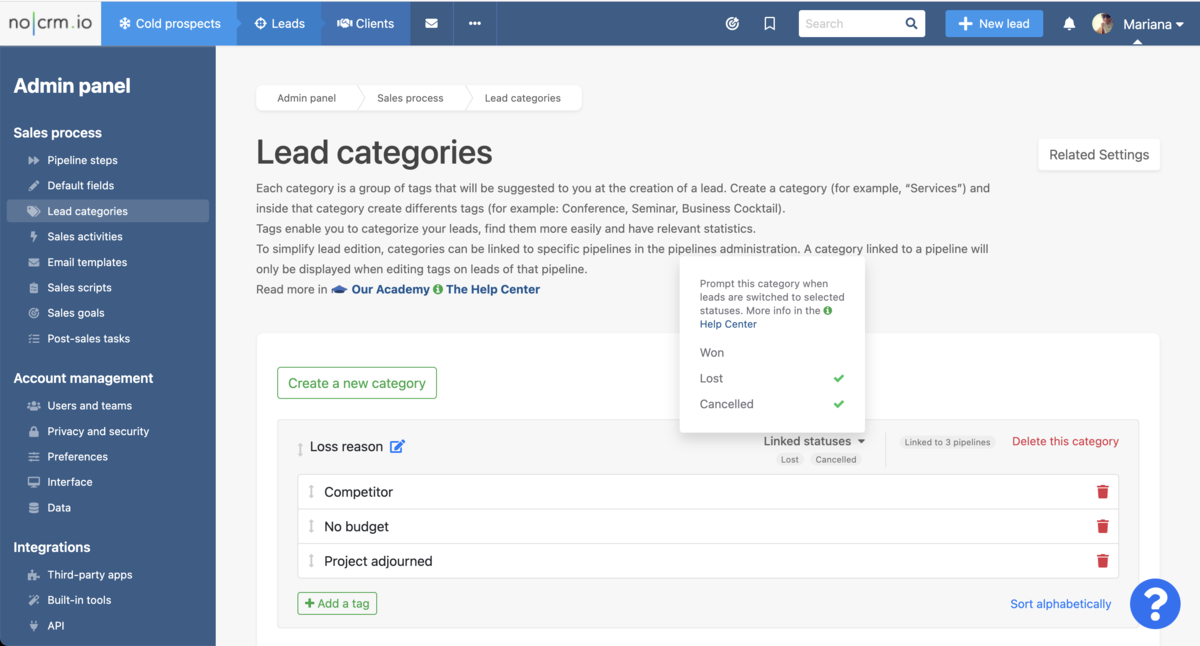 If you have the Dream Team Edition and have linked pipelines to specific categories, make sure to link the new category to all the pipelines!
---
How to use tags on closing?
Once you have done what we explained above, go to your leads page and change the status of a lead to 'Lost' or to 'Cancelled'.
The corresponding tags will be suggested so that you can select the reason why the deal didn't go through.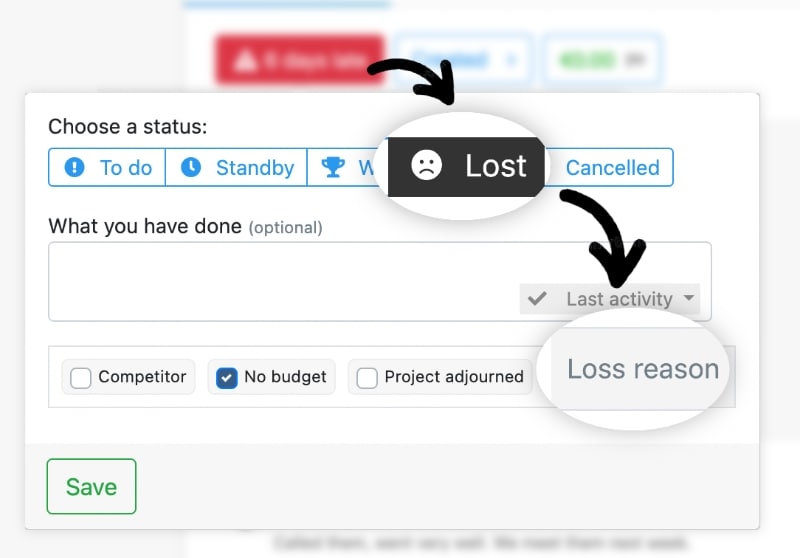 As easy as that!
---
How to analyze the data?
Now that we have seen how to activate and use this feature, let's see how to obtain statistics.
Go to the statistics tab of noCRM and go to Lead performance
At the right, select the corresponding category (Loss reason)
Choose the time frame of your choice
Analyse the data
Improve accordingly