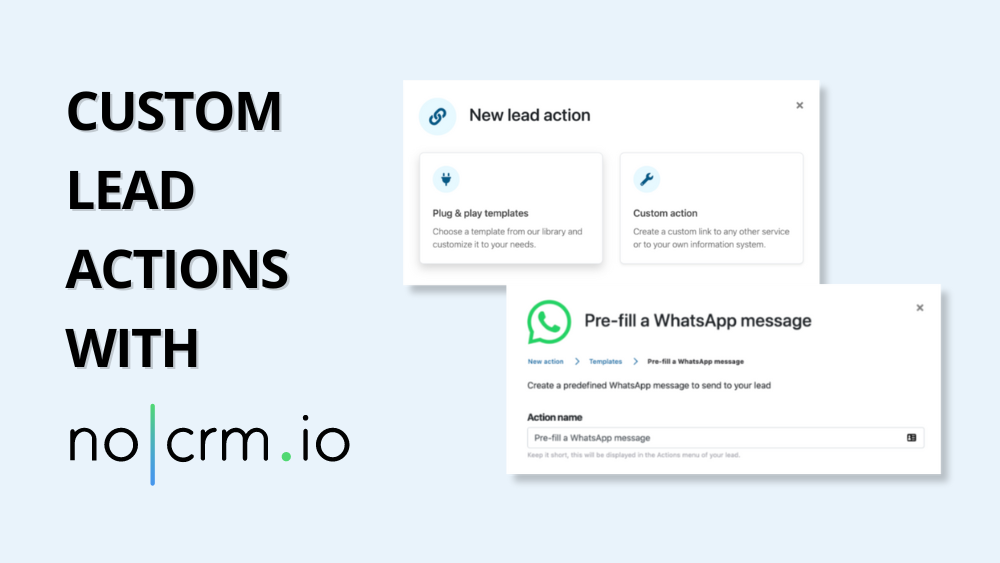 Whether they are working from the office, or in the field, salespeople need different tools to perform different actions.
For instance, you might want to send a pre-filled WhatsApp message to your leads. Or maybe you are working on door-to-door prospecting, and you need to enter various addresses on Google Maps to check the distance between you and your leads and define the ones you'll be visiting today.
Switching between all these different apps, constantly copying and pasting information, or writing messages manually can be time-consuming. This is why it is important to be able to monitor and manage everything from a single tool.
With noCRM you can now create your own custom lead actions allowing you to perform sales actions in just a few clicks across your different other tools: Google Maps, SMS, WhatsApp, social media…
Here's everything you need to know.
What are custom lead actions?
In the lead management software noCRM, you can create custom lead actions. These are actions that allow you to integrate noCRM with external tools, and that once set up, you can quickly access through each lead. You can send them a customized WhatsApp template message for instance, or launch a Google Maps search, and more.
This allows you to align the tool correctly with your sales process requirements and improve efficiency as your salespeople will save a considerable amount of time.
How do noCRM's custom lead actions work?
Custom lead actions sound interesting, right? Here's how to set them up and access them.
How to create your custom lead actions?
Head over to your noCRM account (you will need to be an Admin), and select Admin panel → Integrations → Built-in Tools → Lead Actions Menu.
Once you're on the Lead Actions Menu page, you can start creating a "New action".
You can either use one of our templates or start from scratch to create a new custom action for any external tool that you would like!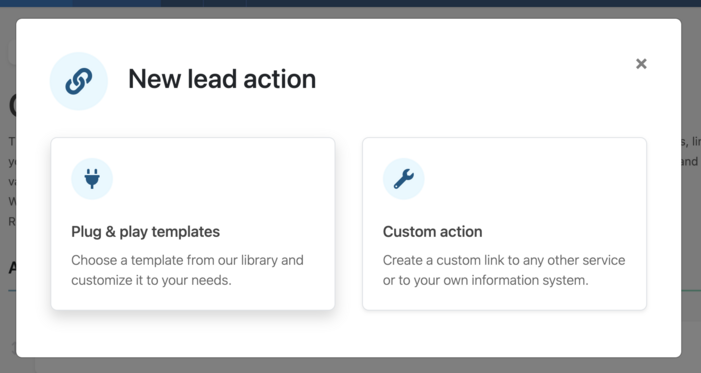 You can learn more about the process to set up custom actions on this page.
How to access your custom lead actions?
Once you have set up your custom lead actions all you'll need to do is access a lead on your account and click on the actions menu. You'll be able to access all the custom actions you created and perform the action you desire in just a few seconds.
Custom lead action templates for WhatsApp, Twitter, and more!
To improve efficiency and get your sales actions across your different platforms ready in no time, we have prepared a few lead actions templates that you can find in your noCRM account:
Google Maps templates: these templates will allow you to access in one click your lead's location as well as calculate the distance between your current location and theirs.
WhatsApp template: communicate with your leads on WhatsApp in no time by automatically pre-filling a WhatsApp message you previously defined.
Twitter template: with this template, you can pre-fill a message for Twitter, and all you'll have to do is use one click to post it.
SMS template: quickly communicate with your leads via text messages.
Lead template: this template pre-fills a new lead that you which to share with another noCRM account.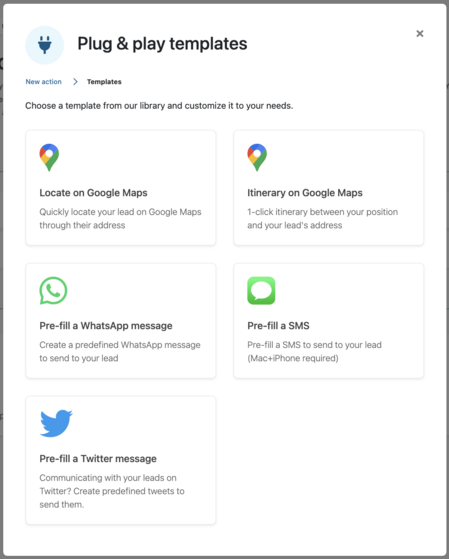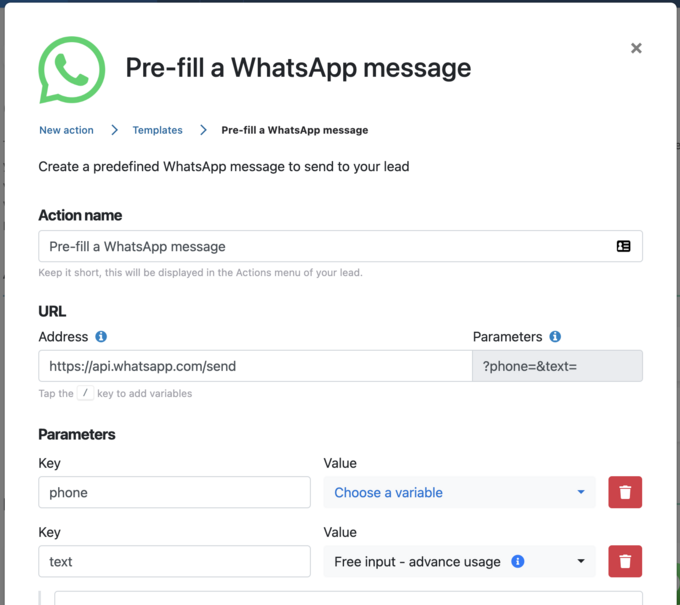 Custom lead actions do not have secrets for you anymore: whether you use one of our templates or decide to create your own custom actions (with endless possibilities!) we have no doubt this feature will enhance your sales team's work and performance.