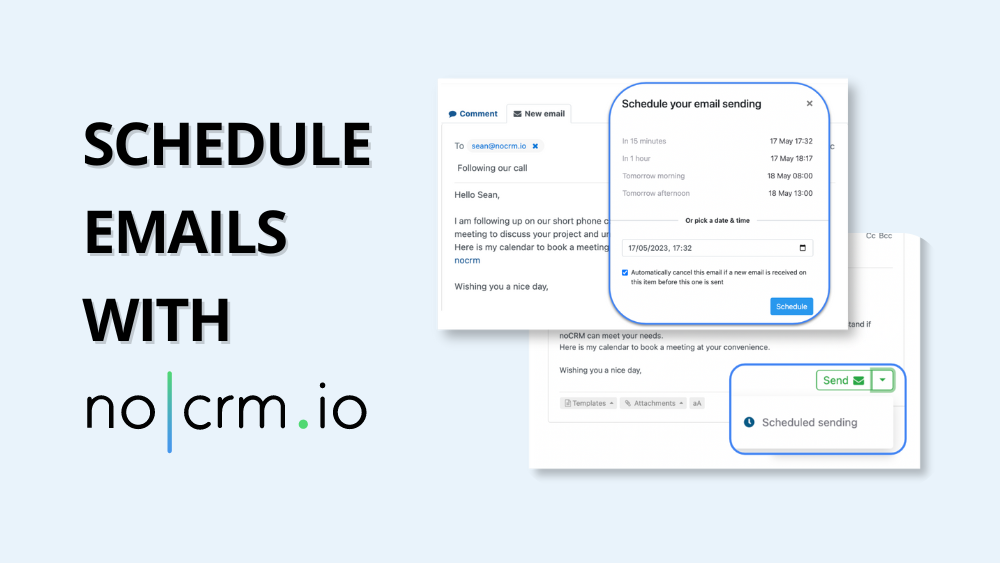 As a salesperson, you know following up on leads is essential to keep its interest and get closer to closing the deal.
However, the task can be tricky: you don't want to send an email right after a meeting for instance, or the lead might think this is just another automated email, and you are not giving him the importance you should. But if you don't send it right away, you increase your chances of forgetting to follow up, and so losing the lead.
Scheduling your emails is the solution to your problems, and with our new feature, you can now do this directly from noCRM.
Why schedule your follow-up emails?
Scheduling emails for sales follow-up offers many benefits:
Allow salespeople to send their follow-up at the right time, ensuring that they stay top of mind and maintain a proactive sales approach.
Help salespeople send more efficient and personalized emails using templates that can be customized with variables (such as the name of the lead for instance).
Allow salespeople to save time by preparing their follow-ups upstream, so they can focus on their current tasks.
By strategically timing and automating your communication, salespeople can enhance their sales process, increase efficiency, and improve engagement.
Schedule emails directly from your lead management software
While many tools specialize in email scheduling nowadays, another problem arises: sales have to switch from one tool to another, often having to copy/ paste information manually.
At noCRM, we wanted to give them the opportunity to focus on managing their leads the right way, while never forgetting an email follow-up, AND without losing any precious time!
This is why, you can now schedule your emails directly from the lead management tool, noCRM.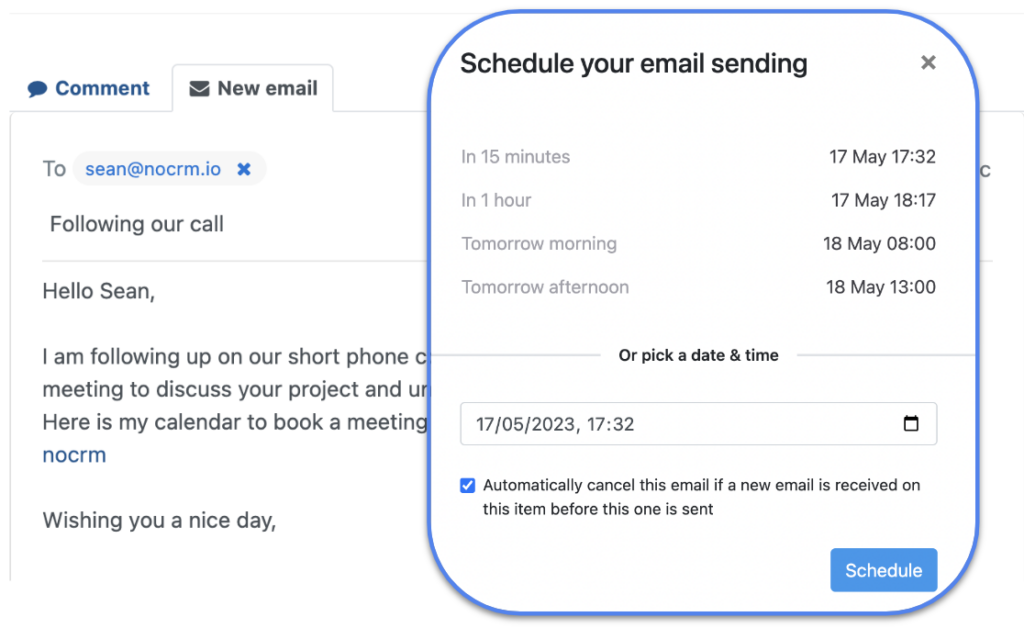 Define the best time to reach your leads with noCRM
So, how can you schedule your follow-up emails, to send them at the right time, with noCRM?
All you have to do, is follow the same process you would to send an email from noCRM, but instead of clicking on "Send" you'll have to click on "Scheduled Sending". As easy as that!
And if you've made a mistake when scheduling your email, you can reschedule it easily whenever you want.
You can follow the steps on this page to learn how to schedule your emails.