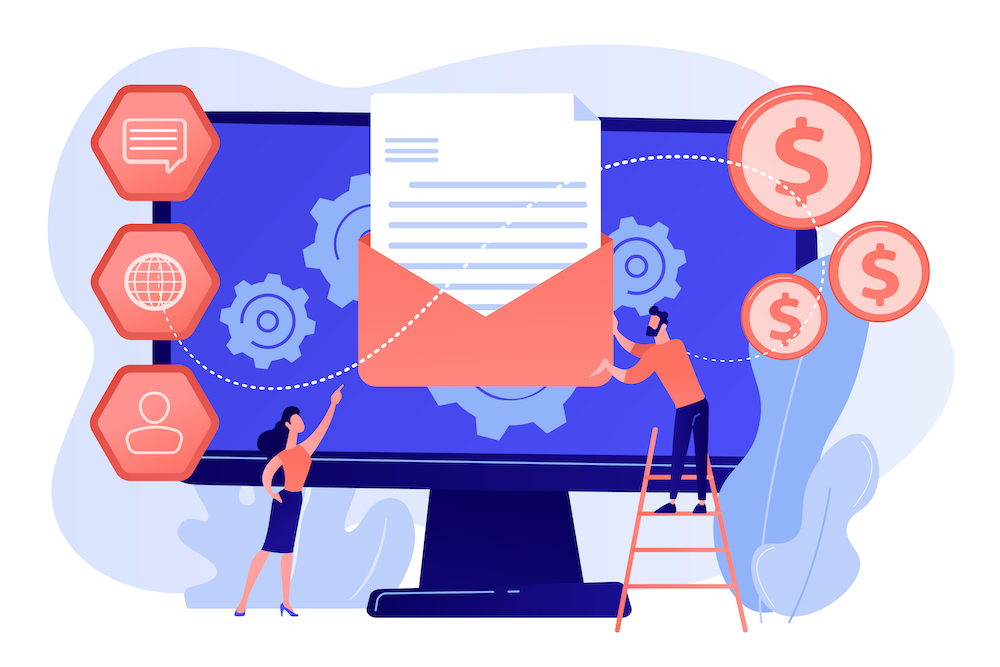 Have you sent out many follow up or prospecting emails and still haven't received any reply? Whether it be your prospect's spam folder, a prospect or their lack of time to read your messages, there may be many reasons for this. Following up is often an essential step in the commercial prospecting process. However, in order to be effective, your follow-up email must be relevant and arouse your prospect's curiosity!
In this article, we've collected five essential tips for writing an effective follow-up email, helping you secure your future deals. Follow our tips today to boost your new business!
How to create impactful email follow-ups for your prospecting process
1 – Foster curiosity with a punchy subject line
We've all been through this. When checking our email inbox, the first thing we read along with the sender's name is the subject line. It is therefore essential that your catchphrase is punchy and arouses curiosity. Your main aim is to make your prospect want to read your email.
Here are the essential tips you should follow to create an attention-grabbing email subject line:
Be clear and concise, by avoiding long and complicated sentences;
Customize the subject line, using your prospect's first name or company name;
Highlight a key advantage, by placing one of your skills in the subject line, depending upon your sector of activity. This may be "increasing web visibility", "finding qualified leads", "managing your time", etc.
Don't be afraid to use figures. This can help you find an impactful catchphrase, such as "Have you heard the 80/20 framework?", "3 minutes of your time to…", or "5 ideas to enable you to…".
Ask an intriguing question, the best way to attract attention and make people want to open an email. A question mark arouses curiosity and may make your prospect want to know more about what you have to offer.
By following these simple but effective tips, you will be placing all odds in your favour. In the event of your prospect actually opening your email, they are on the right path to becoming a great lead!
2- Explain the purpose of your follow-up
Following-up email is a common practice in the context of a prospecting campaign. There may however be various reasons as to why the recipient may have not replied. Consider the following:
Previously sent emails have ended up in their spam folder;
Your prospect's inbox is flooded with emails every day, and your message went through unnoticed;
Your prospect doesn't have much time to answer your emails. In this case, a reminder may prove your interest and arouse their curiosity;
Finally, it remains possible that your first email did not provide enough impactful information. Your follow-up email is thus crucial to put all of your skills forward.
The best way of following up with prospects is to forward your original email with additional notes as a follow-up. First, ask if your contact person is well. Then reiterate your offer's benefits, along with what made you want to reach out to that particular prospect. This will show a clear demonstration of your interest and will always be appreciated.
3- Remind the benefits of your offer
Regardless of your business sector, you are trained and professional, so following up a lead is the perfect opportunity for you to remind them of your proposal's many advantages.
This is the moment to write a quick reminder of what you wrote in your first email, whilst adding other positive arguments. Consider the following:
Reminding them of their needs: lack of Internet visibility, accounting needs, commercial communication, etc.
Providing one or two current client statements to reinforce your credibility (social networks, etc.);
Highlighting your offer's positive results with supporting figures;
Pointing out the unique features of your service that will undoubtedly be beneficial to your prospect.
Briefly put, following up a prospecting email should continue to highlight your skillset, but don't forget to remain clear and concise. Your prospect probably doesn't have time to read lengthy emails.
4- Keep it short and concise
It is crucial that you get straight to the point in a reminder email. Do not be extensive, or you would risk losing your prospect's attention. Your prospect must be able to quickly understand your email. Messages are often read diagonally, so feel free to use bulleted lists, a good way to stay clear and concise.
Pay attention to the following points:
Reading time must be short: if your email is too long, it will be put aside for later, or worse, completely ignored. The message must be short, direct and punchy;
The email should be clear: don't add too much information or your prospect will be lost. Keep it short and to the point. Simplicity is your best ally;
Professional communication: a short email shows you respect your recipient's time, further showcasing your own communication skills.
In a nutshell, a short and concise email is more effective in capturing your recipient's attention and conveying your message both clearly and professionally. There's no need for a big narrative: your keywords are professionalism, time and clarity.
5 – Encourage taking action
The ultimate aim of a follow-up email is to receive a reply. You must do everything you can to encourage your prospect to take action. To do this, you must end your message with a Call-To-Action (CTA). The best way to foster an effective CTA in a prospecting email is simply to finish with a question. You may use the following as an example:
Opt for a closed question: "Are you available for a video call?"
Propose an open question: "Would you prefer a phone or video call?"
Ask if your contact person is handling the requests: "If you are not handling this matter, please advise who I may get in touch with in your department?"
These 5 tips for proposing a relevant follow-up email will help you get through the initial prospecting process, which may sometimes be difficult. To push things even further, here are a few more tips to reach perfection!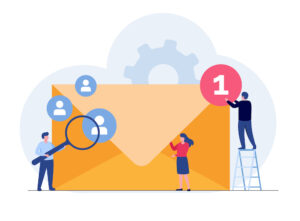 Sample follow-up email
To give you some ideas, here is an example of a follow-up email:
Subject: (Only 3 minutes of your time to discover [your competence])
Dear (first and/or last name, preceded or not by Mr/Mrs),
I hope this email finds you well.
I am writing to follow up my previous email sent on (date), regarding my proposal for (quick reminder).
I acknowledge your time is limited, so here is a quick reminder of my services:
(Highlight their need)
(What you can provide)
(Example of what you have done for your last clients with an actual figure)
(A testimonial statement from a current or past client)
I remain available to answer any questions you may have about my proposal. Would you be available for a quick meeting this week?
Best,
(Signature)
Needless to say, you should personalise this sample email so that it reflects your business. Don't forget to adapt the tone to your different prospect types (individuals, professionals, young workers, retirees, etc.).
It is up to you to adapt the subject line, along with the CTA that suits you best and the corresponding information. Always bear in mind that your email must remain clear, concise and arouse your prospect's curiosity if you want to turn it into a hot lead. This will provide you with higher chances of working with people who are a good fit for your firm.
Use the right tools to prepare your follow-up emails
To make your work easier, noCRM provides you with various features. These features will guide you smoothly through the sometimes difficult exercise of follow-up emails for commercial prospecting.
Indeed, writing an email with the aim of prospecting is an already important job, but not receiving any replies and having to start from scratch may leave you feeling helpless.
As such, here are a few features that should help you move forward:
With these few tips for writing an effective follow-up email, you have everything you need to know to attract your prospects and offer them your professional skills. With these tips, you will increase your chances of getting positive replies. It's now up to you to get your career off the ground and add value to your new clients.
---
FAQ
Why follow up a prospect?
Sometimes a prospect may not have seen your email or may not have taken the time to reply. By reminding your prospect, you show your interest in them.
How many times can you follow up on a prospect?
There is no rule for following up, it all depends on your state of mind and your prospect. Ideally, you can follow up between 3 and 6 times, depending on the first approaches to the prospect.
When can you start sending a follow-up email?
Start on day+10 to give your prospect time to consider their administrative procedures.