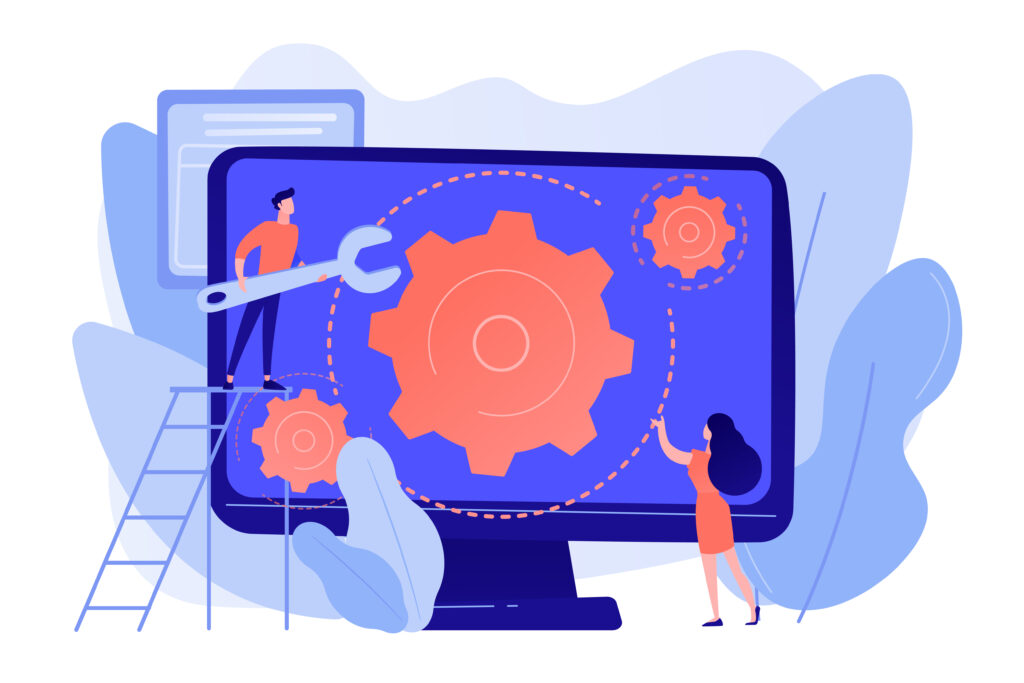 No-code revolutionizes the development approach. It allows anyone, without any coding knowledge, to create an app, a website, or even just connect apps together to automate their work. Speaking of automation, you might have also heard of "sales automation". This consists in using a software, such as a CRM, that will allow you to eliminate repetitive sales tasks so that you can focus even more on closing.
But which CRM, combined with no-code is the best for efficient sales automation?
How are no-code and sales automation linked?
You might have a nice CRM that allows you to automate some tasks, such as automatic reminders.
But you might still need to manually copy/paste your call recordings. Or even switch to your e-mail service tool to follow up on some leads.
And this is where no-code can revolutionize your daily work life.
No-code will allow you to connect the different apps you are using for sales, together, without needing the help of a dev. This means, all your apps and different tasks can be centralized in one tool, offering you dozens and dozens of additional automation possibilities.
Why is a no-code CRM and sales automation important for your sales?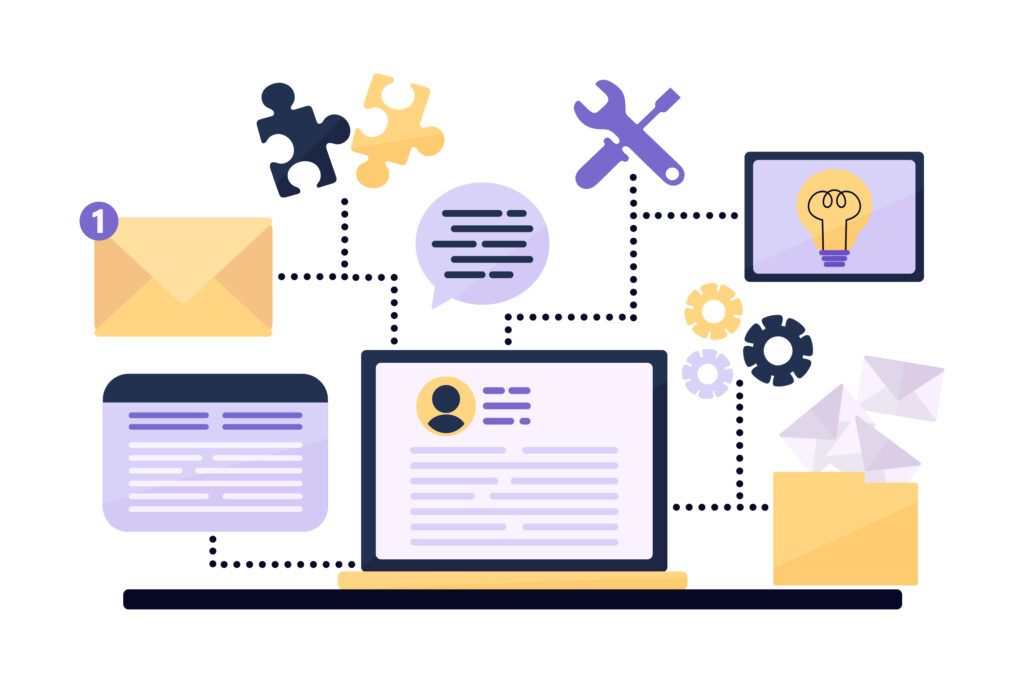 A sales CRM is the central tool for your sales. It allows you to organize your prospecting process and follow up on your leads through your sales process. You and/or your salespeople will probably spend most of your time working on this tool. Therefore, it should provide everything the sales need and make their work as effortless and efficient as possible with sales automation.
As every team and company has its different needs, it can be complicated to find a CRM that will offer every automation and assets you might need. Well, this is no longer a problem with no-code – as stated before, you can now build your own, customized, sales machine. Provided that you choose the right CRM that will allow you to connect your system with all the other tools you are using.
What are the benefits of a no-code CRM?
A no-code CRM is a CRM that will allow connecting to as many apps as possible by using no-code, which provides many benefits for sales teams:
Makes it easier to gather all of your apps in one single place.
Helps salespeople to save time by not having to switch from one tool to another.
Allows your information and data to be synched automatically across the tools without having to manually copy/paste it.
Lets you automate further repetitive tasks (such as sending an email whenever a lead is moved to the next step of your sales process).
Makes the sales process smoother and the daily work life for sales more comfortable.
In a nutshell, a no-code CRM will improve your salespeople's productivity and boost their efficiency by offering them all the right assets they need to focus on selling and closing more sales.
What no-code CRM should you choose for better sales automation?
In order to be able to connect your apps to your CRM, you will need to use an automation platform such as Zapier and Make. These web-based platforms will allow you to set your automation easily. You can find plenty of tutorials on how to do so, in our integration directory.
To understand how these platforms work, you need to know that there are two important elements:
Triggers: it's the element that will start your automation workflow.
Actions: it is what will automatically be done whenever the trigger is pulled.
So for example, you could have "Whenever a new lead is created in your CRM (trigger), send a channel message on Slack (action)."
You can find a tutorial on how to notify your team on Slack when a lead is created right here.
The number of triggers and actions offered by a CRM is very important so that you can be sure to access the automation you and your team will be needing.
no-code capabilities comparison among CRMs: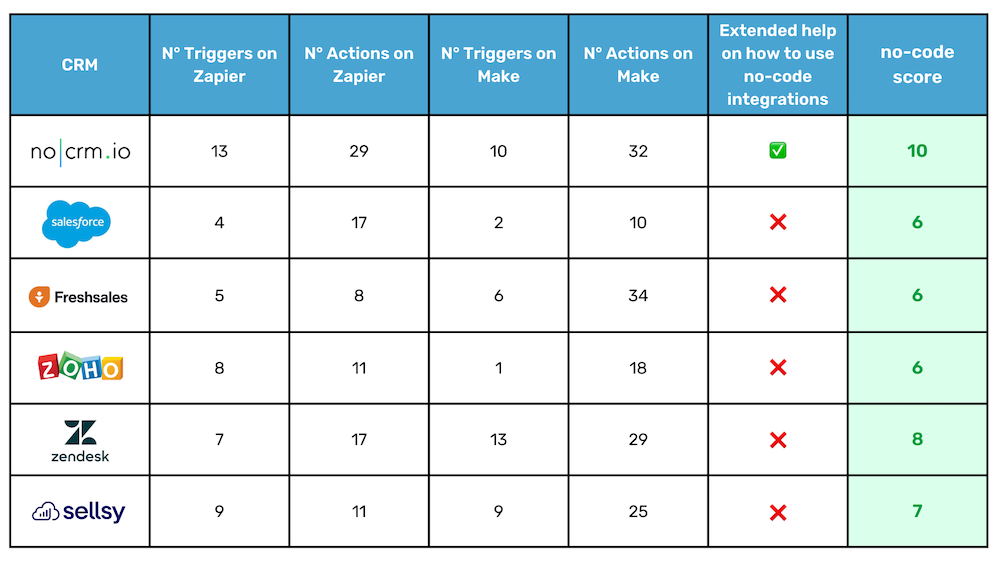 Scoring system: 0-9 triggers/actions = 1pt⎪10-19 triggers/actions = 2 pts⎪20+ triggers/actions = 3 pts
noCRM identifies as a "no-code CRM", offering numerous trigger and action options to expand your automation possibilities.
One of the main purposes of noCRM, is to make salespeople's lives easier while allowing them to focus on what really matters: selling, and selling more.
This is why we keep on working to improve our tool and its integrations: to offer you the best choices for having and building the right sales tool, that takes into account all your needs.
Learn more about noCRM right here.
Bonus: learn how to no-code with noCRM
To further help salespeople create their own optimized sales tool, we have been working on creating our very own no-code academy.
From connecting noCRM to Zapier and Make, to creating your first workflow, we guide you through the process step by step.
Once you are ready to go, you can also access our App Integrations Directory, where you will be able to find plenty of tutorials to connect your sales tools together. This, by explaining and showing you every step with detailed explanations and screenshots.
Here are some of our best no-code tutorials:
Once your desired sales automation is set and ready thanks to your no-code CRM, your sales work quality and results will speak for themselves.
---
FAQ
How do I automate my sales?
To automate your sales you should choose a no-code CRM that you can connect with all the other tools your sales are using (emailing tool, phone system, team communication tool, etc.). This will allow you to automate the repetitive tasks you have to do across your different tools.
Why is sales automation important?
Sales automation is very important because it allows you to automate repetitive tasks and prevent your salespeople from having to switch from one tool to another. With less manual work, your sales process is smoother, and your sales have now more time to focus on selling.
What is a no-code CRM?
A no-code CRM, is a CRM that will offer you all the options you need to connect your apps together without needing a single line of code. This makes your salespeople's work much easier and more efficient.