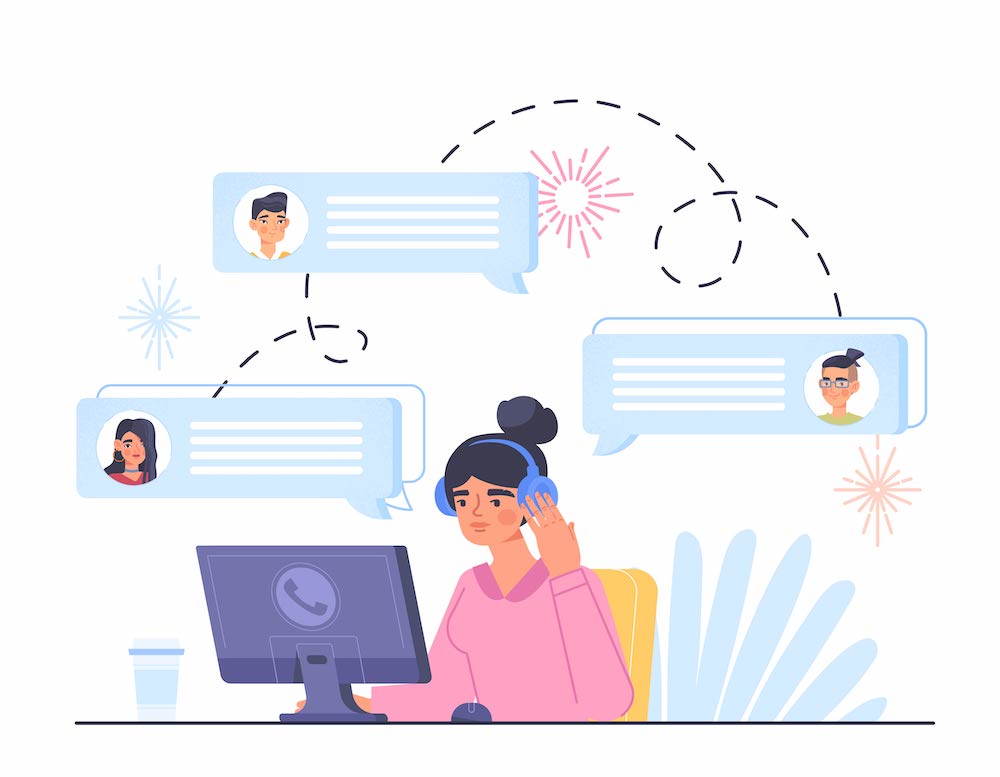 Cold calling for B2B prospecting helps you get new clients efficiently. It can be very time-consuming, so it is essential to know the best ways to get the best results. In this article, we will go through the main things you should know in order to best prospect B2B clients over the phone.
What is B2B prospecting?
Prospecting is a sales method that helps a company develop a database of potential clients who will lead to sales (and thus revenue).
There are multiple types of prospecting, such as sponsored announcements, marketing campaigns, emails. Prospecting is key for all companies who want to make their products known to clients.
Prospecting consists in contacting prospects to push them through the sales process and turn them into clients.
What is phone prospecting/ cold calling?
A B2B phone call is a specific type of prospecting. It consists in identifying, generating, qualifying, and converting leads over the phone. A company's sales teams can thus canvas clients with successive phone calls.
Cold calling for B2B prospecting requires a specific sales pitch and precise know-how.
A cold call can make or break your prospecting strategy. The call is the initial contact with the client, who has not yet shown any interest in the company. In order to generate leads, the salesperson needs to trigger the prospect's interest in the product.
Potential prospects, when they are qualified and their interest has been identified, are "hot leads" or "qualified leads" and need to be "converted". The ultimate goal of the prospecting plan is that the prospect becomes a client, which would lead to a sale.
Why should you use cold calling for B2B prospecting?
Phone prospecting can seem extremely arduous. It takes longer and is more expensive than prospecting online or via email.
It does have many advantages, however:
You can contact prospects directly
B2B phone calls force the prospect to focus on your call – you have their attention! The prospect will be more attentive and likely to understand your proposition, and thus, more likely to buy your product or service.
With phone prospecting, you can build trust between your company and your prospect. Hearing a voice is much more meaningful than receiving a soulless email.
Phone prospecting is very effective
Phone prospecting helps a company focus its efforts on qualified leads.
It's often more effective than sending emails, which are often lost among the tens (or hundreds) of daily emails someone can receive. Email prospecting is often ineffective in getting clients truly interested in a product. 
This is especially the case with B2B email prospecting, where employees have to prioritise certain emails, so are less likely to even open a prospecting email. Also, such emails are often times filtered out by their email software.  
On the other hand, prospecting phone calls let salespeople target the clients who are most likely to be interested in their offer.
Phone prospecting requires a human touch, so it's important that:
Your prospecting list is very well-built. As opposed to email prospecting, you can't waste time with people who won't buy your product.
Your product or service is expensive enough. If you're selling a product worth £100, your phone prospecting won't be profitable.
Phone prospecting lets you adapt your sales pitch according to your client's needs
A phone call lets you target your client's needs based on their company. It's a quick and easy way to understand your prospect's expectations, because you are talking directly to them.
You can immediately understand their problems and respond with the best points. You can also easily address their questions and issues.
The client will be able to better gauge your proposition and understand how your offer is perfectly adapted to their specific situation.
What are the steps in cold calling for B2B prospecting?
There is a specific way to find success in phone prospecting. We have split the process into 4 steps:
1. Define your target prospect
Since a phone call takes time, you should be sure of who you want to call. For that, you need to define your ideal clients based on location, industry sector, the size of their company, etc.
You should only call clients who are able to buy your product and who have shown at least minimum interest in your product.
Nothing is more frustrating for an employee than receiving an unsolicited call from a company who is selling something they absolutely don't need. Your prospect can only be disturbed for a good reason, especially if you are calling them during work hours.
Clearly understanding who your client base is maximises your chances of conversion (and thus of sales), and helps save a lot of time for your sales team.
2. Find B2B prospects and build a phone prospecting document
The second step in successful prospecting is building a prospecting document. To do that, you need to group all potentially interested clients together, and have a clear trace of their contact details (name, surname, company, position, phone number, email address, etc.).
You also need to know how to follow up on each lead, so as to keep track of who was contacted and when, and the results of each call – organisation is the key to success!
There is some lead generation software, such as Kompass, that will help you build your prospecting base.
These tools are especially useful for coordinating the efforts of your sales people and assuring long-term follow-ups on your prospects.
When enriching and refining your prospecting base, you have other potential strategies: using LinkedIn to find new companies, setting up a form on your website to collect personal data on your prospects, or buying specialised databases for a given sector.
3. Prepare your calls with a sales script
Once you've made up your prospecting list, you need to prepare a script beforehand to present your product to your contacts.
Your script must present your offer in a simple and striking way. Your prospect, especially during the first contact, doesn't have much time to listen to you. Don't forget that they are also working!
The script must, before all else, help your salespeople know which questions to ask the prospect and how to conduct the interview effectively. It's important that your salespeople all have a coherent and similar pitch.
You have to briefly present your product, clearly explain how it could be useful for your client, and list the main key points that make your offer a must-have.
A good way to develop an efficient sales script is to use a sales script generator, such as the one offered by noCRM.
This tool lets your salespeople have all the right elements to succeed in their phone prospecting. noCRM offers, for example, questions to ask prospects and support to answer their questions.
Next, you just need to fill out the call information in the right areas and tick some boxes to get a full account of the call. Salespeople can thus focus fully on their conversation with the prospect without being distracted on unnecessary details.
4. Call your prospects with the right tools
To make sure that your salespeople are efficient during their cold calls for B2B prospecting, they need to be using the right tools. Here are the essential tools for working in the right conditions:
A prospecting tool like noCRM. Prospecting tools ensure the prospecting process happens smoothly. With noCRM, salespeople can follow up on multiple prospecting campaigns, and know which prospects have been contacted so as to anticipate the next steps in the process. Phone prospecting needs to be used on a long-term basis in order to be effective. Lead management tools are thus essential to stay organised and coordinate the long-term effort of your sales team.
A phoning tool like RingCentral. Phoning tools can make salespeople's lives much easier and help them save time during prospecting campaigns. RingCentral lets you call prospects anywhere without needing to type phone numbers. The time you save with RingCentral gives you more time to convince prospects!
Now there are no secrets to phone prospecting! If you've followed our advice, your phoning strategy should be fruitful. Remember, however, phone prospecting is long-term work that is effective if you remain patient and organised.
---
Frequently asked questions
Why is phone prospecting effective?
Phone prospecting lets you have direct contact with a client.
When should phone prospecting be used?
Phone prospecting will only be profitable for bigger sales, and if it's used on a long-term basis.
What should I do before starting sales prospecting?
You need to build a sales script beforehand. noCRM offers a sales script generator.