LinkedIn has over 450M members and is the world's largest professional social network connecting B2B companies with potential customers across the globe.
Did you know?
According to IDC's recent Social Buying Study:
75% of B2B buyers use Social Media to make buying decisions.
50% of B2B buyers use LinkedIn as a source for making purchase decisions.
76% of B2B buyers prefer to work with recommendations from their professional network.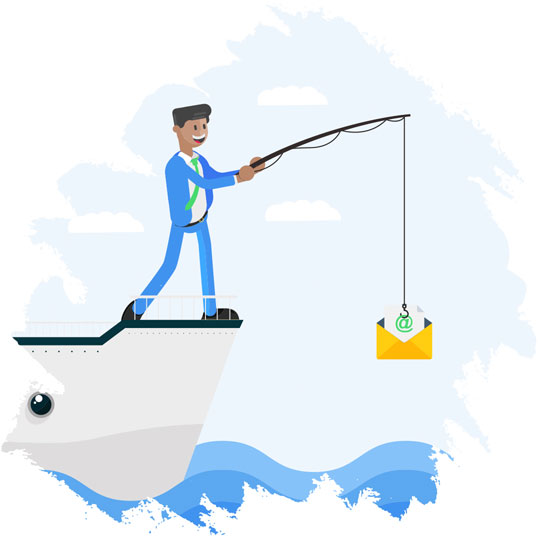 Knowing this, it is important as a sales manager that you take advantage of LinkedIn to prospect, grow your network, and boost your sales.
How to Overcome Prospecting Challenges & Find Sales Leads on LinkedIn
Though LinkedIn has a large network of professional people, it is still quite tricky to get their attention and engage with them. Prospecting correctly and efficiently on LinkedIn will help you reach out to key decision-makers and save you the hassle of dealing with gatekeepers.
There are many tools and solutions to help you with prospecting. The obvious example, LinkedIn Sales Navigator, allows you to build and save lists of target accounts and leads. Another example, Datananas, specializes in sourcing and email finding based on your target buyer.
While these tools and solutions obviously make your prospecting faster and efficient, however, it is first important that you know how to use LinkedIn to your advantage. Here are six proven actionable ways you can one-up your prospecting efforts.
Browse "People Also Viewed"
This appears on the right-hand side when visiting someone's profile. Imagine you visit a few of your best paying customers' profiles, you can find second and third-degree contacts based on your connections that could be potential leads.
Research & Identify Competitor Network
As a salesperson you are always ready with a pitch that differentiates you from your competitor, this can be advantageous especially when you are targeting buyers who are already customers of your competitor. Prospecting your competitor's customers is often easier than prospecting and sourcing from scratch.
In order to do so, you can go to your competitor's company page and view the follower list, in some cases the list is not protected and is searchable. In many cases the list is protected and cannot be accessed, in such a scenario you can search for the company's salespeople, it is likely they are connected with prospects and customers.
Join Relevant LinkedIn Groups
Joining groups means interacting with potential leads and building relationships with like-minded people that may find your product/service useful. Look for groups that match your ideal customer profile.
Customize Your Profile for Sales
As a salesperson, it is important that you have a strong headline that resonates with your target buyer. It should clearly explain what you offer and who you help. A customized profile, with a well-crafted personal bio could also do wonders for you. Tweak your profile for sales, it's always a good idea to have recommendations not just from your employer but also from your happy customers as it could build trust and in some cases shoot up your engagements.
Create a Search Alert
This tip involves quite a long process but it's worth it! Click on the "Jobs" tab, and from a sales point of view, look for positions you're interested in, at what seniority level, in which location, and create a search alert. You'll obviously receive loads of notifications related to it but once the positions you identified are filled in you could go and reach out to them once they update their LinkedIn and are shown on the company's employee page.
Identify and Reach Out to People in New Roles
This information appears in your "Notifications" tab when someone from your network has changed their job or been promoted. You could also rely on notifications when they completed a year at their existing company. Take such opportunities to engage in a conversation. It is possible that someone who is promoted or has started a new job is more likely to shake a few things and prove a point in their new position, therefore are more open to new ideas.
Make LinkedIn Prospecting Easier Using Lead Clipper
The team at noCRM.io understands one thing very well and that is, salespeople want to sell, not spend most of their time filling in customer data. That's why we have created Lead Clipper, an extension within noCRM.io that simplifies the whole process.
Lead Clipper allows you to transform information on a website - and particularly on LinkedIn - into a lead without needing to fill out any details. You can now capture leads on LinkedIn with just a click. Lead Clipper solves the inability to keep track of the lead because it wasn't correctly entered into the system. In some cases, the prospect information is simply jotted down on a post-it note, which often results in no further action taken and eventually losing a prospect. Prospecting lists then fail before they are even given a chance to succeed.
To use it, go to LinkedIn and click on the Lead Clipper when you're on a profile page. The information is then automatically retrieved.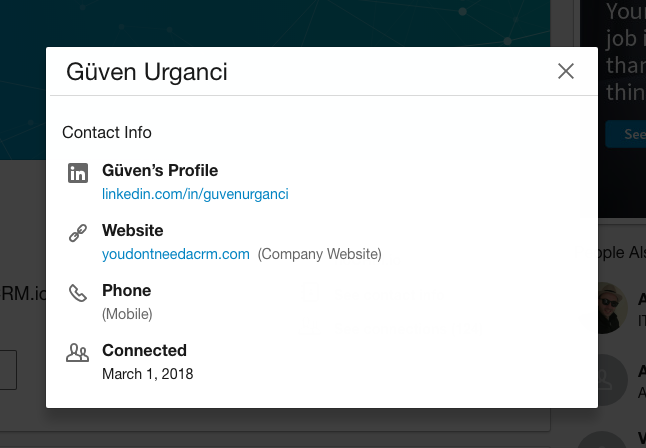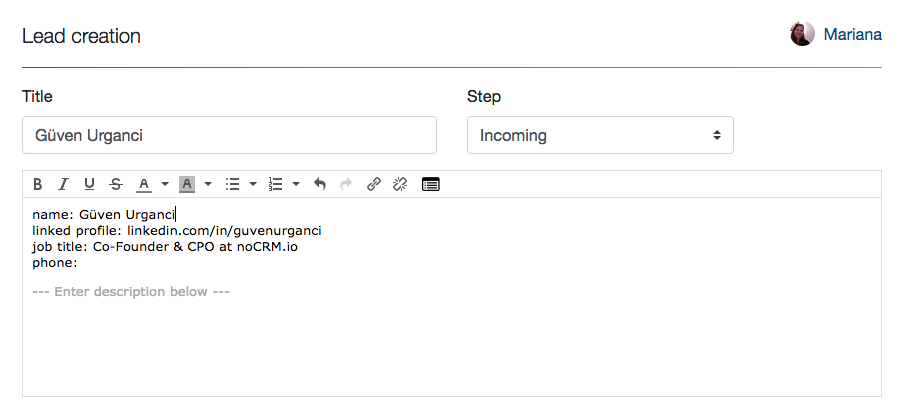 Perhaps you're on a website reading a press article about the company and see important contact details that you would like to capture. Copy the text with the information you want and click on the Lead Clipper. The info is then exported to your prospecting list inside noCRM.io.
Watch this video, to learn how to use Lead Clipper in few steps.
Once a lead is created, the efficiency of noCRM.io comes into play, enabling you to follow the lead throughout your sales steps. It makes sure that you never forget the next action, such as calling the lead, arranging a meeting, or sending a demo of your product or service.
A Software for Salespeople by Salespeople
noCRM.io, is a software designed with a sales focus and keeping in mind salespeople. It simplifies the process of lead management. Right from prospecting, to treating the lead and moving it through the sales funnel until the lead is closed.
Try noCRM.io and start using the Lead Clipper today. It's free for 15 days. Without commitment.
LinkedIn
Prospecting
Lead Capture
LinkedIn Leads
15-day free trial - No contract - No credit card required