How do you prospect efficiently? This question is asked by all entrepreneurs and sales leaders. But it seems there isn't a single method that can be adapted to all types of businesses. In fact, prospecting is mainly linked to the ability to precisely target potential customers and find the right method to attract them.
It's essential to put an effective prospecting strategy in place . Depending on the activity and the size of the company, it can be carried out in very different ways. This includes direct prospecting, prospecting calls, and marketing campaigns. The main objective is to reach a very targeted audience for a high and simplified conversion.

So we decided to dig a little deeper into the subject and break down sales prospecting into 4 stages. As a bonus, we've listed 8 tools to help you prospect effectively. Plus, they'll simplify the sales process for your salespeople, and increase your turnover.
1 – The Art of Targeting: Define Your Target And Tools To Find The Right Contact Databases
Define and Understand Your Buyer Personas
Finding and defining your typical customer profile is an essential step in filling your prospecting lists with hot prospects, who will be interested in what you have to offer them.

To understand the typical profile of your customers, you need to first ask your employees who are in contact with them on a daily basis. These are, for example, your sales representatives or your account managers. You can also conduct interviews with customers to find out the main reasons that led them to test your services/products in order to refine your sales messages.
You can also look into frequently asked questions (support, chatbots, after-sales service, etc.) to understand the main issues and questions leads commonly pose. It is important to know how to explain their challenges and your solution, to identify the psychological levers in order to formulate the added value of your offering.
What's also important is looking into your competitors' messaging and their customers. Know what differentiates you from them and why customers should be looking at you instead.
The typical profile of your target decision maker is defined with their identity (age group, gender, geographic area), their center of interest (social network analysis, "by interest" groups), their motivations or on the contrary, their brakes. Once identified, you can then select and prioritize verticals in order to generate qualified prospecting lists.
Generate a Qualified Prospecting List— noCRM Prospecting List
To generate a prospecting list containing target companies, you can target databases such as the one of the chamber of commerce. You can also add companies that are already in your own database from past marketing campaigns.
The next step is to identify the right contacts in each company. For this, you can use LinkedIn to find your decision-makers.
Tool #1: Email Hunter
Lastly, once the contact is identified, you can use tools such as Hunter Email to find and verify their business email address, as well as phone number.
In the long term, in order to keep the efficiency level up, you will need to update your prospects' database regularly and adjust your target if your KPIs drop. For this, it is imperative to remain attentive to your customers, to the development of your business relationships, and above all, to the changes in the market.
To help you generate those lists, we have picked two solutions that deliver:
Tool #2: Cognism

Cognism is a solution that provides B2B salespeople with quality data on local and global markets.
With its advanced sales intelligence and human verifications, this tool helps you find the right prospects that match your target audience, as well as their verified contact information (emails, phone numbers…). By filling in the advanced filters, salespeople can then access a prospecting list with the right decision makers to reach.
Tool #3: UpLead

UpLead is a solution that offers you access to the right potential customers for your business, in order to increase the effectiveness of your B2B prospecting.
With UpLead you can find prospects that match your target by using advanced search filters, and get their full contact details with real-time data and 95% accuracy. It also allows you to import your existing prospecting lists to provide you with further quality information about your contacts.
Of course, all these databases can be imported into the prospecting lists in noCRM, to be processed efficiently by your sales representatives.
2 – Write Engaging Emails
Use message structures that convert
Approach your contacts with an email first instead of calling them directly.

Typically, for email prospecting to be effective, it must respect certain fundamentals:
The content of your message must be dynamic
People read shorter emails as opposed to longer ones.
Formulate the problem of your target: it is essential to understand your contact's challenges and drivers so that you can write an email that summarizes their pain points and your solution to that
Your email should be tailor-made to the prospect. It's not enough to just change the recipient and company name to "personalize" your message. You can include images/videos, and relevant news to their company.
Build trust by providing your target with use cases and anecdotes of success stories.
Determine the call-to-action: schedule a meeting, read a use case, download a file, invite to an event, etc.
Finish your email by including links to your website, your contact details and an action button inviting the target to your LinkedIn profile, your landing page, etc.
Next, you need to decide when to send them and think about scheduling reminders.
Fortunately, there are a large number of email solutions that put these features at the heart of their business and guide you in developing engaging emails. We have selected two of our favorites for you:
Tool #4: Mailshake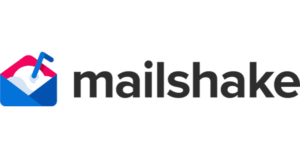 Mailshake meets the needs of companies wishing to use emailing as an efficient and rational prospecting channel. You can personalize and send cold prospecting emails on a large scale by integrating relevant "call-to-action" buttons, to continue interacting with prospects by phone or via social networks.
Tool #5: Quickmail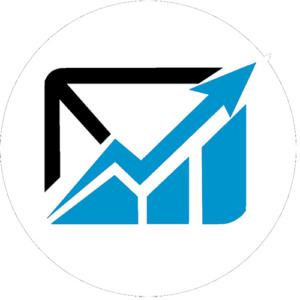 Quickmail is a great tool for creating mass email templates and tracking them. It also allows you to segment the audience and provides you with various performance indicators. The system will also automatically correct typographical errors in your messages.
3 – Prepare Your Prospecting Calls and Identify Their Pain Points
After contacting your prospects by email, the next step is to talk to them on the phone. The first call with your prospect is essential to provide a good impression, establish a relationship of trust and identify their pain points in order to understand which levers will be most effective to win your deal.
However, it is best to go through a mailing campaign first and agree to a call or encourage your contact to book a time slot in your Calendly, or any other online calendar you use.
Once the call has been scheduled, you need to prepare for it. Again, if you want to succeed, you must respect the fundamentals:
Find out some information about the person you are about to call
Call at the right time to avoid disturbing the person (hence the importance of agreeing to a time slot in advance).
Have an entry pitch, which must be short and punchy, to make your prospect wants to know more.
Always smile (because you can feel it on the phone too!).
Listen more, speak less. This will allow you to understand the precise needs of your prospect, choose the right argument, not rush the commercial speech and deal with objections.
Know and master your product/service.
Always end your call with a next step (sending a quote by email, a Zoom demo, a physical meeting, etc.)
During this first call, you must also make sure to collect as much crucial information as possible, and keep it so that you always remember key points.
It is something that is not always simple, since you must listen to your prospect while taking notes, try to understand if they're the decision maker, identify their challenges in order to ask more relevant questions to solve them. All this comes only with practice and experience. That being said, there are methods and tools to help your salespeople in qualifying their prospects.
Tool #6: Sales Script by noCRM
The Sales Script is the latest sales tool by noCRM which allows you to create a sales script from scratch or generate one from existing models. This fully customizable sales script will allow you to list key questions to qualify your prospects and gather the information you need to close the deal. This way, all you can structure your calls in a consistent and uniform manner.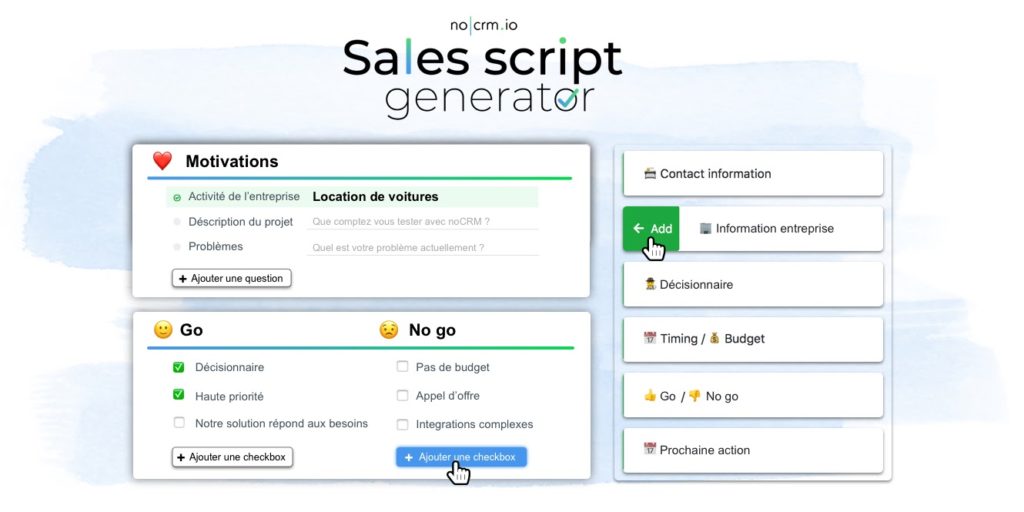 To complete this sales script, it's very simple! Just check the boxes corresponding to the questions you absolutely want to ask. You can also add notes if necessary.

In addition, you have the possibility of timing your calls and scoring them from 1 to 5.

Once you have finished your call, you can add all the information in noCRM or any other CRM solution in one click so you can always have it in front of you for future reference.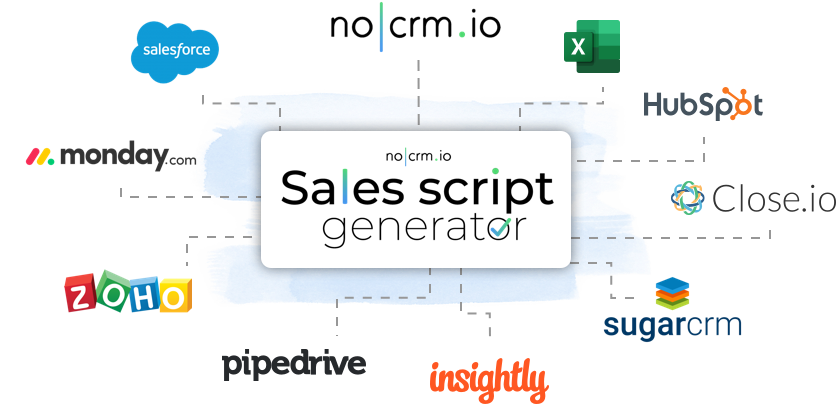 Try the Sales Script: free and unlimited. Forever.
To make your calls, we have also selected two tools that will surprise you:
Tool #7: Ringover

Ringover is a complete and easy-to-implement solution for your prospecting calls. Whether from your computer or your smartphone, Ringover has the advantage of offering you unlimited calls to +110 countries! Perfect for reaching your prospects anywhere in the world, and from any place.
Its user-friendly and easy-to-use interface allows you to work with your team through video conferences, conference calls, or collaborative SMS. You can also track your calls and activity in real-time, as well as those of your team. And to boost your efficiency, Ringover also integrates with many CRMs.
Tool #8: Cloudtalk

Cloudtalk is call tracking software that adapts perfectly to the size and profile of your business. They work in various fields such as medical services, home services, accounting, legal, etc. Cloudtalk gives you access to phone numbers from over 60 countries.
Other cool features include conference calls, the ability to send personalized messages and confirmation notifications from templates. Cloudtalk also allows you to record your calls and integrates with your CRM or noCRM 😉
4 – Take Your Prospect Through Your Sales Process -> Until Closing
Once you have qualified your prospect by following our steps listed above, you will have to follow up on your leads at the right time and with the right information.
To do this, at noCRM, we have created a loop of "To Do – Standby" automatic reminders which allows you to avoid having leads stalling your pipeline without planning a next action. You either have to work on your lead right now, or you will have to carry out a sales activity at a specific time on a predefined day.
To follow this whole process and ensure that your lead goes through all the key stages of your sales process, you can create and manage your own sales pipeline. Once the opportunity is WON, you can take them through a post-sales process to follow up and ensure a smooth handover.