Learn about statuses and defining reminders
Statuses are probably the most important attribute of noCRM to help your team manage their sales process smoothly.
You have:
2 alive statuses: 'To Do' and 'Standby'
3 closed statuses: 'Won', 'Cancelled', 'Lost'
Lead's alive statuses: To Do, Standby
Until a lead is closed, either you have something to do right now ('To do') or you will have something to do at some point ('Standby').
This means that a lead on 'Standby' always has a reminder for a next action. When the time of the reminder comes, the status of the lead changes to 'Todo' and you can find it at the top of your To Do section.
To change a lead's status, click on the colored status button of the lead or use the Actions menu.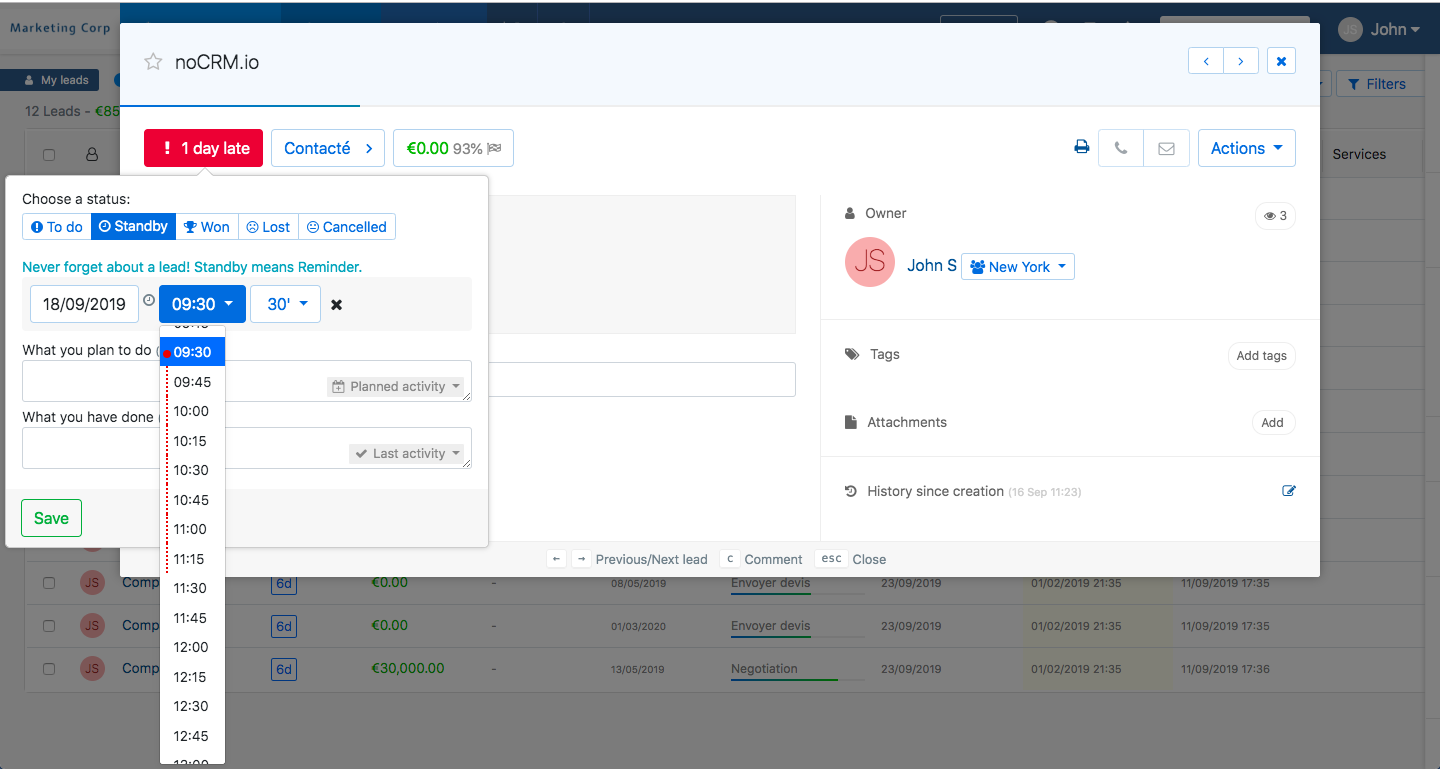 If you set the status to 'Standby' you will have to choose a date for the reminder.
Here is a video to show you how to do this easily:
If you specify a time for the reminder, it will synchronize with your calendar. If you specify a duration for the reminder it will show the exact duration of your reminder so that you don't schedule another call at that exact same time.
---
Lead's closed statuses: Won, Canceled, Lost
For further details about the 3 closing statuses, please read this article in our Sales Academy. If the 'Won' status is quite explicit, the other 2 'Canceled' and 'Lost' statuses don't mean the same thing. 'Lost' means you lost against competition, while 'Canceled' means you did not reach your goal for any other reason. You can also tag the lead with the reason why you didn't close the deal thanks to the tags on closing feature.
---
Edit lead creation and Won dates
When you start off with noCRM, you will probably need to import existing data to the system. In order for your statistics to be correct, if necessary, make sure to edit the creation date of your leads.
How? Easy. Open a lead you've created and click on the 'Edit' button next to the creation date.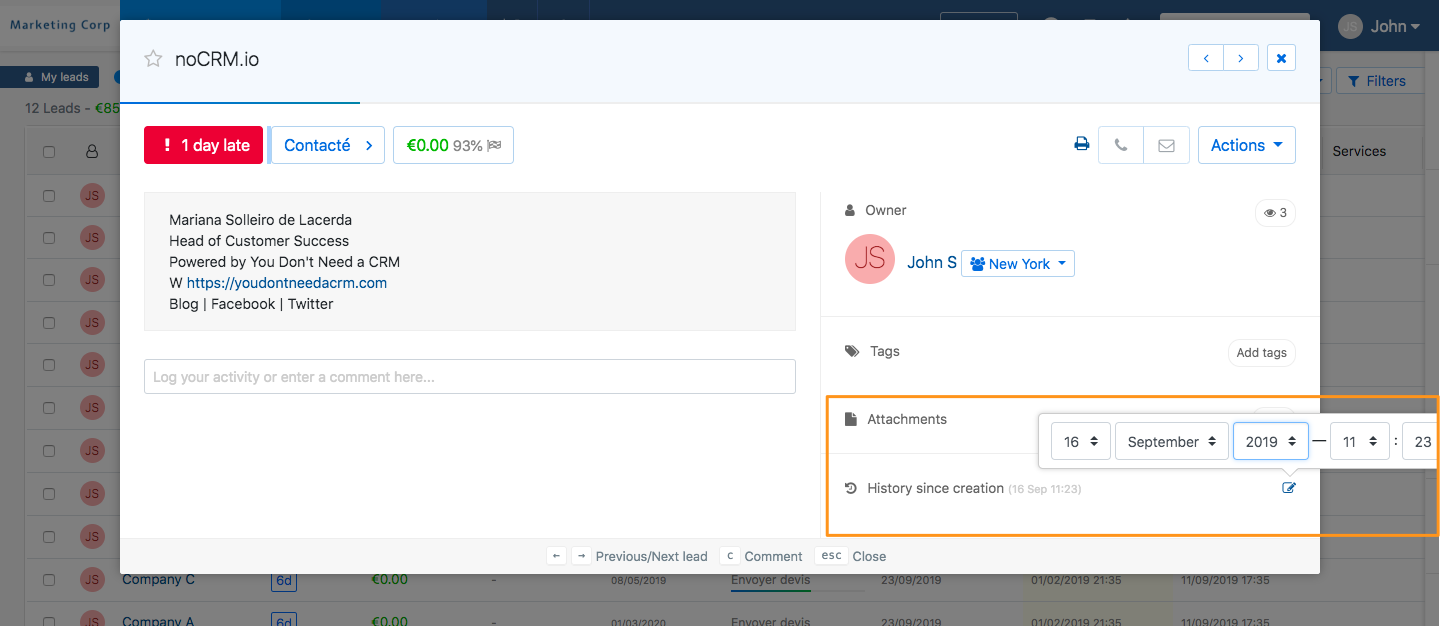 It's possible to edit the 'Won' date of your leads, as long as the lead was created in the system before the date you have won it. To edit the date, go in the 'History since creation' on the right sidebar, and click on the blue pencil icon next to the Won date. If the Won date is before the lead creation's date, first change the creation date.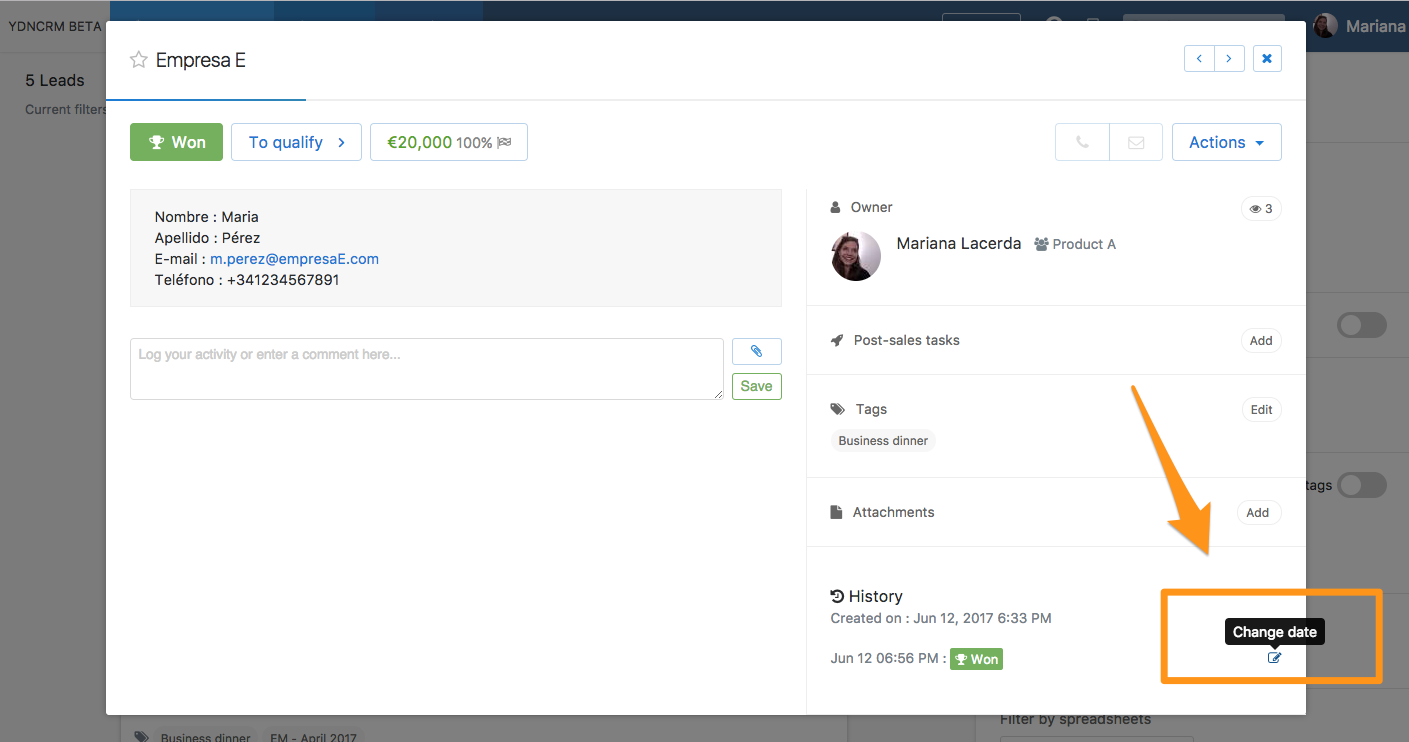 Here is a quick video to illustrate how it's done:
Tip: For both dates, you can use the compact mode to edit them massively.