The life of a salesperson is far from a long, calm river. Identify potential customers, cold calling, process incoming leads, qualify contacts, follow-up on prospects and leads, manage a sales tool … It's easy to feel overwhelmed.
Not to mention that everyone follows their own work methods and uses the tools they like. In short, it's complicated to standardize the work of a sales team, especially when they are formed by different individuals and personalities.
This is the situation noCRM sales people want to avoid. Together, they brainstormed and built a tool for sales people that facilitates and standardizes the qualification of leads: the Sales Script. Since they are a generous bunch, they decided to make it available for free and without any limitation to every sales people out there.
Let us explain further.
The Sales Script: What is it?
The Sales Script is a script that lets you easily qualify a prospect while speaking to them on the phone.
This is a list of predetermined questions for you or your sales team to ask during qualification calls. Just check a few boxes or enter information in text fields, and voila.
By default, you have classic qualification questions blocks to collect information on:
the contact: first name, last name, email, address;
the business: name, address;
the contact's power and the company's overall decision-making process: position, role in the company, involvement in the purchasing process;
their budget;
the timing of their project if they have one.
100% customizable cold calling scripts
The beauty of the Sales Script is that it is fully customizable. You can add as many questions / fields as you want and it'll generate what you need.
In a few seconds, you add check boxes and text fields that correspond to the essential information to gather when speaking to someone on the phone. So whatever your industry or sales cycle, you can tailor the script to your needs and start using a genuine qualifying sales script.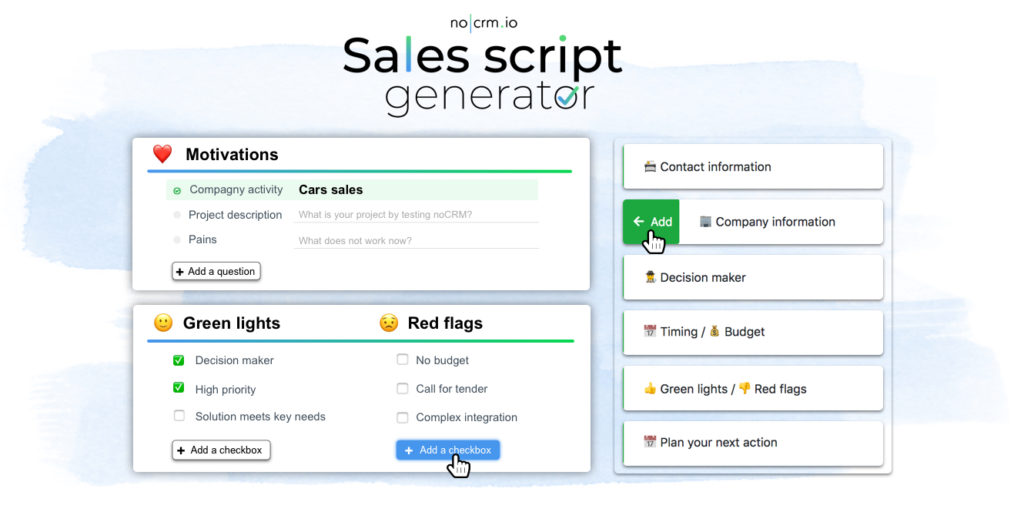 Try the Sales Script: free and unlimited. Forever.
How do we use the Sales Script?
Once finalized, simply save your script and transfer it to your entire sales team.
The process is simple: as soon as a salesperson makes or receives a phone call, they open the Sales Script, tick the right boxes and enter the right information in the text fields.
All your salespeople have the same qualification process. This guarantees homogeneity of the data and the possibility of properly segmenting your contact database.
But that's not all. The Sales Script can be used with any tool you may use in your company!
Integrate with your sales tool
A click is all it takes to copy and paste the information from the Sales Script into your sales prospecting tool.
Every business uses different tools, more or less complex, more or less complete.
Hence the idea of the Sales Script. Whether you use an Excel file, a complex and heavy CRM such as Salesforce or Microsoft Dynamics, or an easy-to-use lead management software like noCRM, the Sales Script can be easily integrated.
Obviously, if you use noCRM you'll get a native integration, but you are completely free to use the software of your choice.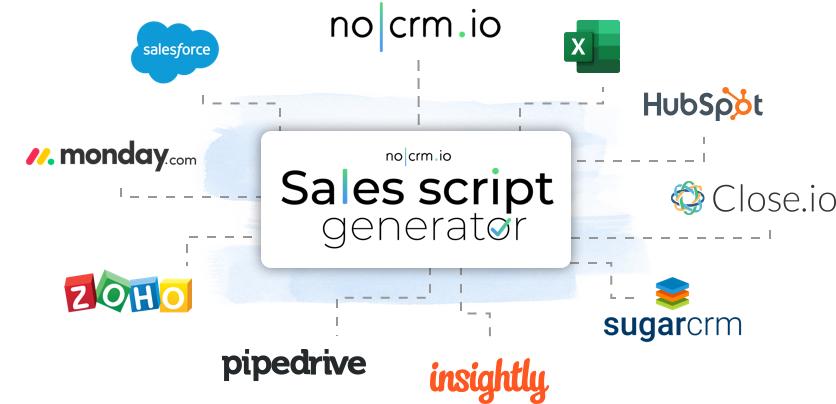 The advantages of the Sales Script for your sales team
Free and unlimited
You can create as many scripts as you like and use them for as long as you need. There is no limitation, no paid option. Everything is free, from day 1 and forever.
It's safe to say that you no longer have an excuse not to try it.
Try the Sales Script Generator: free and unlimited. Forever.
Simplified qualification
The Sales Script collects data in real time during prospecting and qualification calls. To do this, simply check boxes during your prospecting call and fill in a few text fields.
Your notes are clean, usable right away and ready for proper sales follow-up. You can even add reminders for upcoming tasks, which increases your chances of closing new deals.
Centralize the information
You can say goodbye to post-its, to sticky-notes or to cluttered note apps in which you can never find the information you are looking for.
With the Sales Script, your notes are clear and always presented in the same way.
Integrate with your sales tool
In one click, your notes are transferred into your sales tool. You waste less time reporting essential information, your manager no longer needs to run after you, your mind is at peace.
Homogeneous prospecting within the sales team
All sales people in your company follow the same process. This is the guarantee of homogeneous and easily traceable data. It also facilitates the reporting for your team.
Finally, when a new salesperson joins your team, their on-boarding is much faster.
A manager shouldn't say that …
The Sales Script is not going to magically transform your salespeople into wolves of Wall Street. But it will structure their work, make it more homogeneous and effective over time and provide a framework for phone calls that may sometimes be missing.
Our sales people designed it to meet their needs and they use it every day. It is free and without limits. The easiest way to make up your mind is to try it, right?
Try the Sales Script Generator: free and unlimited. Forever.