A sales prospecting plan is created to define concrete sales actions that will enable the company to achieve its business objectives. These actions require regular monitoring to ensure optimum efficiency.
It is therefore essential to set up a simple and intuitive sales prospect tracking dashboard. In this article, we explain the need to build a good prospect tracking dashboard, and how best to do it.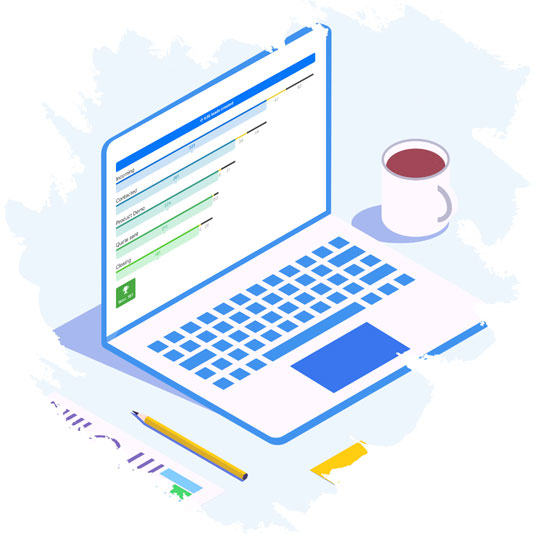 What is a sales prospect tracking dashboard?
The sales prospect tracking plan centralises the information you need to coordinate your sales activities. A tracking dashboard is essential for managing your sales prospecting as it allows you to keep an eye on your goals and/or on the goals set for your sales representatives.
Sales prospect tracking will enable you to easily see the progress of your actions and current opportunities. It will also help you to build on and evolve your strategy depending on your results. Prioritise your hot prospects, turn your opportunities into customers, increase your average order size, etc. After analysing your prospect tracking dashboard, you can prioritise what actions need to be taken to help you achieve the goals set out in the sales prospecting plan.
How do you create a sales prospect tracking dashboard?
The sales prospect tracking dashboard is organised according to your goals and the ambitions of your business, but it must always contain certain essential pieces of information, found in all types of business.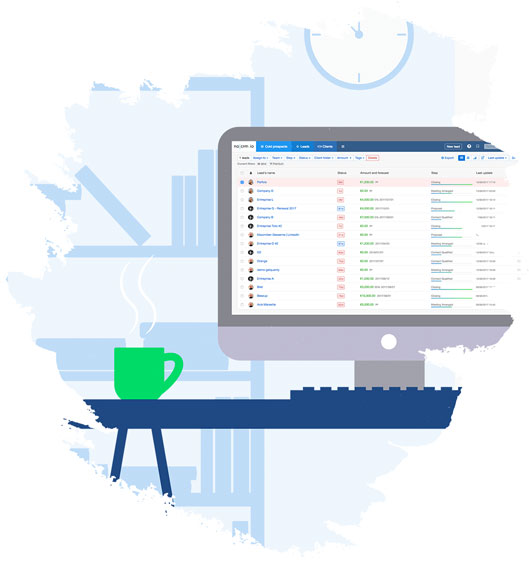 What information should be included in a sales tracking dashboard?
Here is a non-exhaustive list of data to include in your sales prospect tracking dashboard:
The contact information of your prospects and customers
All information allowing you to identify your customer, such as:
the name of the company,
the field of activity,
the first and last name of your contact within the company,
their position,
an e-mail address,
a phone number,
a postal address,
and any other information necessary for your business to properly qualify and identify a prospect, such as: reported turnover, number of employees, etc.
Lead scoring
Use a scoring system to analyse the importance of each lead and prioritise them accordingly. This will help you can optimise your sales actions and focus your efforts more efficiently.
The prospect or customer potential
Is this a hot prospect who is highly likely to become a customer? Is this a customer with strong potential for increasing your business revenue? You should note the potential of your prospects and your customers in your tracking dashboard in order to focus on the most important ones. This potential can, for example, be expressed as a percentage assigned to a prospect to quantify their potential, their interest in what you have to offer and their position in the conversion funnel. In other words: 'Do you think you have a chance of signing a contract with this prospect? If so, how do you rate the likelihood of achieving that goal?' With this information, your sales representatives will be able to give priority to the prospects closest to purchasing.
The source that generated the lead
There are a plethora of channels that can generate a lead: cold calling, e-mailing, online campaigns, social networks, etc. When filling out your sales prospect tracking dashboard, it is essential to note the source through which your prospect was generated.
This will allow you to determine whether the actions you have implemented are proving fruitful and are in line with your target. This information is crucial for effective tracking of your sales prospects as it tells you if the strategy you have chosen is the right one and allows you to change tack if the actions implemented are not successful.
Prospect and customer status
There are three common statuses used for prospects:
Hot prospects: Those that have a well-defined need and who have shown a keen interest in your products and/or services;
Lukewarm prospects: They have shown an interest in your company but have no real short/medium-term needs; or
Cold prospects: Identified during a sales prospecting campaign, they are in the awareness phase, which may later turn into an intention to purchase.
The status of a prospect can evolve as your sales prospecting process advances, and such changes must be noted on your tracking dashboard, so you can see, at a glance, the prospect's interest in what you are offering. This could also be automated depending on certain actions (e.g. interactions with the website, quote requests etc).
The date on which you plan further action
Be clear with your future actions – this is an invaluable time saver and a reminder to coordinate your activities. As a salesperson, it is important to always schedule and plan the next action with your prospects on your tracking dashboard so that they never "go cold".
At the end of each interaction, you need to plan the next action to be taken: follow up by email, make an appointment, attend an appointment, send a contract, etc., noting a specific date and time. This means that every morning you can start your day with a clear view of the tasks to be carried out and you can report on the progress of your actions. Also, with this system, no prospect is forgotten and their prospect tracking dashboards are "clean" and precise.
Comments about your prospect/customer
The purpose of your sales prospect tracking dashboard is to gather all the information you can about your prospects and customers, to guide you to the right commercial actions to bring about a sale.
In addition to all the above, keep a note of any and all comments relating to the prospect/customer and to your previous interactions. Be sure not to neglect the 'comments' section, so that you have a complete tracking dashboard.
There are many online tools to help you in your sales prospecting. One such is noCRM.io, which offers you complete sales prospecting software, easy to use and specially designed for salespeople. With noCRM.io, you get an intuitive prospect tracking dashboard that allows you to monitor your prospecting actions easily, so as to focus on your set goals and adjust your strategy if necessary.
Key performance indicators (KPIs) for sales
When developing your sales prospecting plan, you must set yourself quantifiable and reasoned goals, which can be reviewed as your prospecting progresses. In order to analyse your performance for the tracking of your sales prospection, the indicators you can use are:
Customer Conversion Rate
This is one of the most significant indicators to track your sales actions. It allows you to directly evaluate your strategy and the performance of the sales representatives. The conversion rate can be assessed at two different levels:
the overall conversion rate, which directly compares numbers of contracted customers to the initial prospects;
the conversion rate between each step, to analyse the step-by-step progression from a cold prospect to a lukewarm prospect, then to a hot prospect, and on to the sale.
Cost Per Lead (CPL)
The cost per lead highlights the effectiveness of your sales prospecting actions and of your organisation. A low CPL proves that your strategy is paying off in terms of attracting leads. To calculate this ratio, add up all the costs generated during your sales prospecting and divide this sum by the number of prospects acquired, regardless of their status.
Sales ratio by customer type
In general, it is more difficult to win a new prospect than to maintain relationships and retain your existing customers. Calculating the sales ratio per customer gives you an idea of how your acquisition channels are evolving. A bad sales ratio for your new customers can be improved if you review your sales actions; conversely a decrease in your ratio on existing customers should sound the alarm, and allow you to hunt for the causes and potential solutions.
To supplement this indicator, you can also calculate:
the frequency rate: i.e. the number of orders per unit time; and
the intensity rate: i.e. the amount of orders per unit time.
These two additional indicators allow you to monitor the evolution of your sales to customers by giving you an analysis over time. You will be able to target the ideal moments for each customer and their sector of activity.
Net Promoter Score (NPS)
Use the Net Promoter Score to analyse the quality of your services and gain an insight into your customer satisfaction level. This will let you know whether your customers are promoting your company and recommending your product(s) or services to their peers. This score sheds light on your relationships and helps improve your reputation with players in your operating sector.
There are a whole range of performance indicators. These are the most significant ones to help you assess the success of your B2B sales prospecting plan.
What tools should you use for your prospect tracking dashboard?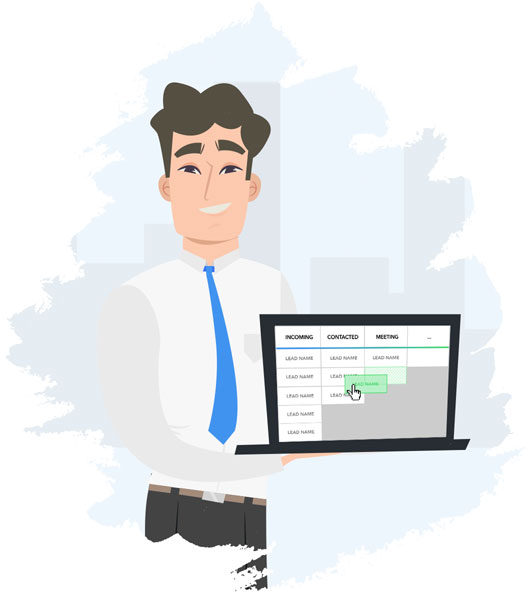 Example of a sales prospect tracking dashboard
Your sales prospect tracking dashboard can be organised in different ways and must be in line with your expectations and goals. To give you an idea, here is an example of a dashboard displaying the efficiency of your sales process, which can easily be set up in noCRM.io: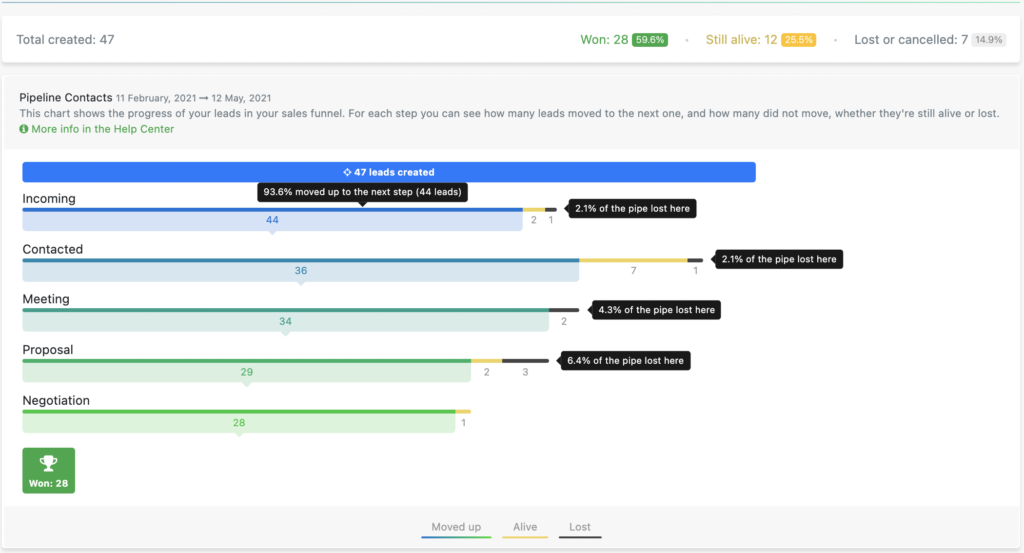 Sales prospecting software
Many software programmes are now available to sales teams to monitor and follow up on sales prospecting. However, sophisticated CRMs are often complicated to use; they are also not designed for salespeople who do not need all their features and lack the technical resources to use them to their full capacity.
noCRM.io has been specifically designed for sales prospecting. It is easy to use and has all the features necessary for effective tracking of sales actions.
Depending on your needs, noCRM.io has three price bands available, and it also offers a free trial, so you can 'try before you buy' the software.
The benefits of prospecting software for tracking your sales activities
Tracking your sales prospecting is key to achieving your sales goal; it confirms whether or not your choice of strategy is judicious, and reveals the effectiveness of your sales actions.
Using sales prospecting software to gather all your data on a simple and intuitive dashboard guarantees both effective and personalised tracking.
At noCRM.io, we provide sales representatives with many tools specifically designed for their needs. From deal creation to data analysis to task planning, noCRM.io can support you throughout your sales prospecting process, and help keep track of your actions. Check out all the software features in detail here.
The sales prospect tracking dashboard is a living, breathing part of your sales process. It must be updated as you go to truly ensure that your prospecting runs smoothly. As an essential tool in evaluating your actions, it will allow you to develop your strategy or validate your choices. Sales prospecting software will save you precious time by automating certain tasks to lighten your load.
How do you Build a Good Sales Prospect Tracking Dashboard? Take a look at our noCRM.io software.
---
FAQ
How do you keep track of prospecting?
To keep track of your prospecting you should have a prospect tracking dashboard that will allow you to visualize your prospect's progress, and your last and next action to perform. Tools such as prospecting software can help you easily build an efficient prospect tracking dashboard to close more deals.
What information should be in a prospect tracking dashboard?
You should include your prospects' contact information, a lead scoring system, the prospects' potential, the source that generated the prospect, the prospects' status, and the date and next action to perform.