Sales prospecting 101 is the process of developing new business. And the goal of your sales process is to move these prospects through the sales pipeline until they convert to paying customers.
This is why good sales prospecting is so essential to your business. The better you are at finding prospects whose needs and pain points are fulfilled by your product, the more likely you'll be to convert. They become loyal paying customers and less time is wasted on leads that don't go anywhere.
In order to effectively prospect, you need the right tools. These tools:
Help sales reps research companies
Find the right people to reach out to
Provide information about that person
Enable contact
Read on to find out more about sales prospecting and its relevance in your business's day-to-day activity.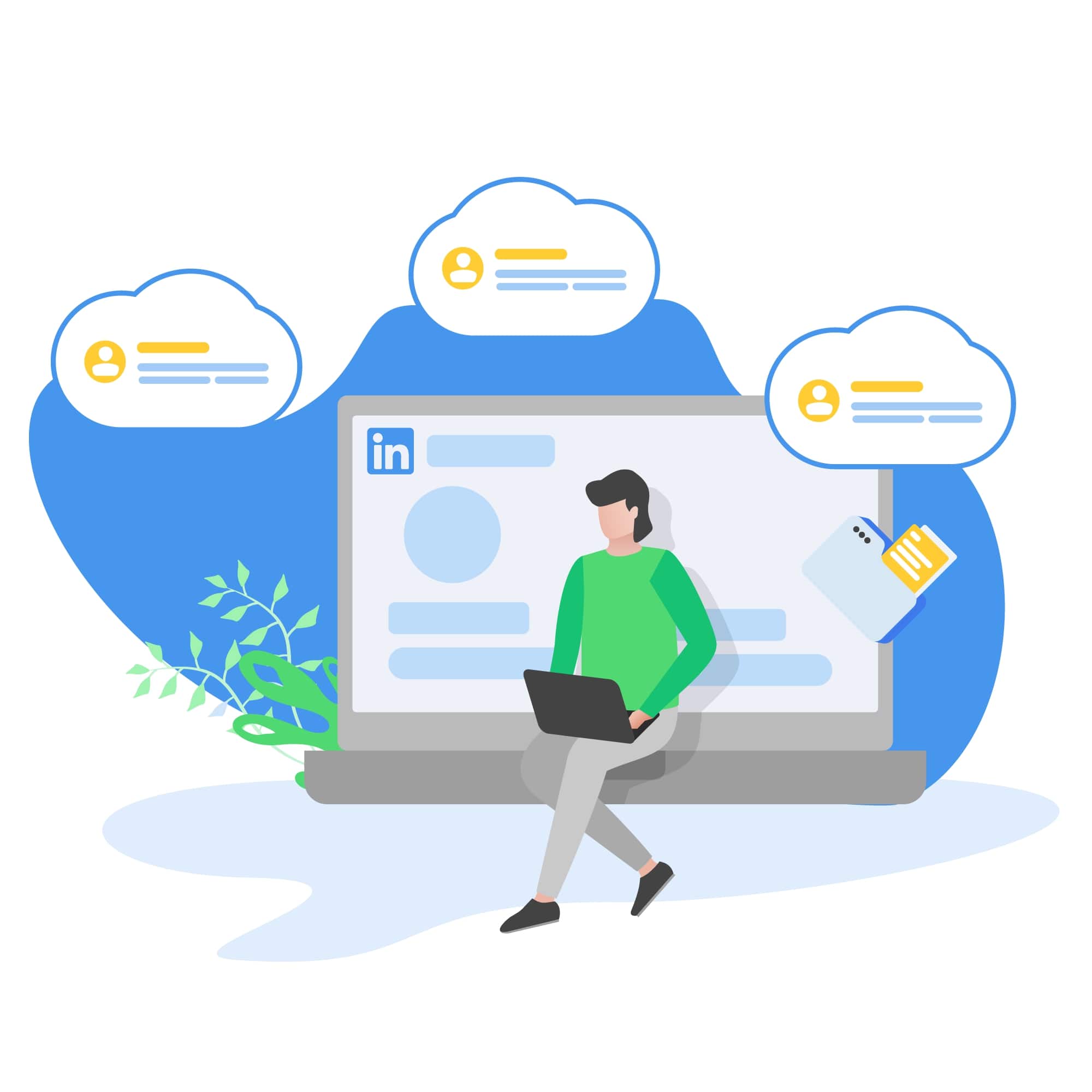 Why is sales prospecting so important?
Sales prospecting is an important part of any sales strategy that provides businesses and sales teams with qualified new leads to sell to. To ensure your sales prospecting effectiveness, prospecting strategies must evolve along with changes in buyer behavior and customer demands.
You must first understand the sales process of your business completely, define it, and then see how people make buying decisions. Once you have your objectives clear in mind, you'll be able to prospect better.
You may ask why is this important? Well, for two key reasons:
1. Keeps sales pipeline growing
As a Sales Manager, you are focused on growing your sales pipeline in a variety of ways. This includes:
The 'Contact Us' form
Phone-in leads on the company's office number
Inquiries coming through chatbots, etc. to capture leads.
The sales pipeline is invaluable to business growth. It explains what has been achieved, what's in process, and who you are targeting. It also holds your team accountable for projections. Without a pipeline, none of this can be achieved. And without documentation of efforts and targets, your business will often find itself having more questions than answers.
2. Helps sales teams be more productive
Having a sales prospecting plan is always a plus, as it enables sales teams to be more productive. Sales reps choose who they reach out to. This means that they can specifically target buyers that your company has deemed pre-qualified. Sales reps can help achieve predictable ROI by creating a steady stream of opportunities for sales managers. These opportunities fill the sales pipeline, which provides valuable fuel for the sales team.
This can be highly effective because it frees sales managers from prospecting their own leads. Instead, they can spend their time selling to sales-ready prospects that have been qualified by sales reps. Getting your team focused on accounts that matter pushes them to make more calls and send more emails, engage with prospects, etc. It motivates sales reps to contact leads that are likely to convert rather than wasting time on cold selling to unsuitable profiles
Effective techniques to improve sales prospecting efforts.
To get your prospecting plan in order, one big piece of the puzzle is effort. You simply must be prepared to put the time in if you're going to see results.
But beyond a bit of good old-fashioned graft, there are several legit techniques you can use to improve prospecting. Find a method that works, stick with it, and a steady stream of leads will follow.
Here are some methods and techniques we've identified for you:
Cold calling
One can say it is probably the oldest trick in the prospecting book because it still works. Having a clear prospecting and cold calling process is essential to increase sales.
It's necessary to make the cold calling about them (the prospect) rather than about you. This makes the prospect feel important, especially because they have no idea what the call is regarding.
Use customized sales scripts – they work like a charm and also give sales reps confidence while on call and prospecting. A sales script also allows you to easily collect all information about the prospect in a single sheet.

Objection Handling – Since the recipient doesn't know anything about the call, be prepared for objections, have counter-arguments ready that are polite.

Call at a Suitable Time – Start your cold call by asking if it is the right time to speak to gauge the comfort of the recipient.
Digital prospecting
Webinars are a perfect place to source prospects because you know the attendees have demonstrated an interest in the topic. This means they know your product or service and are warm prospects. Partner with other organizations in your industry. Host a webinar on a mutually beneficial topic or by yourself, giving a live demo of your product.
After the webinar, send an email of the recorded session with a survey. Place them into nurture campaigns, and stay in touch over the next few months to see if they are ready to make a purchase.
Email outreach
Understanding the best prospecting techniques is part of the battle, but it's also vital that, when you reach out to a prospect for the first time, you do it right, an email outreach is always a good idea.
Make sure your email captures the essence of what you want to tell, this can be conveyed using your subject line. A good subject line can help increase your email open rate. Structure your email by taking the lead to ensure your prospect performs the action of clicking on the CTA. It is a good idea to engage the reader with infographics, pictures, or a video to tell the story, this will keep the prospect engaged, the more time he/she spends on your email, the more likely is it that he/she will click on the CTA.
It is a good practice to do an A/B test on your email outreach campaigns to see which email prospects respond better to and optimize it.
Nurturing / Follow-up on warm prospects
It is very important to keep the prospect in the loop and follow up at each step of the deal. Whether you're confirming the date and time for your next meeting or sending over additional resources he/she had requested or mentioned to you, an email or call always helps sales reps build a relationship with the prospect and establishes trust.
Social selling
It is great to have a social selling strategy and meet prospects wherever they are. It's very likely that most people who've researched your product or service are active on social media, for example., Twitter, LinkedIn, Facebook, etc. Try to spend more time understating their online behaviors. Take a keen interest in what they are following, open a room for discussion, and share content that's relevant to their research. Social selling activities can positively impact your sales.
Network and ask for referrals from existing network of customers
Generating business using your new/ existing customer's connections should be a no brainer. Once you've successfully won new business, ask your new customer if there's anyone in their professional network you might connect with. It's also a good idea to use follow-up communications over the next few months to strengthen your relationship. Attend network events, identify why people are attending a certain conference, who these people could be, if the agenda has topics relevant to your ideal customer, the footfalls the event is expecting and decide if it meets your time and purpose.
How to manage a sales prospecting list
A prospecting list should provide sales representatives with all the basic company and contact information they will need to plan their prospecting activities. It's always a plus if the prospecting list also includes information that enables the sales team to prioritize their activities by concentrating on the prospects most likely to buy.
noCRM vs Excel
Managing your prospecting list on Excel can be a tedious task. To fill the gap between the simplicity of the Excel spreadsheet and the complexity of a CRM, noCRM's lead management software is specifically designed for the needs of salespeople and sales managers including features such as:
User-friendly
Creation of business opportunities in seconds
Integrated prospect tracking spreadsheet
Complete interaction history for each lead
All upcoming actions displayed on a single page
Reminders and calendar sync
Ability to attach documents to each action
In-depth statistics on the sales pipeline, employee, and team performance
noCRM.io is a lead management software designed for salespeople, it does more than just manage prospect lists. In this article, you'll find how to add prospects to your prospecting list, manage and organize them.
Qualifying & prioritizing leads
Cold prospect – definition A cold prospect is a prospect that might fit your ICP (ideal customer profile) but has very little or no awareness of your business and what it has to offer. They're usually reached through cold calling, cold emailing, advertising, or networking.

Warm prospect – definition A warm prospect is a prospect that lands somewhere between cold prospect and hot prospect. They're aware of your business and what it offers and may have shown some interest in your company. But aren't necessarily invested or researched enough to be considered a qualified lead. It is important that you nurture them as they have the potential to become paying customers.

Hot prospect – definition A hot prospect is every sales team's dream. They want your product and are considering buying it. A hot prospect will convert in a very short time and will require very little strategy to convince.

Other ways of analyzing leads (lead engagement, potential business interest, etc) A qualified lead has been deemed to more likely to become a customer than others. There are two types of qualified leads: marketing qualified leads (MQLs) and sales qualified leads (SQLs).

Definitions for MQLs and SQLs vary from one company to another but the overall idea is that it makes the handover between marketing and sales more efficient.

When a lead is generated on the website. It meets X characteristics in terms of (website behaviour and/or demographic) so Marketing deems it fit to be taken up with Sales. Sales then qualify the lead on their side (usually after an initial qualifying call) against other criteria such as (budget/ readiness to buy/ job title, etc). If the lead is qualified it is considered SQL.

This process keeps on repeating and then Marketing will analyze whether their qualified leads are being classed as qualified by Sales. If the majority of the leads are being qualified the process is working. If not, then either the leads coming to the website are not qualified (in which case they need to change the messaging / actions) OR they need to readjust the criteria they are using to define MQLs.
Sales prospecting tools and software
Sales Playbook
A sales playbook goes beyond a series of call scripts and sales sheets. It's the go-to guide for tackling a salespeople's biggest challenges, a roadmap for reducing new hire onboarding time, and the secret to driving big productivity gains in a sales team. Sales playbooks ensure wins aren't random and losses can be traced back to the moment where things went wrong. Done right, the sales playbook empowers salespeople to engage customers at every touchpoint and adapt to any selling situation without skipping a beat. Therefore, it becomes a very important tool to have when prospecting.
Here is a way to structure your sales playbook:
Strategic information about the company: strategy, missions, values, training process, organization charter, etc.

Products & Prices: information on products and their added value for buyers

Commission system: how commission remuneration works in the company

Define the methodology developed for the sales process

Explain the sales process in detail

Identify the personas

Forecasting: how to qualify leads and how to determine your forecast

Lead Management Software: How to use it and update it.

Key performance indicators (KPIs): what are the success indicators that the sales team should focus on?

Time management: how should salespeople organize their time?

Messaging: the pitch, objections and potential questions from customers

Resources: all supporting sales documents such as white papers, product sheets, blog articles…
Pitch/ sales messaging/ objection handling
A great pitch can get you your prospect's undivided attention, thus allowing you sufficient time to push your product offering and sales message. A well-researched pitch can even help sales reps during objection handling while on a call with prospects.
Call script
A well written and executed call script will help your team close more deals. If the sales reps are properly taught the whys and hows behind doing the exercise. The best call scripts follow a path of objectives rather than just a list of words. This could be a handy tool to prospect and qualify your calls.
Sales stack
A sales stack refers to the sales tools and software used by a sales team. Investing in technical solutions can help sales reps accelerate their sales productivity by automating tasks and ensuring they have access to all the information they need.
Prospecting software
Prospectin Easy to use software for sales reps who want to grow their network, build stronger relationships, making prospecting more reliable and efficient.

LinkedIn Sales Navigator For sales managers who want to build a list of ideal customer profiles to target better and more precisely.

noCRM's LeadClipper Lead Clipper allows you to transform information on a website – and particularly on LinkedIn – into a lead without needing to fill out any details. You can now capture leads on LinkedIn with just a click.
Lead management software
Keeping track of your team's prospecting efforts requires the right tool for the job. Deciding which tool to choose will depend on the size of your company and the structure of your sales process.
Excel files, notes, and other manually kept records have long been sufficient for small businesses, however, they are neither time-saving nor scalable solutions if your prospect list increases. An Excel solution is good if you don't have many leads to manage, and it is likely that your business is going to remain small.
Obvious CRM choices like Salesforce, and Microsoft Dynamics, may look attractive too because they're reliable and globally recognized. They make sense if you are a big corporation with lots of verticles and have a large budget to implement such solutions. However, if you're a small and medium-size company, keep in mind it is not only a big financial commitment but also a human investment to train your teams to use these complex solutions regularly.
Rather than spending a fortune on such solutions that will be of little or no use to your sales teams and sales reps, it is more relevant to invest in lead management software to manage your sales prospects.
How to ensure prospecting efforts are working
KPIs to follow It's important to commit to KPIs that can be measured, reviewed, and adjusted as needed. Here are some important ones:
Number of leads created
Number of leads contacted (email/ phone)
Number of follow-ups
Number of meetings
Discovery call/email to meeting rate
Number of demos given
Closing rate
noCRM.io puts your sales prospecting efforts on cruise control
noCRM.io is a lead management software designed for salespeople. But it does more than just manage prospect lists – it helps you sell more.
Recommended by sales managers and sales reps, noCRM.io helps you keep selling easy and simple. The software was designed to make the lives of salespeople easier. Less time wasted on data entry, more time spent on opportunities.
noCRM.io is now available in three different editions, start your free trial today to see how it does what it does with finesse.