---
Leadinfo is a cloud-based lead generation tool that identifies B2B website visitors and a clear, informative dashboard.
Integration Benefits
Integrate the information from Leadinfo into your current sales flow:
✅ Create a website visitor as a new lead in noCRM.
✅ Automatically create a website visitor as a lead in noCRM if it meets your set criteria.
---
If you don't have a Leadinfo account yet, sign up for a free trial here. If you use Leadinfo already but don't have a noCRM.io account, start your free trial today.
⚠️This integration is only available starting at the Expert edition.
Getting Started
Connect your noCRM.io and Leadinfo accounts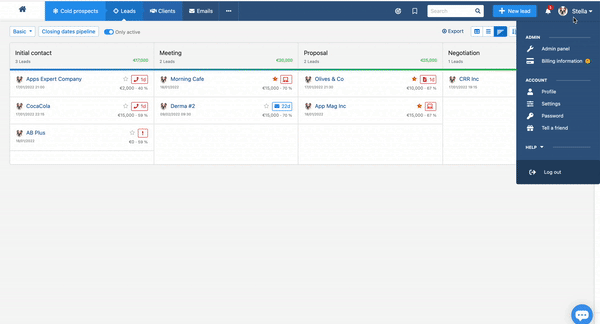 1| Log into noCRM and navigate to Admin panel > Integrations > API > API Keys.
2| Click on "create an API key". Copy the generated token.
3| Go to your Leadinfo account and navigate to Settings.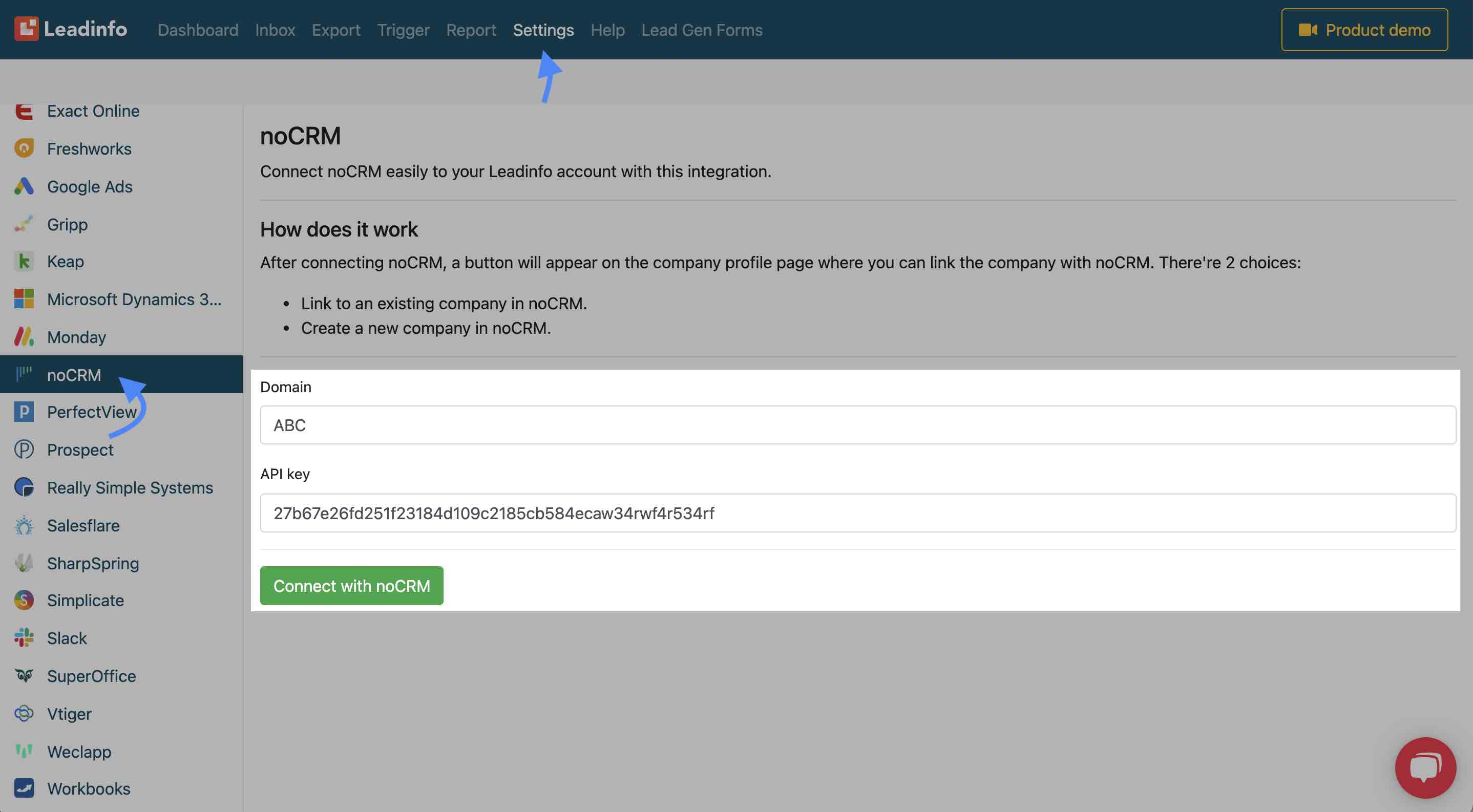 4| In Settings, select noCRM under Integrations and paste the API token you copied, and enter your domain name.
⚡ Your domain name is your account name.
Example: https://ABC.nocrm.io your domain name, in this case, is ABC.
5| Lastly, click on "Connect with noCRM" and choose which step in the pipeline you want new leads to be added to in the channel field under Settings.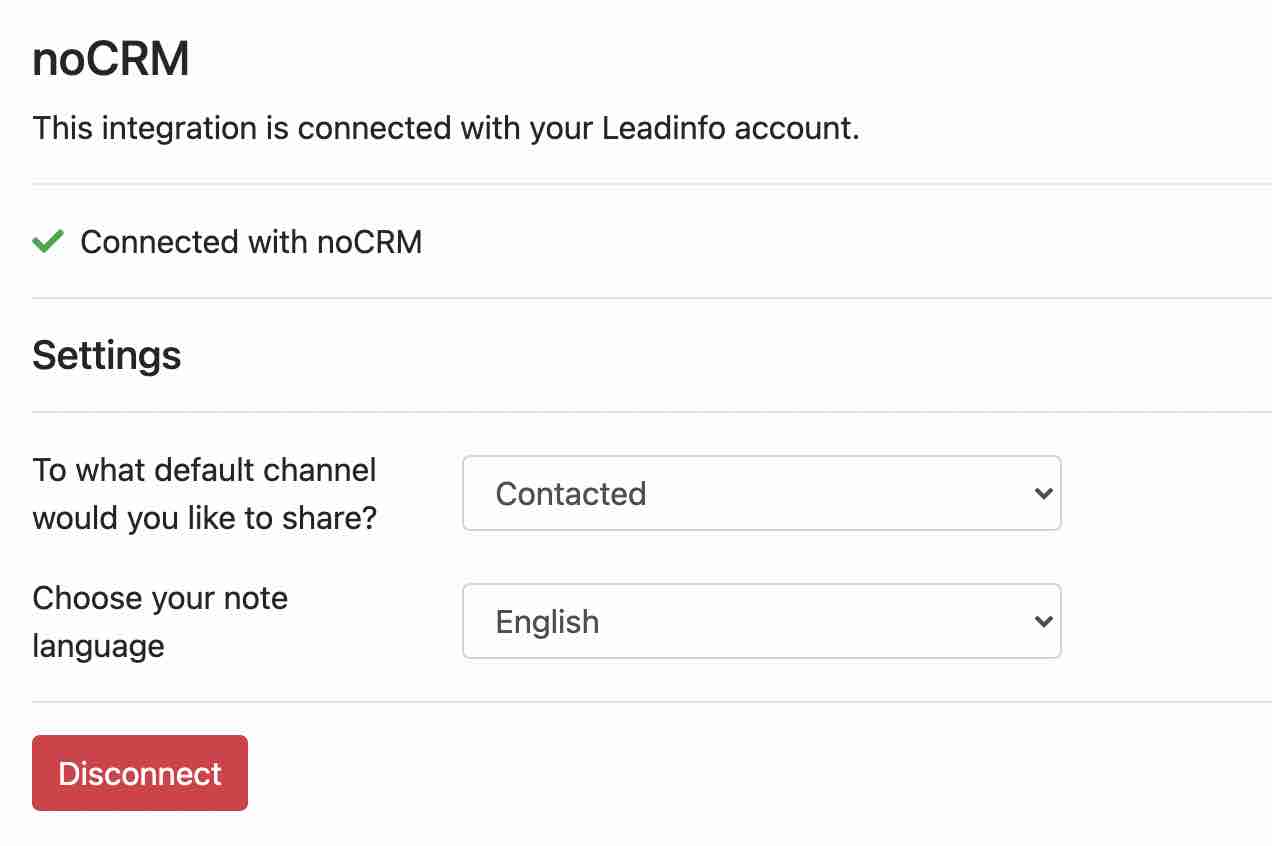 ---
Manually create a website visitor as a lead in noCRM
Note: No data is shared with noCRM until you connect a company.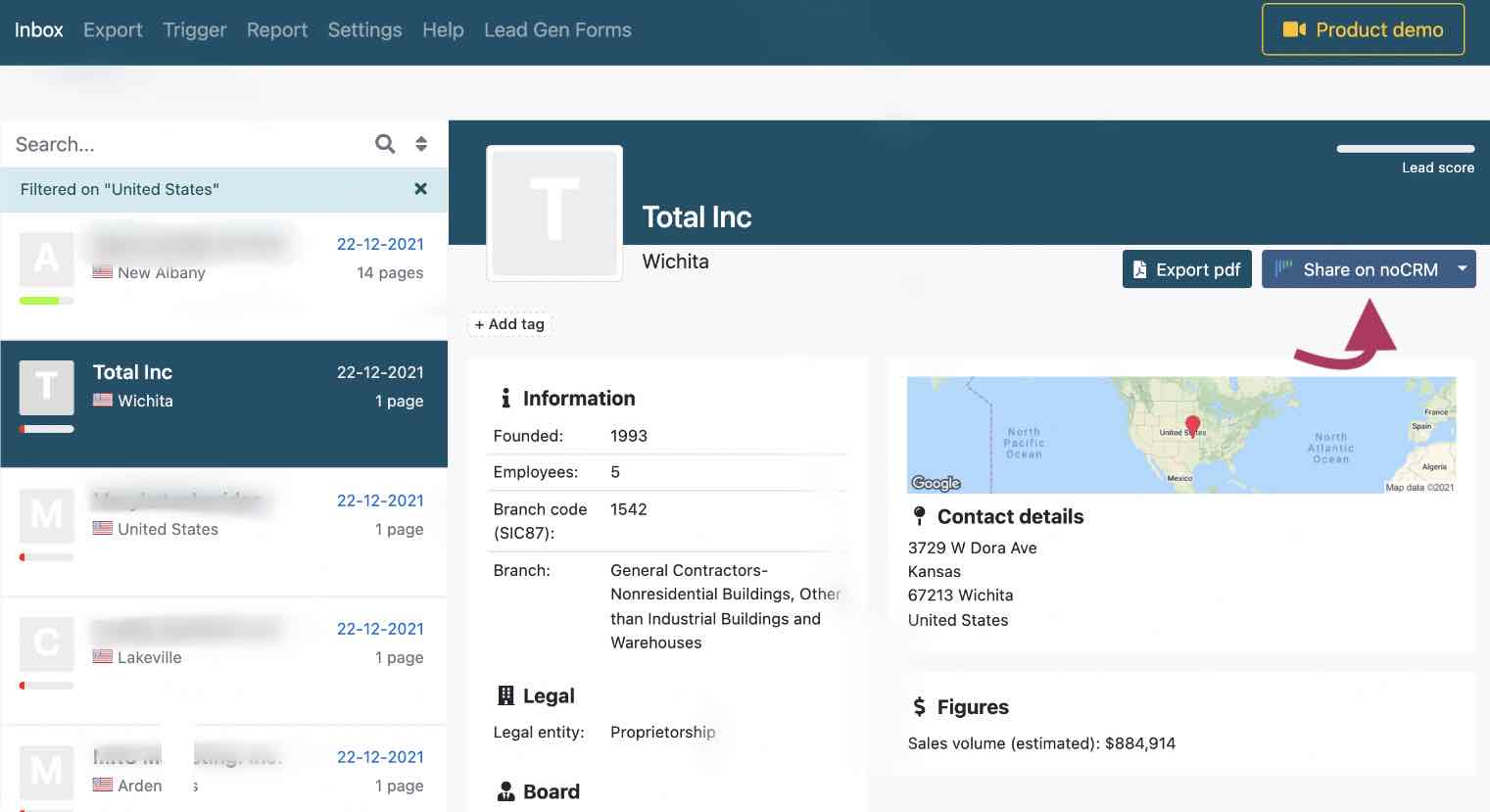 1| Log into your Leadinfo account and go to the company profile/visitor you want to create as a lead in noCRM. 2| Click on "Share on noCRM" found in the right corner to create the lead immediately in noCRM or click on the arrow to select which step you want the lead to be sent to.
What information is shared?
When you create a new lead from the inbox, Leadinfo will share the following data with noCRM: Company name, domain name, phone number, address, and the number of employees.
---
Automatically create website visitors as leads in noCRM
You can also create an automation workflow directly in Leadinfo to automatically create leads in noCRM that fit the criteria you set.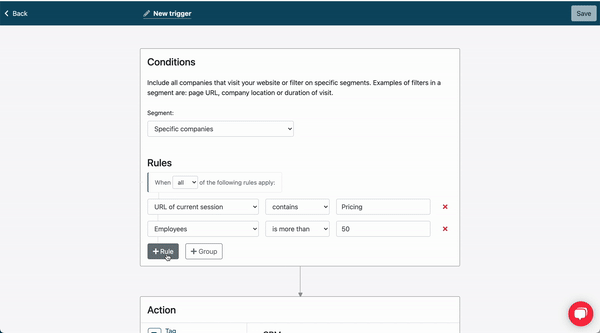 Go to Trigger on the top navigation bar of your Leadinfo account.
Click on the New Trigger button and start adding the conditions your website visitor must meet in order to create them as a lead in noCRM.
Choose whether the website visitor must meet all of or any of the rules you've set
Next up is configuring the Action. Select noCRM and set the step in the pipeline you want the lead to be created in and enable the action. Select "Do not re-enroll" under Re-enrollment

---
Notes on the integration
Leads will always be assigned to the Admin user.
For questions or help with the integration, please contact Leadinfo's support team at hello@leadinfo.com or reach out to them directly on their support chat.
---