Without a sales process and sales strategy, it's safe to say your sales team will most likely fail and won't achieve sales goals.
The most common approach in sales strategies is to have a revenue target, but more and more companies have been shifting from that to an activity-based sales strategy as it allows them to give their sales reps concrete actions to achieve.
An activity could be measured in different ways: making a call, qualifying a prospect, meeting a prospect, sending an email, etc.
Choosing an activity-based selling approach will increase your chances of achieving your sales goals. If you give your salespeople a revenue target, you are not giving them the tools they need to achieve the target. They will try to meet it, but they won't know how to do so, which often leads to failure.
How to use sales activities inside noCRM to achieve sales goals?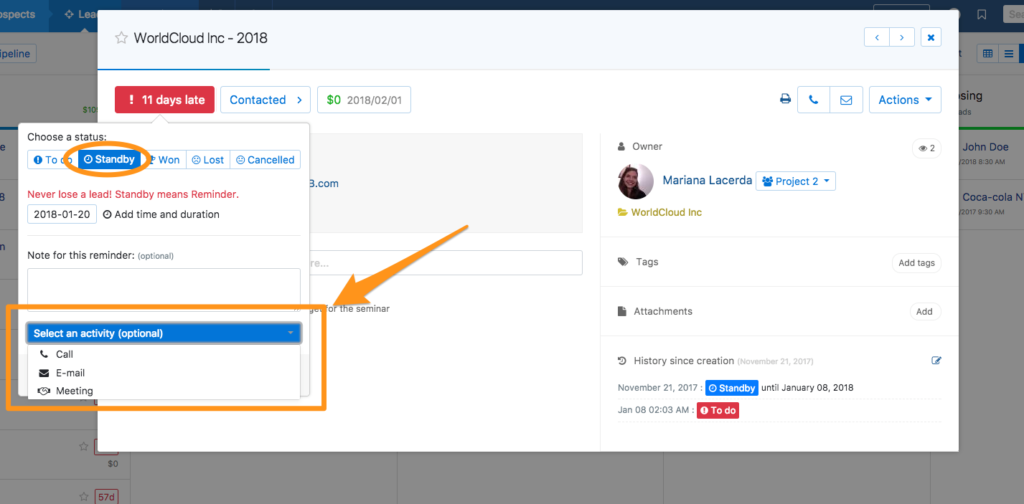 In order to put the theory into practice, you'll first need to create the sales activities that make sense to your company inside your noCRM account.
How to do it: Go to the Admin Panel > Sales Process > Sales Activities, and create as many activities and outcomes as your need.
In the video below, you will find out how to use them on a daily basis. ⬇️
Note that nothing is set in stone with noCRM: you'll always be able to edit/add/remove sales activities and their outcomes as your strategy evolves!
Once the sales activities have been created, your sales team will be able to start using them daily, on prospects and leads.
To set the next action on a lead, it's as easy as changing the status of a lead to 'Standby' and selecting an Activity from the Dropdown menu 'Select an activity'.
To input what you just did with a prospect or lead, go to the comments section and click on 'sales activity' to pick the exact sales outcome of your latest activity.
After a couple of weeks of using the Sales Activities feature, you'll be able to obtain concrete data in your Statistics that will allow you to analyze, improve and achieve the sales goals you have set for your team, and get closer to obtaining your very own bullet-proof sales strategy.