Sales process automation is a game-changer. Why? Because so many of the tasks we undertake on a day-to-day basis, we get distracted by these actions that offer little value. Consequently, streamlining the sales process becomes increasingly difficult and your time is taken away from more pressing issues.
In the sales context, it means reps having to update lead information in several apps, check if an invoice has been sent or get the latest updates on their leads' journey with the company from different places. Instead you want sales reps to be able to focus their time and energy on engaging with leads at the right time, generating value for them, and converting them into customers.
That's the purpose of automation, which helps you minimize human error, increase productivity, and boost performance.
Enter Zapier
noCRM.io is lead management software focused on making the lives of salespeople better. To deliver on our promise, we've integrated with Zapier to make sales automation process easy! Zapier is a tool that allows you to connect all of your business apps together without having any technical or coding knowledge whatsoever. You can automate tasks and workflows, otherwise known as Zaps, in a matter of minutes and get more work done.
At noCRM, we've built an extensive library of how-to guides to walk you through the set up and give you some inspiration to implement in your business and streamline your sales process. With these Zaps, you can raise your sales game by ensuring customers are handed over to the right person, projects are handled on time, and critical information is shared with your team automatically.
Boost Productivity and Simplify Sales
Manually moving information between your web tools opens up the possibility for human error. Jumping from one app to another to check lead information or manage mundane tasks is time-consuming, therefore, we at noCRM.io believe that customizable integrations is key.
Zapier ensures that important information is being communicated between your apps automatically and correctly. That means you'll minimize lost leads, projects will be created and managed on time, and information will get through the right channels to the right people.
Without further ado, here are our top 6 Zaps to boost efficiency and streamline your sales process
Add New Leads as MailChimp Subscribers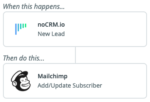 Why deprive your leads from well-executed marketing campaigns? Add new leads to your MailChimp marketing list and move them through your funnel faster.
Create Trello Cards When Leads Enters a Step
Add a card in your project manager, Trello, once a lead reaches a specific step in your pipeline. Follow our Zap guide and the right team will jump in and complete the created tasks.
Send Messages on Slack When Leads are Won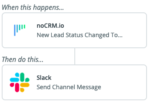 Keep your team informed of new customers you've won and ensure smooth handovers with automatic announcements in a Slack channel of your choice.
Create New Prospects from Online Form Submissions
Create website form submissions as prospects instead of leads for a more qualified sales pipeline. Connect your Typeform or Jotform online forms with noCRM and automatically feed entries into a Prospecting List of your choice.
Log Sent Invoice Activity in Your Lead's Summary Section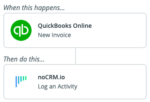 Having invoices attached to your leads is great, but what about keeping track of how many were sent as a metric? Automate the process and get your QuickBooks' sent invoices logged without the hassle of manual entry.
Receive Emails From Leads Directly in noCRM
While the BCC feature is awesome to keep a record of outgoing emails, you also want to capture incoming emails. If you're using Gmail, you can automate this process and forget about copy-pasting email copies to noCRM.
Want more? We have a whole page dedicated to Zapier and pre-set Zap templates for you to use. Don't hesitate to check it out and let us know what your favorite Zaps are!