Described by Forbes as the most disruptive trend of 2021, no-code tools are the big tech movement of this year. But what does no-code actually mean?
In a nutshell, no-code tools allow you to build apps, automate workflows, share data or even connect all the tools you use together. All this without the need for any coding skills or help from developers. This means that you can move more quickly, reduce costs and also enjoy autonomy in implementing and managing internal software processes.
To learn more on no-code, and discover some quality experts, you can discover our no-code academy and access multiple resources.
What is a no-code sales stack and how to build one?
A sales stack is a network of sales tools that you and your team use daily to manage the sales process. Thanks to no-code software, your sales team can access specialized tools for each stage of their sales process; this means that each action can be fully optimized using the right tool for the job.
Another advantage of no-code is that all these tools can be linked together to send information between them creating a seamless process and avoiding the need to transfer information; your sales team is more efficient and can spend more time on the actions that count, such as calling leads and closing deals.
How to know which no-code tools my sales process requires?
To build an efficient no-code sales stack, you first have to set up a consistent sales process and the steps it will include.
Once your sales steps are ready and clearly established, you can analyse which tools match your needs to move a lead from each one of your steps to the next.
To guide you in your choices and sales stack set-up, let's dive into a regular day in Lisa's life as a salesperson.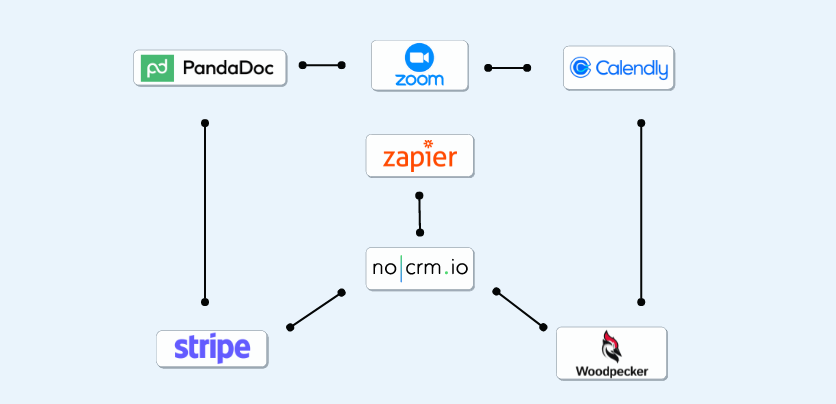 Step 1: No-code for prospecting and lead management
First, Lisa collects prospects in her lead management software, noCRM.io, using the Lead Clipper Tool or her website form, which allows her to create leads from the web in a few clicks.
When a new lead is created in noCRM.io, it is also automatically added to her email automation tool, in the outreach campaign of her choice.
Step 2: No-code for reaching leads
Lisa has prepared her email campaign on Woodpecker.co. This cold email tool allows her to prepare the emails she needs to reach prospects or leads; it will then automatically send them to all the newly added leads.
Another tool that can be used for this is Outreach.io, or you can also do this process with noCRM.io by following the guide here.
When she set up her emails, she made sure to include a Calendly link. This automated scheduling software allows the leads to book a meeting for a demo, directly from her calendar.
When an invitee books a meeting, it then automatically creates a meeting in her cloud-based video tool and adds the info back in noCRM.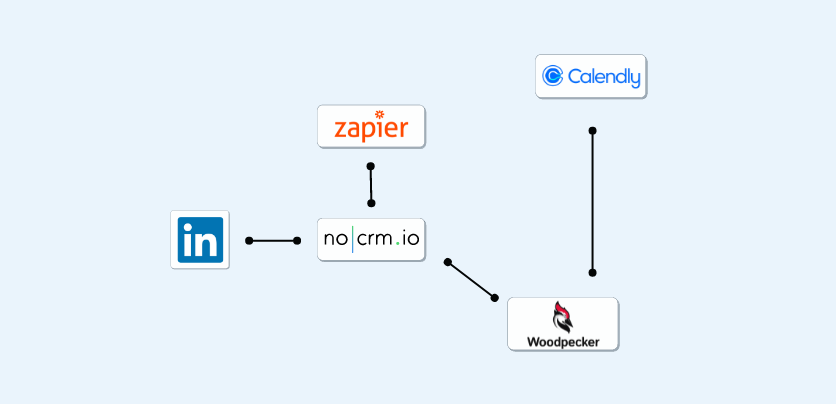 Step 3: No-code for demos
Lisa's meetings for her demos are automatically created in her video tool of choice: Zoom. She uses it for the first call with the lead, to present the product, and pitch the advantages for their business.
Another tool that can be used for this is Whereby.
When a new meeting is created on Zoom, it automatically creates a new document from a template on her document management software: PandaDoc.
Step 4: No-code for closing
To close the deal, Lisa accesses the automatically created document on PandaDoc. This tool allows her to send the right proposals to her leads through a link, so that they can sign them electronically.
Other tools that can be used for this are DocuSign, GetAccept, and Yousign.
When the document is signed by the future customer on PandaDoc, a new account is automatically created on Stripe. This tool will then send an invoice through email to the customer so that they can proceed to payment.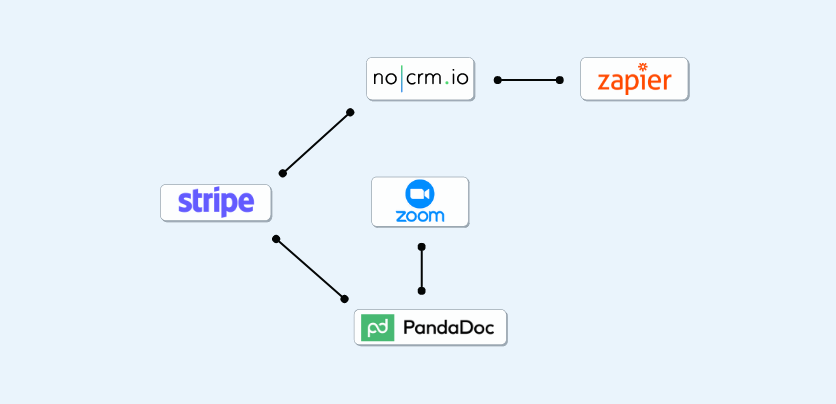 Step 5: No-code to bind all your apps together
In her four sales steps, Lisa uses different tools which allow her to automate many of her tasks and save time to focus on selling her company's product.
In order to have all her apps work in harmony and create triggers in some tools that will automatically create actions in others, she uses Zapier. This no-code automation platform allows her to connect all her apps together and automate her workflows.
Another platform that can be used for this is Integromat.
With a perfectly coordinated no-code sales stack, your team is guaranteed to save time, and improve on their selling skills to close more deals.