As you might know, each month we present a different noCRM feature to you. We already covered Prospecting Lists, and QR code scan-to-call. To continue with tips to help you be more efficient in your prospecting activities, this month we'll look into the Sales Script Generator to build your cold call sales script and help you have a pipeline filled with qualified leads.
🔍 Stop polluting your pipeline. Use the Sales Script by noCRM!
The life of a salesperson is far from a long, calm river. Identify potential customers, cold call, process incoming leads, qualify contacts, follow up on prospects and leads, and manage a sales tool … It is easy to feel overwhelmed. To help our own team, our customers, and any sales rep out there, we have created the Sales Script Generator.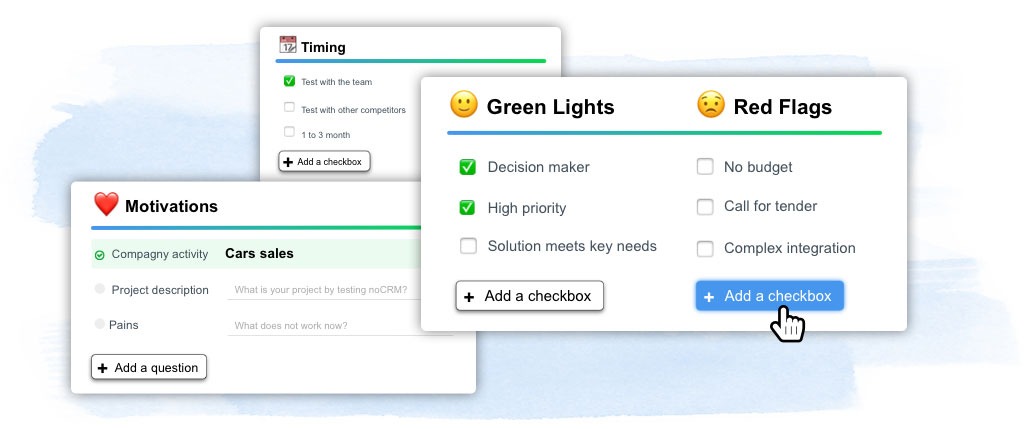 How to build the best sales script for your business?
Building an efficient sales script is not an easy task. To help you with that part, we have written an extensive guide that can be found here. 😃
Once you've figured out the structure of the guide, and have gathered all the questions that it needs to include, you can easily create your sales script(s) by following the instructions below. 👇
How to create and use cold call Sales Scripts with noCRM?
The Sales Script can easily be created and used from within noCRM, by an administrator, If you're not an admin but still believe this tool can help you, you can easily create one yourself and ask your admin to link it to your account later. 😃
As an admin, go to the Admin Panel of your account, and at the left, under 'Sales Process', click on 'Sales Scripts' and follow the instructions.

Here is a quick video to show you how it works.
If you're not an admin, go to the Sales Script website, create a new sales script and ask your admin to link it to noCRM using the script's URL.
It's as easy as that! You are now ready to use your cold call sales script and better qualify your prospects.