We're excited to announce the reveal of our brand new no-code academy! It's been a long time coming. We started the journey by building tutorials and videos on how to automate workflows between noCRM.io and other business apps using Integromat and Zapier. With the massive benefits gained and the questions we've received, we decided to create a no-code academy!
What is no-code and why should you care?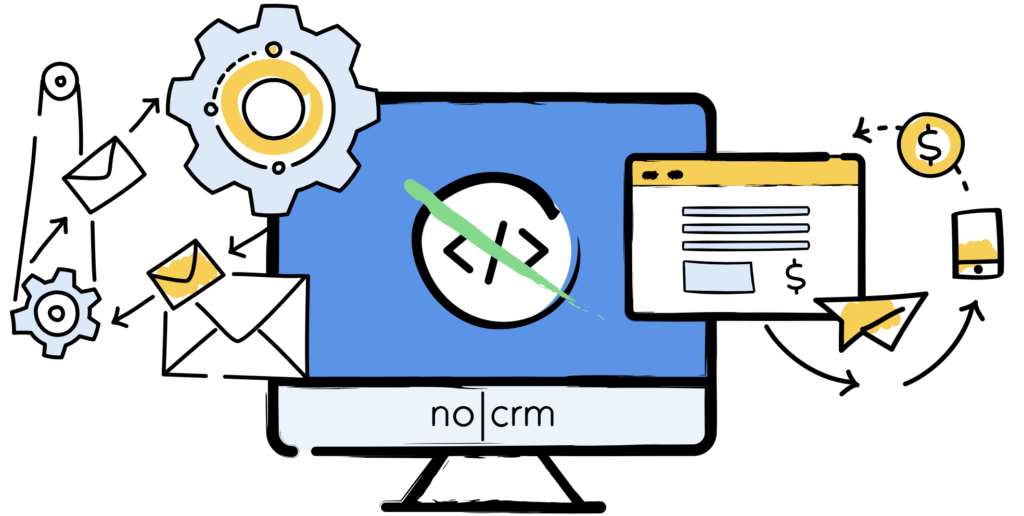 Before we go into what you can expect from our academy, here's a quick introduction to what no-code is:
No-code is a software development approach that allows people without coding experience to build connections between the apps they use or create completely new apps with the use of visual no-code platforms.
But what does it mean for business owners and professionals? No-code offers enormous advantages to any company looking to optimize its budget and engineering resources. It allows them to speed up timelines for integrating business demands and improving internal processes without the creation of IT bottlenecks.
Small businesses, in particular, can benefit by redefining traditional IT frameworks; they can connect the apps in their tech stack with ease and speed, and build automated workflows to streamline processes with easy-to-use tools and without splurging on specialized engineers.
Examples of automating tasks between apps:
What does it mean for noCRMers?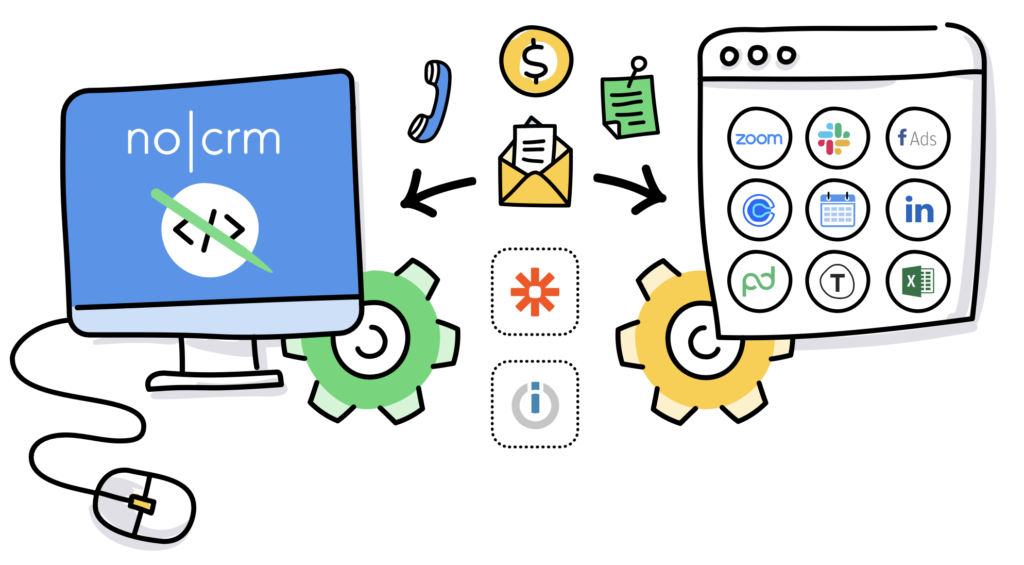 noCRM.io is fully equipped with sales-centric features to help sales reps and managers do their jobs effectively: manage leads and convert them into paying customers.
However, there are other specialized tools in your tech stack that you may need to connect to noCRM such as marketing automation platforms, proposal & contract apps, and more.
noCRM is built as a customizable plug-and-play app with no-code capabilities, allowing users to create automation workflows within the app and connect with other tools. Combined with powerful and easy-to-use no-code platforms such as Zapier and Integromat, all of this is possible with the least amount of time, effort, and resources.
We created the academy to educate noCRMers and our audience on the advantages of no-code; how it can help with your current technical and business setup, how to boost the efficiency of your teams, and greatly reduce reliance on tech teams to configure business logic into your processes. In some cases, you may even eliminate the need of subscribing to new apps by automating some features available in your current tech stack.
What to expect from our no-code academy?

We provide a deep dive into the world of no-code as it relates to lead management: A relevant introduction to the no-code approach, a breakdown of our top picks of no-code apps and tools with step-by-step instructions on how to use them to create your ideal work processes.
Start your no-code journey with our no-code academy
We are sure that with all these new tools you will be able to make noCRM the pillar of your sales software stack and in turn, boost your sales.