We say this a lot, but it doesn't hurt to say it again: a lead is an identified business opportunity; and new business opportunities can start from prospects, but also from existing customers with upselling and cross-selling. These customers need to be nurtured and satisfied with your product or service in order to be retained.
Handling a new business opportunity with an existing customer requires therefore a completely different process.
Don't worry, we've got your back. Inside noCRM you can create as many sales processes as you need, and even link them to the people concerned and the tags that match that process.
How to create multiple pipelines?
First, you need to be using at least the Expert Edition of noCRM, and for the pipeline-centric set-up, the Dream Team Edition.
Once you have made sure you are on the right edition, you can proceed to create your different sales processes from the Admin Panel → Pipeline Steps.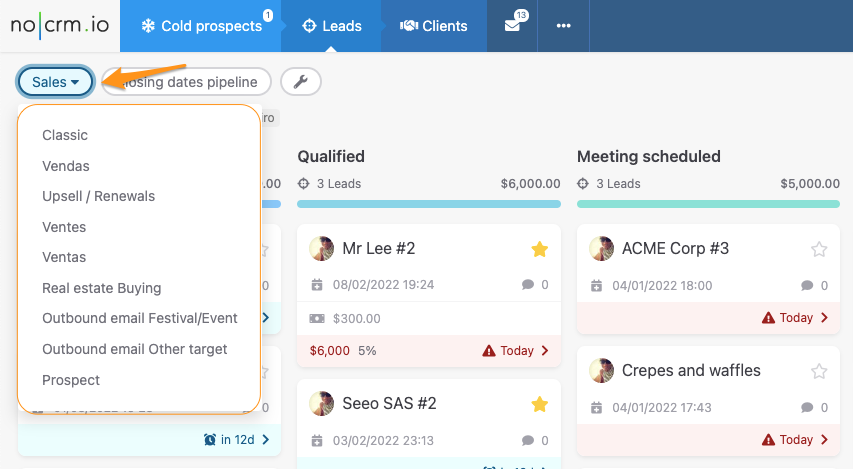 For step-by-step instructions, please read this Help Center entry.
Once you've set up your sales processes according to your company's needs, you can start using them.
How to handle an upsell/cross-sell/renewal?
If you have recently closed a deal with a brand new customer and need to create a new lead for that same customer, open that lead and from the "Actions" menu, duplicate the lead to create a 'Client Folder'.
A new lead will automatically be created with the same contact information. To place it in the corresponding sales process, click on the step and select a new one, in the correct pipeline, and if you've linked specific categories to that sales process, they will show up at the bottom for you to select the type of sale you're dealing with: renewal, upsell or cross-sell for example.
As easy as that!
Bonus: Improve conversion rates by engaging prospects with more precision.
In this co-webinar, Andrea Micolta, Sales Expert at noCRM received Jason Meyer, a LinkedIn acquisitions expert and Kaspr Sales manager.
In this webinar we discussed:
How to find the right prospects on LinkedIn using the latest tips of the SalesNavigator.
How to gather their contact information.
Contacting prospects efficiently.
Setting up an efficient sales process to close more deals!
If you are interested in using Kaspr, the best tool for Linkedin prospecting, use this link to take advantage of a special offer! You will get 25 Kaspr credits for free!