Today we come to you with AMAZING news: we have added not one, but THREE powerful new features to noCRM's Dream Team Edition. 👊
As its name suggests, the Dream Team Edition was thought to help you build your very own sales dream team.
Along with the possibility to create teams and have access to full email integration, email templates, and email performance tracking, you can now also enjoy the following features:
1. Sales Goals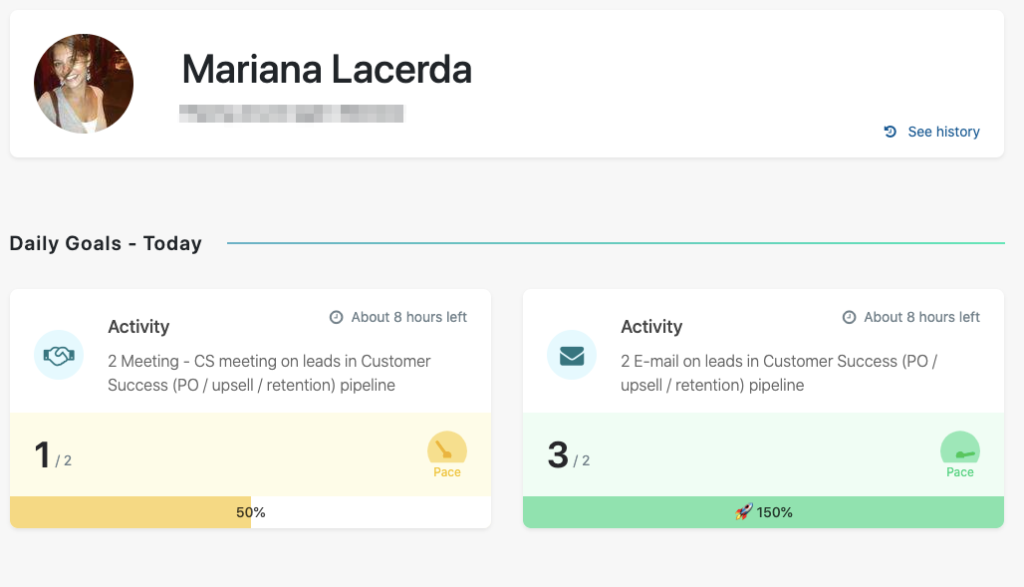 Goals are part of the life of a salesperson. Every sales rep needs to reach targets, and their manager needs to be able to track their progress.
With noCRM's Sales Goals feature, you can easily define goals for your sales reps.
It's a playful way of keeping your team motivated to reach their goals, and for managers to keep track of their activities and make sure that the entire team is doing everything they need to close more deals.
More information on how it works in our Help Center entry, here.
2. Pipeline-centric customization
Having multiple pipelines is the reality of many companies. For example, you can have one specific for acquisition and another one for account management; or one for a specific product/service/market. Since you have different pipelines, you probably have different teams too, that match the different pipelines you have.
The pipeline-centric customization feature was thought for all sales teams that use multiple pipelines to manage different processes.
Pipelines can be linked to a specific user, team, and set of tags (categories). This will help improve the user experience, ensuring every sales rep only sees what is essential to them.
More information in our Help Center, here.
3. Advanced Security Monitoring
At noCRM, we take security very seriously, which is why all our editions have access to two-factor authentication.
Nonetheless, when you have a bigger team, the human factor needs to be taken into account, which is why Dream Team Edition customers can now benefit from Advanced Security Monitoring.
The Advanced Security Monitoring includes information on sensitive actions performed by users (or other apps) of your account (such as deletion or export of different items) and user session logs to enable you to know who accessed the account, from what device and IP and disconnect them if needed.
More information on Sensitive Actions logs and Sessions Management in our Help Center, here.
Want to try these features? Subscribe to the Dream Team Edition.
Happy sales dream team building! 🙌