The noCRM team has always worked remotely since the start of the company and we find that not only does it have many advantages in terms of being able to manage teams in different countries but that it actually means that we can be extremely efficient. So given the current situation where many companies are being forced into remote working, we thought it would be a good idea to share our experience as a remote company with these three essential tips.
The quarantine comes of course with the added difficulty for many to work whilst their kids are at home… Something some of our team members are currently experiencing for the first time. And when you are trying to work with your kids at home, you must keep them entertained, stimulated and in a normal routine. So how should you split the time between your kids and your work? And how do you keep productivity up in spite of all the distractions you can find at home?
1. Set your daily goals to keep productivity up
It is a fact: your brain and body need a routine and it's important to maintain that rhythm during the crisis. Act as if you were going to the office: DO NOT work from your bed, make sure you get up and start your computer while preparing coffee — or anything else you fancy for breakfast. 
Keep in mind also that every day is a new day with new projects to achieve. The most important routine that we have at noCRM is each day to take the time to set our own objectives and publish them in our internal social network. We call it our #3_goals_a_day, the three goals we want to achieve that day, no less no more — each time you try to go above 3 you will fail 😉.
More than tasks to do, they are things to achieve, it is about taking 5 minutes before diving into work questioning yourself about where you can bring the most value. A small step back that enables you to focus. The other important thing is that it allows other people in your company or team to know what you will be working on. People like to know what's happening and it means managers can interact with you on your projects or discuss prioritising other tasks.
But remember it is not just about what you are doing but what you want to achieve. For example a dev will not say "#3_goals_a_day Code this new feature, …", as of course a developer codes. He has to break down the pieces into elements that can be done like "Define the data structure for the new feature". For the Marketing team, a goal could be "draft the sales presentation". Some goals can be big, some much smaller like "send this envelope that has been sitting on my desk for 2 weeks".
This technique is really important and effective; it will help you to organise your day, to know where you are going and, if you are good at time management, to understand the workload you are able to handle in one day. If we had to choose to keep only one thing from 6 years working remotely it would be that — and also to always turn on your camera for team video calls, but that could be another full blog post!
If you are working with your kids at home, why not include taking care of them in your #3_goals_a_day. If possible you could also suggest to your companion to take turns working and looking after the kids; split the day into 2 hours shifts like our Head of Customer Success Mariana is doing, or half days like our Head of Sales Nicolas, you choose! But the most important is to talk with your employees and bosses to see how to make this work.
If you recognize yourself in the video below, don't worry. It is the new reality of millions of people.
2. Communicate better
As a remote company, we are always trying to work smarter. As our team is getting bigger and is now spread all over the world, we also need to find new and long-term solutions to communicate and collaborate better. We find the following software tools essential for managing our remote work as a team:
A shared calendar for the whole team;
A VoIP platform such as Skype, Google Hangouts or Zoom to keep in touch with your colleagues and schedule weekly one-to-one and monthly team meetings;
Of course for your sales a lead management tool such as noCRM.io to enable the sales team to manage leads and projects collaboratively;
An internal enterprise social network like Slack, Microsoft Teams, Jamespot to post your #3_goals_a_day every morning and know the projects in progress, the latest updates and ask for help or feedback.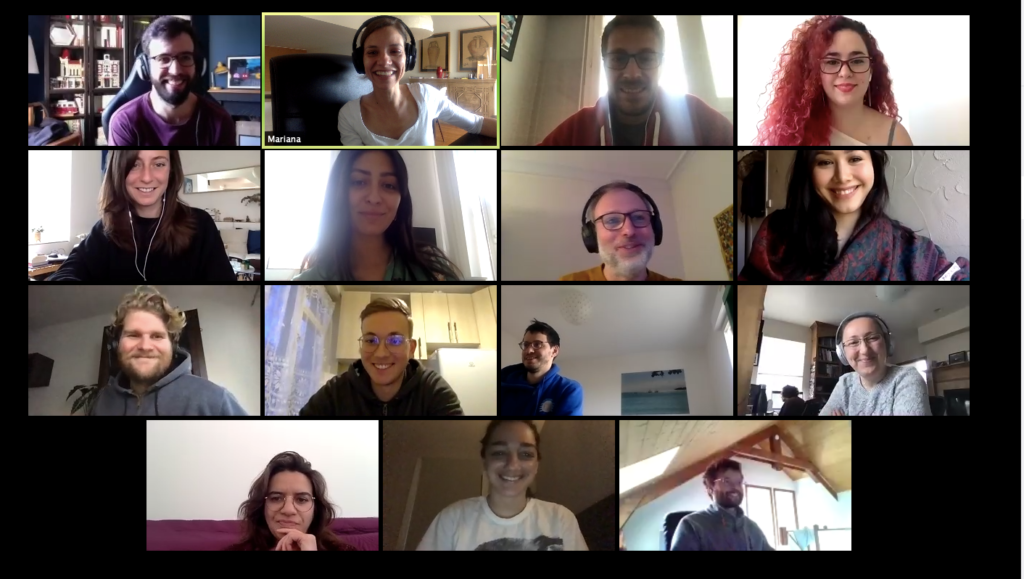 Not every business uses an enterprise social network as a corporate communication tool, and many are more likely to use emails or instant messages to communicate. Actually, it does not matter what tool you are using, it is how you are using it that matters, and the most important thing is trying to use conversation threading for every topic you need to discuss, to be able to follow up easily on the different projects, instead of having isolated posts, tweets or emails. 
That is what we had in mind when we created noCRM.io: being able to keep track of the work that had been done, having all the information in a single place and being able to find it at a glance. Because you don't want to lose time looking for information or going back and forth from a place to another to retrieve it.
3. Stay away from your fridge!
If you need to distract your kids, you will also need to distract your stomach. Working from home can be a challenge when it comes to staying healthy. For some people it is the perfect excuse to spend more time in bed, for others it is the opportunity to use the time usually spent commuting to do a workout instead. You used to go to the gym before starting your day or during your lunch break? Our UX/UI Designer Hasni and Nicolas have the perfect solutions for you: online training courses with Ma Parenthèse or La Pause Baskets, and you can find so many other tips to workout from home on YouTube!
A healthy mind in a healthy body, that is what we should be aiming for. So our last piece of advice would be: stay away from your fridge and be careful what you store in it! Rather than heading to the fridge when you need a break, Nicolas has a great tip: every time you would like to get some fresh air — but you cannot because you have no dog or garden — get up from your chair and walk a few steps listening to sales podcasts like Dans L'Arène, The Sales Game, Growth Makers or 14 Minutes of SaaS. And when you get back to your desk, unplug your headphones and put some music on. Now you are ready to fulfil your 3 goals of the day…
And we hope that when the COVID-19 crisis is over, many companies may have come to realise that working remotely is no big deal and can in fact be great for productivity!
What are your experiences with remote working? Do you have any tips? If so please share in the comments section below👇.
[Additional reading: Learn how to start working remotely with LinkedIn Free Remote Guide]