Like many companies selling online services or SaaS software, you may have built your own sales pipeline stages to generate targeted leads and convert them through well-honed strategies. This is what we did at noCRM by automating our sales process as much as possible. This is because our customer target is vast and we want to support our own sales team. Our goal is to drive a lead to become a customer following a logical and automated sales process.

In this article, we break down the process into four steps and illustrate what the customer journey looks like behind the scenes.
Step # 1: Sales Prospecting
At noCRM we have chosen not to have an outbound sales strategy. We opted for the implementation of inbound marketing activities instead. In other words, we don't look for our prospects, we bring them to us through targeted actions such as:
Online advertising via various platforms: Google Ads, LinkedIn Ads, and on different marketplaces in which we are present;
Organic traffic with content creation and backlinks;
Setting up weekly webinars;
Partnership and Affiliate programs;
Participation in events, conferences, and the likes.
The purpose of all of these activities is to redirect potential customers to our website, learn about our service, and to start their free trial.
When a customer starts their trial, they provide us with information such as their full name, phone number and email address. Using our API, we automatically funnel that information into our noCRM.io account as a prospect in our prospecting list.

Step # 2: Prospect Qualification
At noCRM, we chose to divide the cold prospects from qualified leads. In our prospecting lists we qualify cold contacts and in our sales pipeline, we manage our qualified leads. Separating the two has proven to boost efficiency in our sales team as well as our conversion rate.
The qualification of a prospect starts when it appears in a prospecting list that corresponds to a specific geographic area. The sales rep responsible for this region will contact that prospect within 1-2 days in order to understand their project and evaluate if our tool meets their needs.
To make this qualification step as efficient as possible, our salespeople use our Sales Script Generator. It is a free, customizable tool available for everyone. This tool makes it possible to ask all the necessary questions to qualify a lead and have a copy of the data collected.
Step # 3: Monitoring the Sales Pipeline Stages
If during the qualification call interest and compatibility is confirmed, our sales rep turns that prospect into a lead, placing it at the "Contacted" the sales pipeline stages. Each pipeline can be customized to any business' established sales process.
Throughout the sales process, our leads pass from one stage to another in our pipeline, which is composed of 4 key stages. Each lead must pass each stage in order to guide them to a buying decision:
Incoming: unqualified leads that have not passed through the prospecting file.
Contacted: qualified leads after a discovery call.
Participation in the webinar / Personalized demo: leads having participated in our weekly webinar or have had a personalized demonstration of the tool.
Closing: leads awaiting the first invoice, following the trial period. These are often leads that have used the tool and entered their bank/payment card details.
In noCRM, no lead can stay without a status in the pipeline. It's either a To-Do or on Stand-by for the next follow up. At different pipeline stages, our sales rep has already defined a next action with a lead. This is directly synchronized with their calendar for reminders. These follow-ups allow reps to move these deals to the next sales step. They will be different depending on the client's typology, or the details mentioned during the qualification phase. For example, we agree to a second call or to sending information by email.
These reminders are very important elements for our sales team at noCRM. They prevent leads from rotting indefinitely in our pipelines as is often the case in conventional CRMs.
In general, the first step following qualification is to invite potential customers to participate in our weekly webinar. They can learn in 30 minutes the main features of noCRM, learn how to configure their account and understand the logic of using our software. These webinars are done on Zoom and have their own organizational diagram.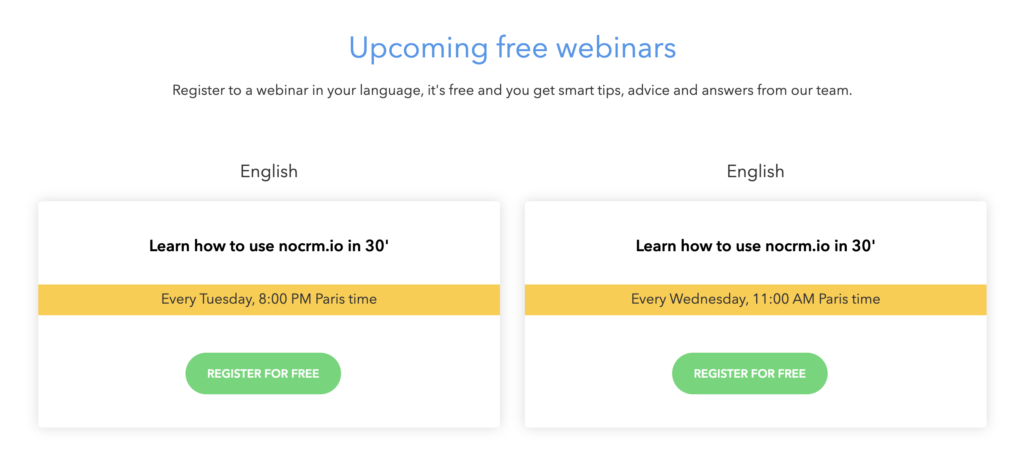 The day after the webinar, we send out a recording to all attendees so they can view it anytime and share it with their team.

As is needed, our sales reps are available to answer any questions that may arise and follow up on the progress of their leads during the trial period. In case of specific needs, each user can also benefit from a personalized and free demonstration of 30 minutes. This allows them to see in detail the setup of the account and be advised on the optimal use of the software for their needs.
If the webinar and the demo are not sufficient, we also offer Premium Onboarding. This is divided into 4 parts: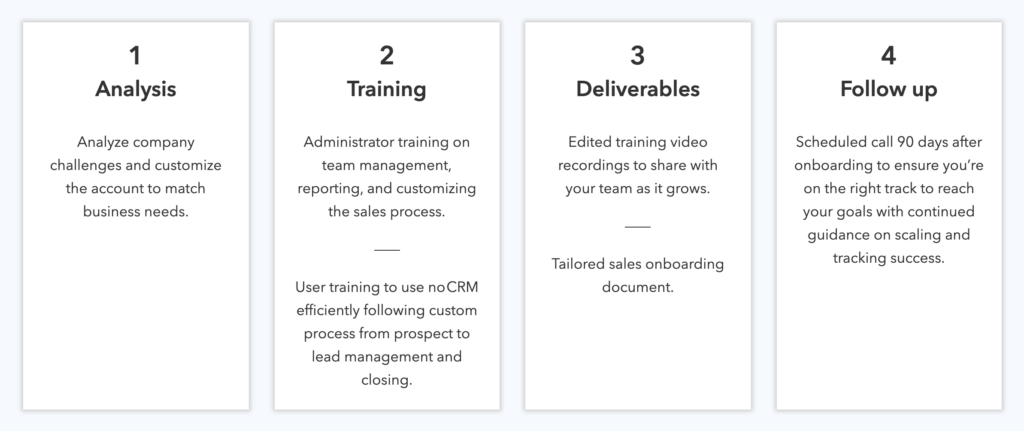 To set up this Premium Onboarding process, simply contact your dedicated manager.
Step # 4: Ensure a Good Onboarding for Customers Once They Convert To Avoid Churn
When the lead has been converted into a paying customer, the post-sales process is not yet complete. Our internal information system allows us to track the usage statistics of our customer accounts. We have information on the overall use of the software for a given account, the connection statistics for each user as well as information on their account setup. For example, we can see if the customer has set up tags, synchronized their calendar or downloaded our mobile app. we can also view how many steps the pipeline is made of and what the default fields are.

This information is crucial to us as it allows us to get back to the customer and offer help in setting up the account correctly so they can take full advantage of all the features and benefits of noCRM. This is something very important, since if the software is not used correctly, this can, subsequently, result in a drop in activity and churn.
What Is Important To Remember?
Selling is not an accumulation of customer data. Selling is a process that is never frozen. This article serves to help you see how we manage our sales process with noCRM.io from the prospecting stage all through closing the sale. We hope this will inspire you in the implementation of your own processes to help your sales teams and give you a real competitive advantage.
To find the right sales method, you need to know the needs of your customers and the key stages of your sales cycle. The use of prospecting software or a powerful sales CRM system can enormously facilitate the development of a standardized sales process and the monitoring of opportunities and sales on a daily basis.