Manage your existing customers
This article answers the following questions:
The Client Folders feature was created for companies that perform more than one business transaction with the same client. It's very easy to use, and extremely helpful to understand where you're at with a client and their importance for your company at any given time.
At noCRM we don't want you to waste time filling in useless information. Only create a Client Folder if you perform at least 2 business transactions with the same client.
How to create client folders?
To create a client folder, you simply need to duplicate an existing lead. The system will "force" you to create a client folder, in which you will have all the leads with the same customer.
More information on how to duplicate a lead here.
Another way of creating a Client Folder is of course from the Clients section, accessible from the main menu in your noCRM account. Simply mouse over the Clients section and click on New client folder.
Client folders have their own predefined fields that you can set in the Admin panel. More information on how to define client folder fields here.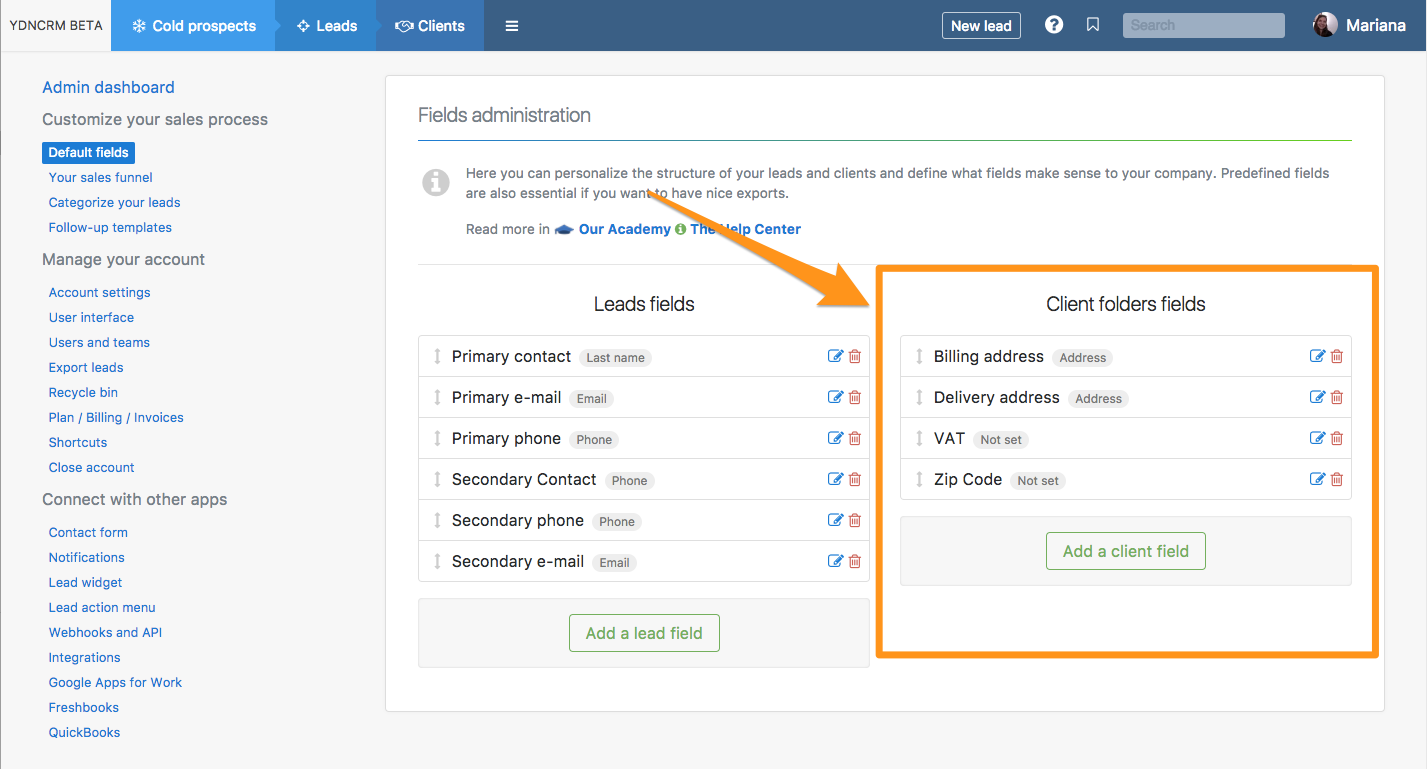 How to manage client folders?
Managing your client folders is quite easy. When you're in the Client Folder section of your account, you will have a complete overview of your client folders. You easily know how many leads are in each folder, their statuses, value, and owners.
If you have lost a customer, you can choose to deactivate their client folder in your account.
Moreover, on this page you will be able to filter your client folders in many ways:
By status (active, inactive)
By type of leads (with or without active leads..)
By the owner of the client folder
By tags (with a certain tag, without a certain tag)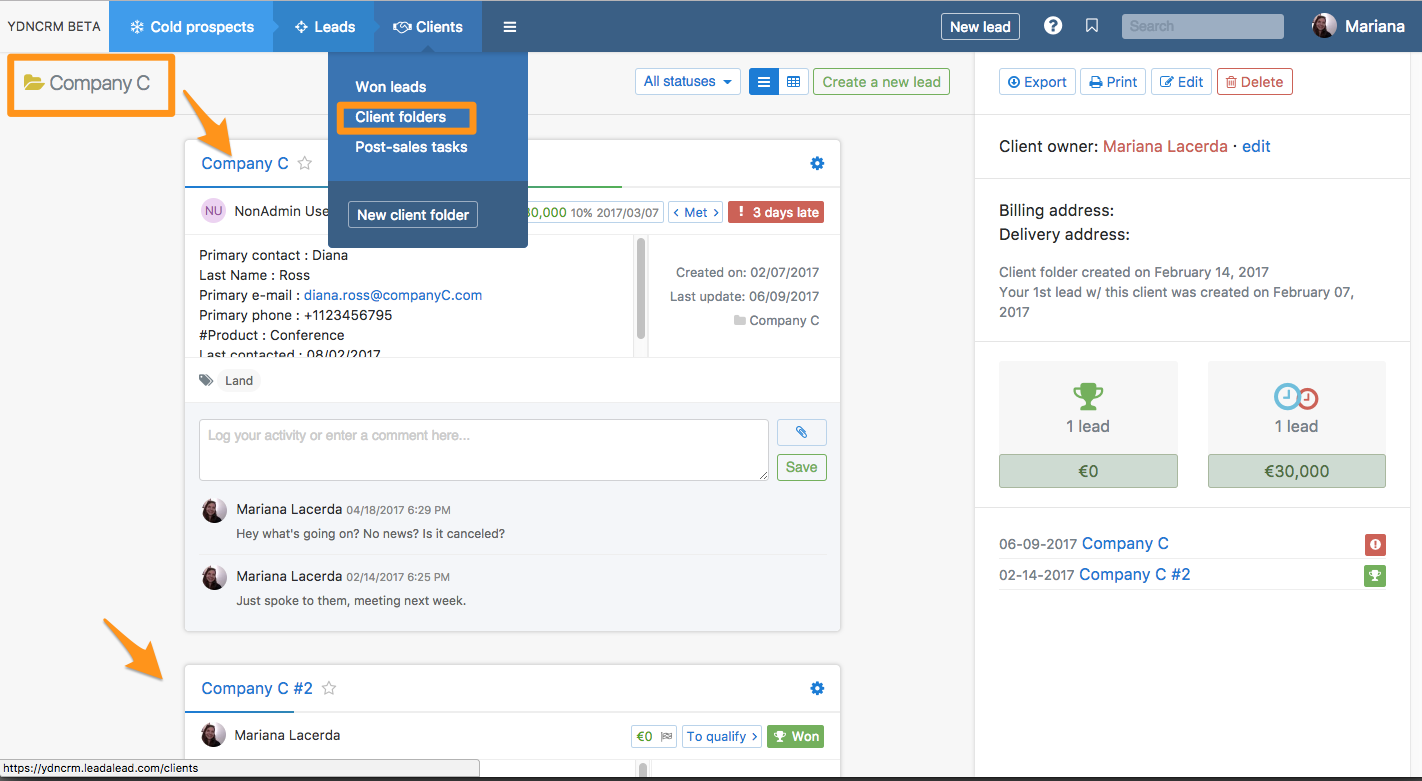 Once you open a specific Client Folder, you will see the different leads that you manage or have managed with that customer. On the right, you will be able to know for how long you've been working with that customer, how much money you've made with them, etc.
How to change ownership of a client folder?
It's possible that you may need to reassign client folders from one user to another: when someone new joins the team and you transfer them existing clients, or if someone leaves the company and you need to reassign their client folder to someone else.
Go to Client Folders and click on the ⚙️ button at the right of the Client Folder you wish to reassign. Then click on "change owner" and choose the new owner in the dropdown menu.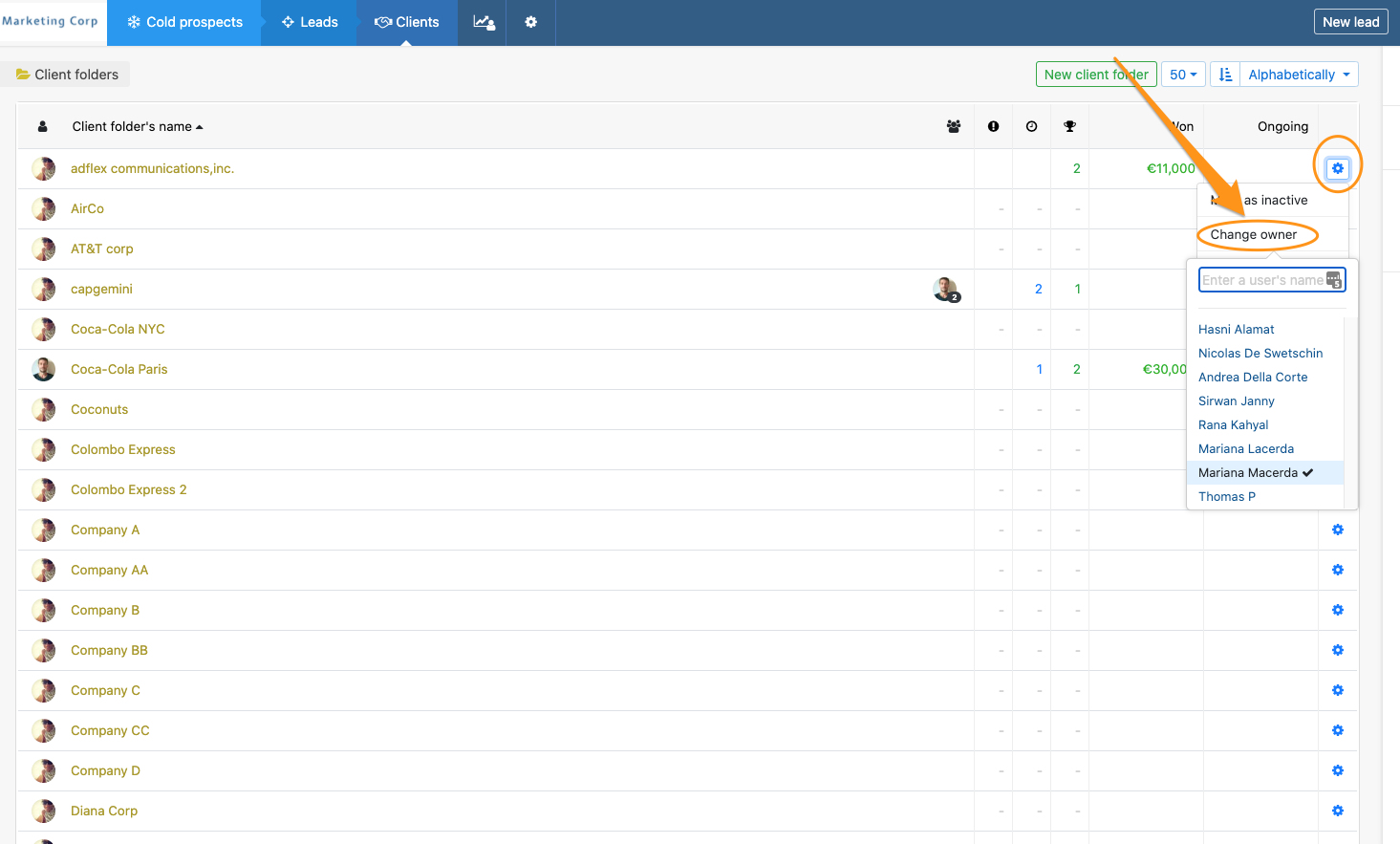 ⚠️ It is not possible to bulk assign client folders to another user. Please contact us through the chat or at support@youdontneedacrm.com if you need to do that.
Add a lead to an existing client folder
If you have a third lead with the same client and wish to add it to an existing folder, simply click on the Actions menu and select Attach to a Client Folder.
The system will then suggest that you look for the existing client folder, or create a brand new one if needed.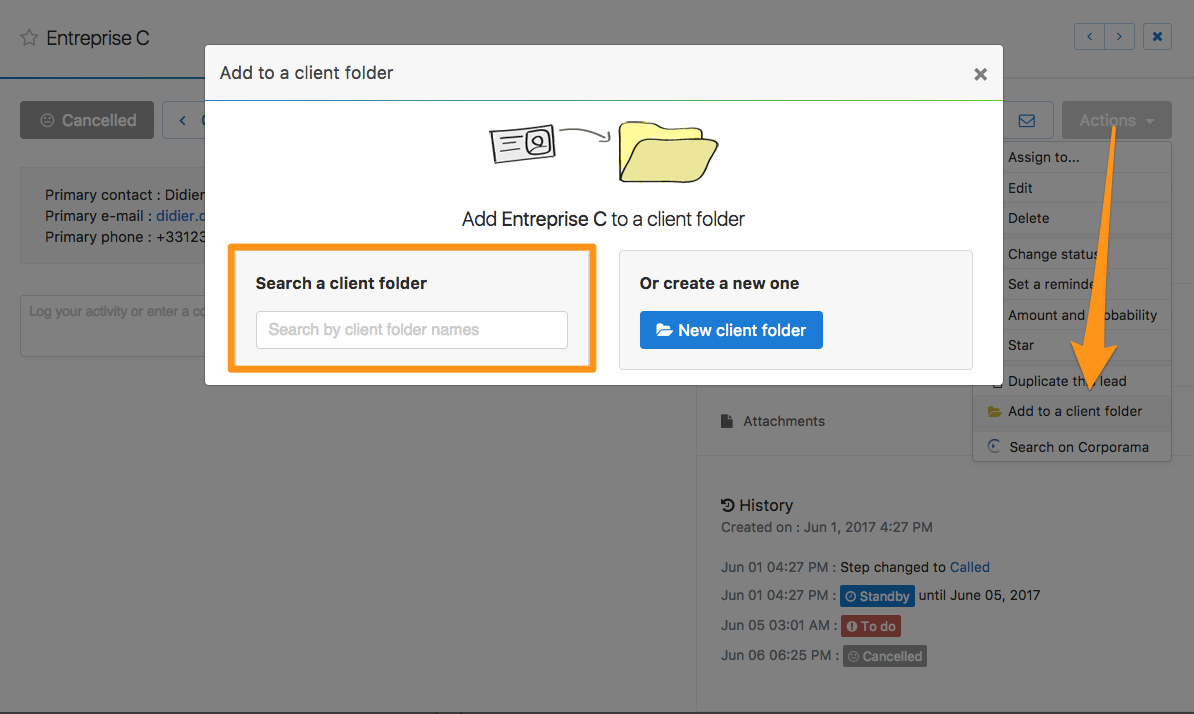 Winback
If you've lost a lead or a customer in the past but you can now win them back, simply duplicate the lead! You'll have a client folder with a lost lead, and a new one that you might win this time.
Move a lead from a client folder to another
In order to move a lead to another client folder, follow these steps:
Open the lead
Click on the Actions menu
Click on the Remove from client folder button
Click again on the Actions menu
Click on the Add to client folder button
Choose if you wish to create a new one, or search for the existing one.
Client Folder privacy
From the Admin Panel > Account Management > Privacy & Security, you will be able to choose if Client Folders are shared between all users, or if every user should have their own client folder.
If you decide that they are shared, it does not mean that every user can see what's in it: if "only admins can see everything" in your account, even if client folders are shared, users will still only see their own leads in the shared client folder.
---
If you wish to export client folders, please read this article.