Define the key fields for your leads
This article answers the following questions:
To avoid the usual problems caused by using numerous fields in lead creation, we gather this information in a single large text field.
Nevertheless, you are still able to preset the basic information you require for when a lead is created, so that your sales process can be carried on smoothly.
It's also important to define the type of fields needed for better card scan recognition, integration with other software, data export and be able to use the click-to-call and the scan-to-call.
---
How to set up your predefined lead fields
Setting up your predefined fields is extremely easy.
Go to Admin panel >Sales Process > Default fields, and start creating your fields.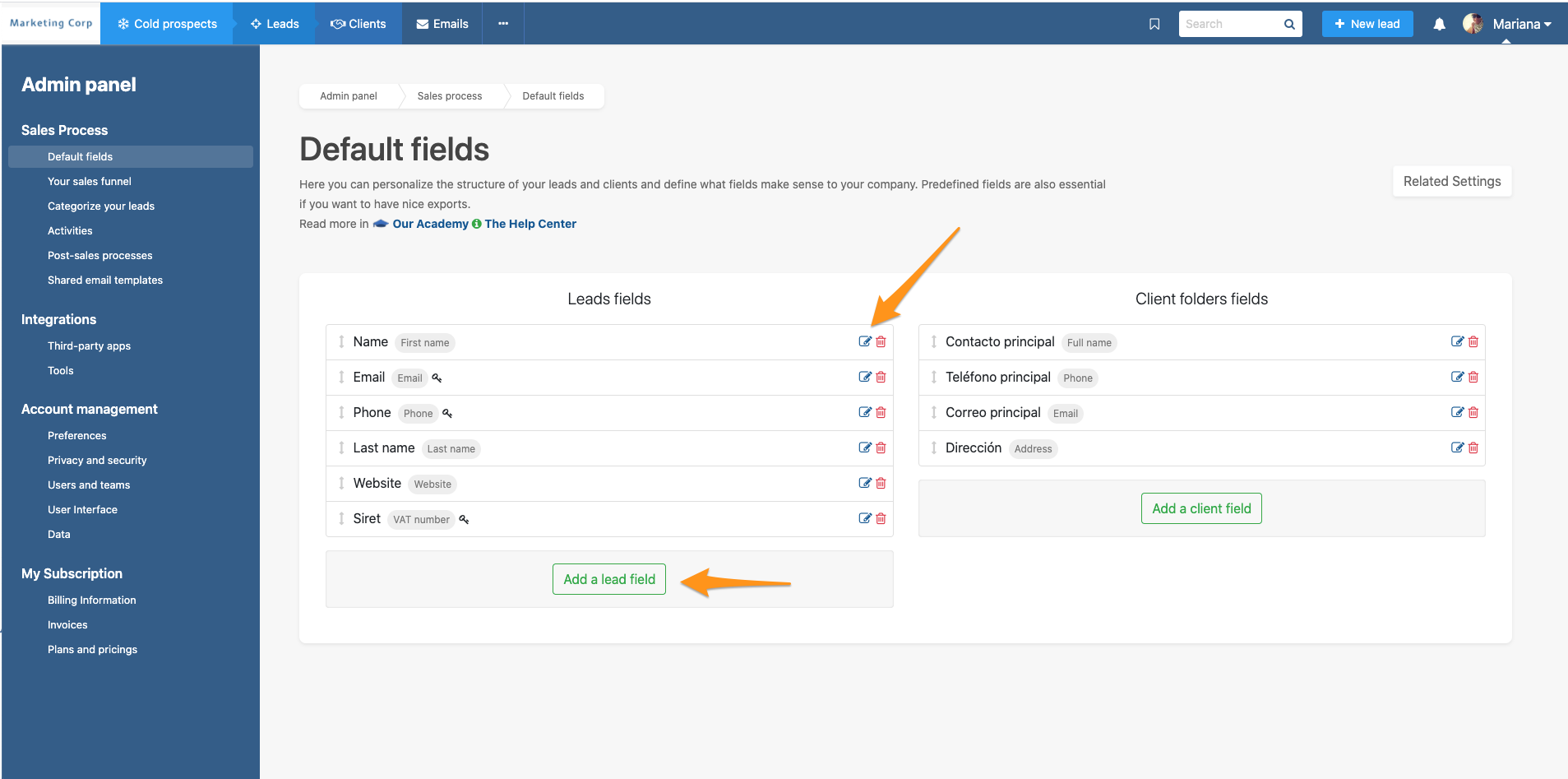 For integration purposes, and therefore in the Expert & Dream Team Editions, you will find "custom type fields". If you wish to use a field that does not have a type offered in the list, choose a custom field to use in your integration.
---
Preferences for Admins
From the Admin Panel > Account Management > Preferences, you can choose to have all your predefined fields automatically added when a lead is created from an e-mail or by scanning a business card.
Also, if you have already created leads that do not contain all the default fields you want, you can add the fields with a single click:

Don't add the customer/company name – try to keep it for the title of a lead. When you add a field, you can set the field type (phone number, email, text field), so it's easier to find specific information later.
⚠️ Lead fields don't allow you to filter information. Remember to use categories and tags to collect information that you'll need to filter and analyze.
---
Managing several contacts within the same lead
If you have multiple contacts for the same lead, you have to add them all inside the lead. We don't manage contacts, we manage leads.
The default lead structure would then be: