How to effectively engage and qualify prospects on LinkedIn
Created in 2003, LinkedIn has amassed a staggering 830 million users on its website. LinkedIn emerged as a social media platform like no other, aimed solely at professionals. With its ever growing popularity, LinkedIn has become a useful tool for salespeople to prospect new leads. But are you making the most of LinkedIn's features to generate qualified leads?
In order to help you maximise response rates from leads on LinkedIn, noCRM conducted a co-webinar with Waalaxy, showing you how prospecting and qualifying leads from LinkedIn has never been this easy!.
Find the webinar below, as well as the summary in our article.
Why LinkedIn for prospecting?
LinkedIn is a professional social network, that can be used by anyone, without the technical skills needed.
With more than 700 million people, it is a great database to find potential leads.
Response rates on LinkedIn are also much higher than traditional cold email campaigns. LinkedIn's response rates are estimated to be 10 times higher than cold email campaigns. By contacting leads directly through LinkedIn, you usually get faster results, making your prospecting campaigns even more efficient.
To start your campaigns on LinkedIn you need to prepare 3 essential things:
Build a buyer persona
Optimize your profile
Have an optimized sales funnel
Tips for the initial contact on LinkedIn
Buyer persona
When starting your LinkedIn campaign, it is necessary to have a clear understanding of who your buyer persona(s) will be.
A buyer persona can be determined by behavioural factors (i.e. hobbies, past work experience, social media presence etc.), demographics (age, languages spoken etc.) or a mixture of the two. Getting a clear image of your buyer persona will help you to write personal and targeted first messages to future clients.
The most important factor for buyer personas is the language you choose to write in. Many messages never get a response because they are sent to people who don't speak the language.
Profile optimisation
Before contacting any potential clients, make sure there is sufficient information on your profile.
This includes a professional and inviting profile picture, relevant information regarding work experience and qualifications, and contact information. Remember, the more complete your profile, the more responses you will receive. A complete profile won't look like spam.
Build the right message
Once you have defined your buyer persona and optimized your profile, make sure that the message you want to send isn't too long -- a message shorter than 300 characters is twice as likely to get a response than one longer than 1,000 characters.
Also, make sure to avoid spam. Do not send more than 2-3 messages to the same potential client without a response (90% of responses happen in the first 2 messages!). Repeatedly sending messages will flag your account as spam and may result in your account being suspended.
Optimized sales funnel
The sales funnel is the process from first prospecting a LinkedIn profile to contacting them and potentially closing a sale.
Two tools can help you optimize your sales funnel for LinkedIn prospecting:
noCRM, the lead management software that allows you to import and manage leads easily (it requires no technical proficiency).
Waalaxy, a tool that enables you to automate the message you send as the first contact in the prospecting process. Waalaxy thus serves as a tool to create campaigns for buyer personas (future clients).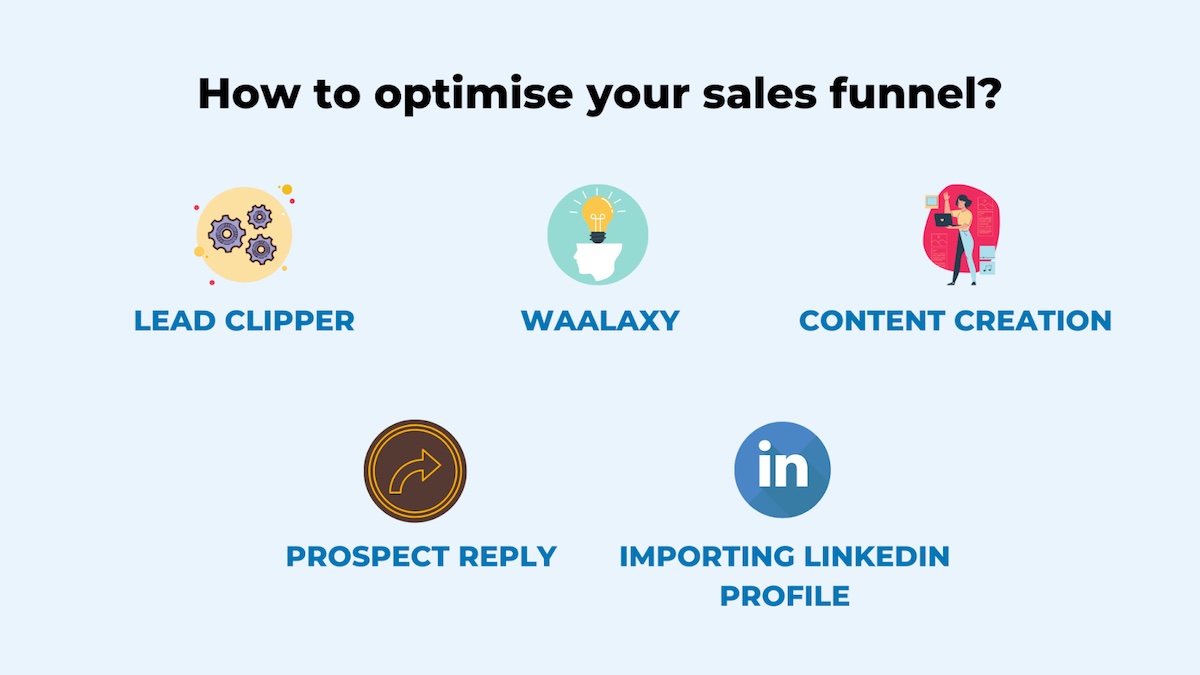 Here's how you can optimize your sales funnel process on LinkedIn by using noCRM and Waalaxy:
1# - Finding prospects & contacting them:
Lead Clipper: to build your prospecting list, you can use noCRM's Lead Clipper, a Google Chrome add-on that enables you to extract information from a LinkedIn profile to create a personalised lead for a prospect. This streamlines the lead-finding process. If you are interested, you can watch our dedicated video on lead-clipping.
Waalaxy: with Waalaxy you can automate messages and can create large campaigns around your determined buyer persona(s). The automation will help you reach a larger group of individuals, without becoming spam. Waalaxy automates the initial contact, as well as the follow-up message, thus filtering out profiles that might not be as interested.
2# - Gathering prospect replies: once you have launched your LinkedIn campaigns, you have to wait for prospect replies. In order to make your campaigns more efficient, and get more replies, you can create and share content such as Webinars, YouTube videos, etc., on your LinkedIn profile, to draw more interest.
3# - Managing your leads until closing: once a prospect has replied on LinkedIn, the lead and its information will be automatically added to your noCRM account. There, you will be able to continue managing it by following your sales process steps, until the closing.
Combining noCRM with Waalaxy, the initial contact and the ensuing sales process is optimized.
Working with Waalaxy, finding future clients through LinkedIn is automated, increasing sales productivity by reaching a larger group of people. By integrating it with noCRM, the import of leads to your lead management tool is also automated, so that sales can quickly continue with the follow-up. In short, this integration helps your salespeople save time and be more efficient.
If you have more questions about noCRM, don't hesitate to check out our webinars, available in multiple languages, or explanatory videos.