How to Successfully Manage a Sales Team
Contents:
1. Tracking company and team performance.
2. Feedback, discussion and training your team.
3. Too long to read? Access our summary.


Managing a sales team can prove difficult, especially if you lack the right information and tools.
To have an effective and productive sales team, your salespeople must work together towards the same target. That is why they first need to know what they have to work on and how they can work on it. They must also be able to understand if they have the required assets and skills to achieve the target, and if not, what they are doing wrong.
The secret to having a strong and efficient team management style is based on three pillars: correct initial setup, ongoing tracking, and continuous improvement. Here, we focus on tracking and improvement, but you must absolutely check our page "How to build the perfect setup for your sales team" if you've not done it yet.
Tracking company and team performance
Managing is about knowing: if you don't have oversight about what's happening in your sales team, you won't understand what work, nor be able to provide valuable feedback. So let's start first by looking at the stats and tools noCRM car provide you to have a correct view of your actual business. We'll start with the more generic views and we'll then go more and more precisely in the analysis of your team performance. In noCRM you can access statistics at a global company level but also at a team or user-level. The first report to check is the company performance, which you can access through your statistics dashboard.
In this report, you will be able to follow the number of new deals created, the number of deals won, the % of deals lost, the revenue, and the forecast.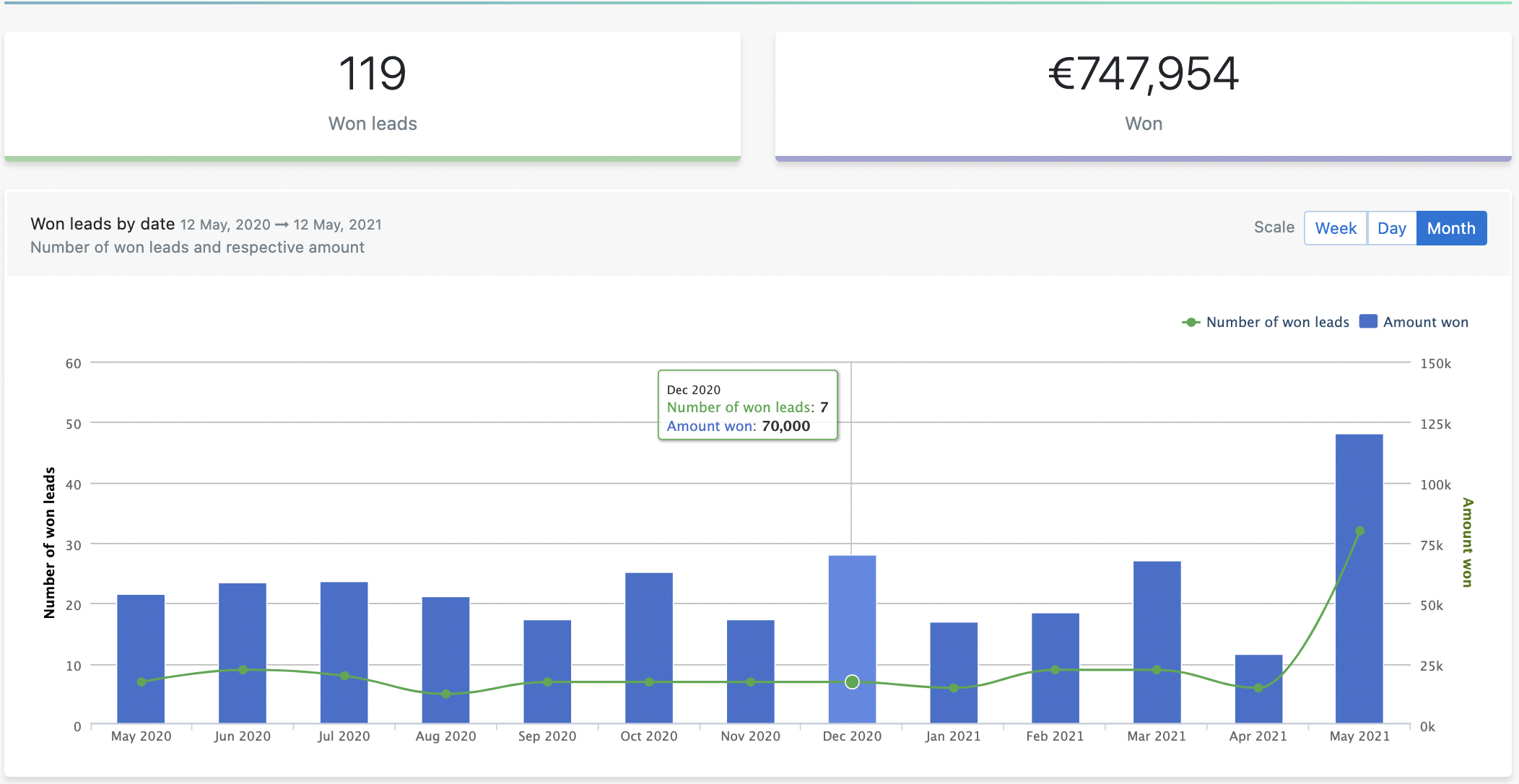 As important as it is, this report does not give you much insight into your sales process or your team's performance.
Pipeline performance
Another report is more useful for this - the pipeline performance. Here you will be able to track the percentage of conversion between each step in the sales process, and therefore see if there are blockages or issues.
This is an easy way to see in which step you lose more leads. You will then be able to implement the required modifications or changes in how your salespeople handle that step. You can also filter this report by a salesperson to understand where each salesperson is the most efficient.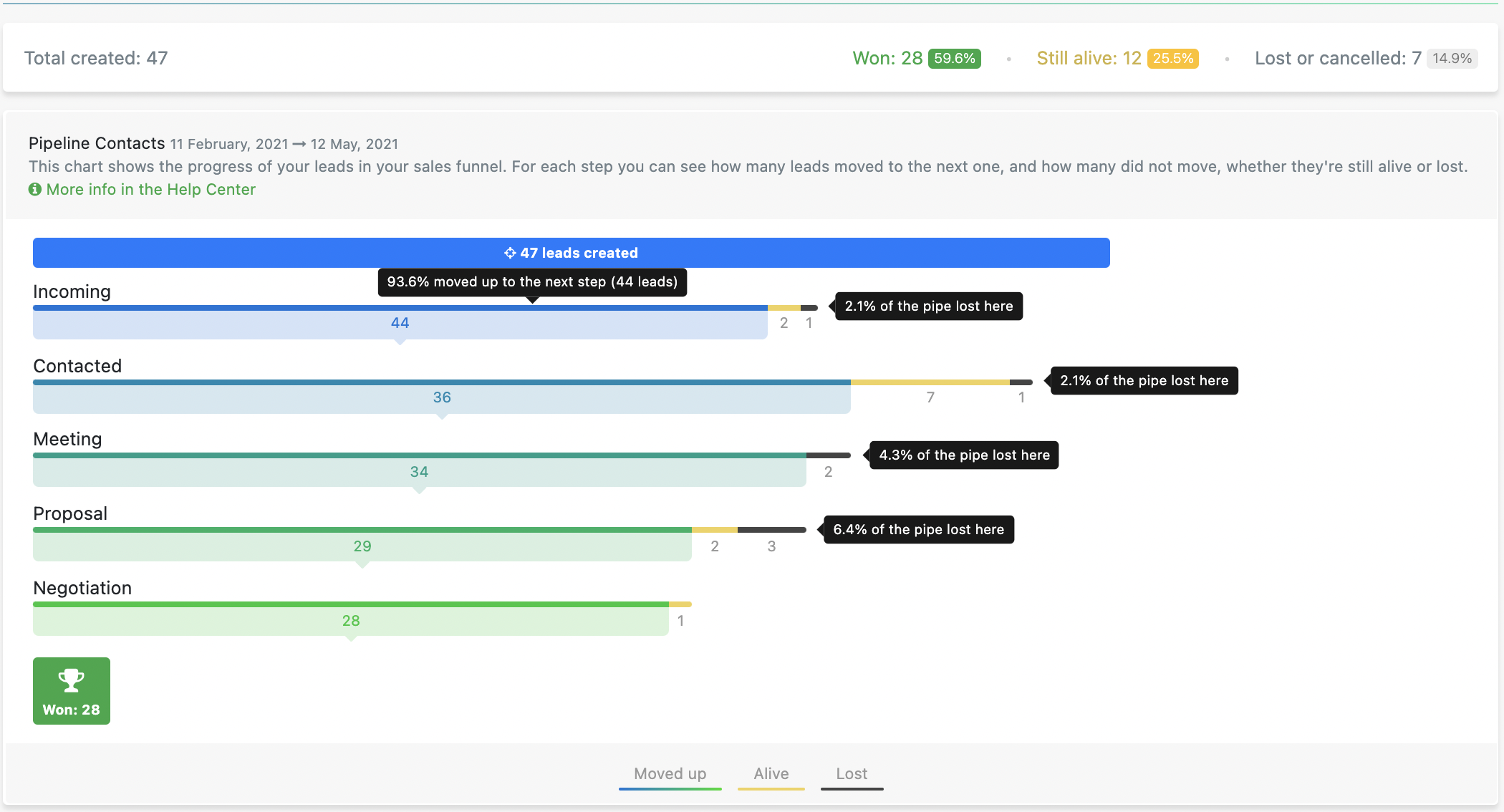 Tracking the individual performance of each salesperson
noCRM enables you to dig quite precisely into the performance of each member of your sales team. You can access their KPIs, the actions they have undertaken, or if they have reached their goals.
Mesure Your Sales Team's performance
Access an overview of your team's performance in noCRM directly from the statistics dashboard.
In this report, you are shown the statistics per user: the number of leads created, the number of leads won, the time it took to close a lead, the amount of revenue generated, and more. This is available for all of your salespeople.
Track Your Sales Team's activity
It is also possible to track the number of sales activities undertaken by each salesperson.
The activity report is one of the most important reports you can access as a manager. With it, you get a complete view of the activities undertaken by each salesperson: how many calls they made, how many emails sent, how many meetings, as well as the number of leads created, managed, and won.
Most of the short-term targets you will set for your sales will be based on the number of activities they have to reach, so it's really important to be able to track them.

Tracking the individual performance of your team is very important. You can compare them to each other, and see if someone is having trouble closing their deals, or if they are doing something wrong.
It's also important to look at the number of open leads and the average time to close a lead; this can give you great insights into your salespeople's behavior. Win rates are calculated on closed leads, which means that if your team doesn't close the bad leads, the number of closed leads will be artificially low and the win rate artificially high. This is why when you look at your win rate you should also check that the salesperson does not have tons of open leads.
All those stats have only one goal: to help you understand where your team has issues. They might either be losing time on a poorly qualified lead, or maybe they are waiting for too long before they follow up with the lead, or maybe they do not have the right tone during discussions. Either way, the issue has to be tackled and solved, either through a discussion with your team and/or by training for those who need it.
The devil is in the detail: Feedback - Discussing - Training
Give precise feedback that can help your salespeople, remember "feedback is a gift"
Once you know how to access statistics from your team's performance, and you can identify which salespeople are having problems, you can analyze their activities and exchanges, giving them precise and valuable advice.
One of noCRM's most valuable features is the ability to access the conversation history between salespeople and the leads. This means you can see not only what actions have been undertaken but also the content of those conversations and their outcomes.
As a manager, it is important that you spend some time analyzing what has been well done and that you can replicate across your entire team, plus what was poorly done and what should be corrected. You can comment directly inside a lead card in order to give feedback to a salesperson.
Let's see the different moments where you can interact with your team.
Use noCRM's Email Integration to ensure the right message is delivered
Whether your team is using the Bcc feature or our powerful complete email integration, you have the option to access all the emails the salesperson has sent to a lead directly from their card.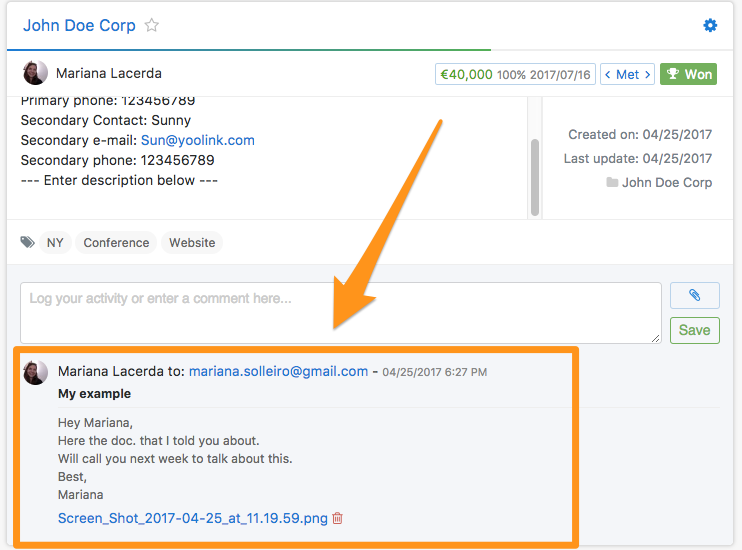 VoIP integration to record sales calls
Thanks to the VoIP integration in noCRM your team can call leads directly from the platform.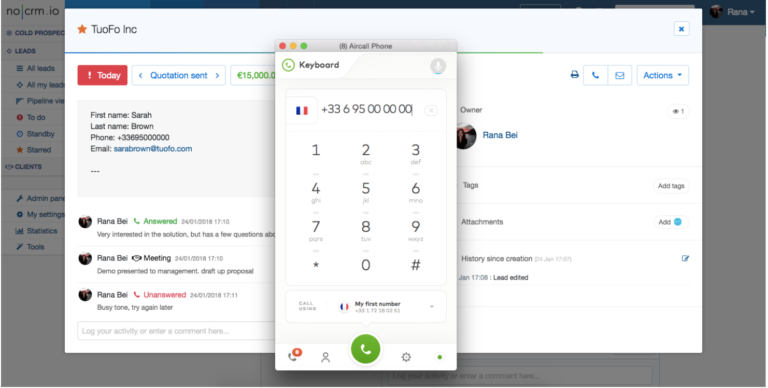 What is useful for a manager with this VoIP integration, is that all the calls can be recorded, and accessed afterward in the lead cards. So just as with emails, you can also see when the salesperson called the lead and access the recording to analyze the quality of the call. Was the salesperson having a real conversation with the lead and how did they handle objections?
Use comments and mentions to point what's good and what's not in your sales process
Once you've identified some interesting points, you can directly add a comment and the owner of the lead will receive a notification. You can also use the @mention feature if you want to interact with someone else about that lead, or if you're on a cold prospect as these are unassigned. As a manager doing this on a regular basis will help your team improve, if you give them the right directions and advices.
Below is an example of an @mention in noCRM. People mentioned will then receive a notification.

Be precise with your comments. For example one of our leads asked for a trial extension and their extension was granted by the sales rep yet two weeks later the lead was lost.
This is a precise point of improvement: don't just give an extension not questions asked. Instead, ask why do you want an extension, what do you need to check, what is blocking you from making the decision now? If this had been done, then maybe we would have won the lead.
This might seem like small points but as we said before the devil is in the detail. By making consistent incremental improvements, one after the other, you will turn your sales team into a dream team.
On the other hand, equally don't hesitate to mention other salespeople when one of them has done something great. This will help your team rely on good examples, but it will also encourage the salesperson who made done a smart decision to keep going.
Encouraging your team and letting them know when they are doing great is also very important to keep them motivated and eager to reach results.
Organizing meetings and training your sales team
On a regular basis, you should organize meetings with your team, so you can discuss with them the problems they are encountering. Listen if there is a reason they are not managing to achieve results, and work towards a solution.
The solution might also be training your team. This can be done through workshops, courses, conferences, etc. If you want your team to be motivated, you must give them all the necessary assets to succeed. This way they will know that they have acquired the right skills for reaching the target and will stay motivated.
Summary of How to be a Great Sales Team Manager with noCRM.io
Read on for a quick summary of the key points in the guide!
To improve your sales team management, and make sure your team is ready to succeed, the first step is to set up correctly a consistent sales process.
For this you have to clearly tell your team what they have to do, what is expected from them, and the target to reach.
You also have to provide them with the right tools so they can work productively, and focus on results.
For a clear and efficient sales process at noCRM we have different useful tools:
Once you've correctly set up your sales process, you have to track your company performance and your team performance to see if your team is working well towards the targets set.
Analyzing individual performance and activity is very important, as you can compare salespeople and see if one of them is doing something wrong so that you can help him improve his working methods.
Finally, after analyzing the statistics, you should discuss and train your team.
For this, you need to look deeper into the exchanges salespeople have with leads, which are available to you thanks to these tools:
Here the aim is to point out to your team members individually when something is not done correctly and give them the means to correct it. You should also tell them when they make a smart move in order to motivate them.
Then, you can organize meetings where you and your team can discuss the problems that have to be solved. After hearing them out, you should organize training for your team so they acquire the desired skills and stay motivated.
Motivating your team is crucial to improving your team management.
With noCRM you have access to all the tools to track your team's performance, give them the right advice, and provide them with the right tools.