How to effectively prospect and qualify leads on LinkedIn
Created in 2003, LinkedIn has amassed a staggering 830 million users on its website. LinkedIn emerged as a social media platform like no other, aimed solely at professionals. With its ever growing popularity, LinkedIn has become a useful tool for employers to prospect new leads.
Whereas establishing contact is simple on LinkedIn, it is more difficult to always receive a response for prospective leads, as much can be dismissed as spam. noCRM, a French lead management software, aims to improve response rates on LinkedIn and avoid spam.
This article will go through how noCRM works, as well as offering advice on how to use noCRM so as to maximise response rates from leads on LinkedIn.
You can also watch our specialised webinar on LinkedIn prospecting with noCRM:
What is noCRM and why is it the right software for me?
CRMs (customer relationship management), are tools used to improve customer service and relations, in the aim of increasing profitability. These tools can be very effective, but are hard to use as they require technical knowledge and proficiency. Often they are more suited to managers than sales teams.
noCRM offers a tool that requires no technical proficiency, so can be used by all company members.
The tool lets you export data from LinkedIn, onto the noCRM platform. This enables you to have a centralised view of your clients all on one clear platform. The noCRM platform looks to replace time-consuming excel spreadsheets.
It is especially great for CEOs, as it provides them with an overview of all sales activities and results. Sales managers also benefit from using noCRM, by saving them time and energy. With the software, sales are made more collaborative, meaning that noCRM helps your company build a stronger sales team.
Response rates on LinkedIn are also much higher than traditional cold email campaigns. At 33%, LinkedIn response rates are estimated to be 10 times higher than cold email campaigns.
noCRM has identified LinkedIn's high response rates, and looks to optimise the sales process, from the first contact between a future client and employer to the closing of the sale. With noCRM's approach, sales from LinkedIn have an impressive closing rate of 25%.
A proud international company, noCRM is translated in 6 languages and is used by over 12,000 people in more than 80 countries. The tool is aimed at SMBs, always with the idea to provide a personalised service.
The noCRM sales process
For noCRM, sales aren't just the closing of a deal, they represent an entire process, from first contact to the potential closing.
The heart of the noCRM product is the noCRM pipeline, which traces the entire sales process:
CONTACT: this step is very important, as it is the first impression a client will make. Things to be aware of are the initial message sent to a potential client, as well as your LinkedIn profile.
PROPOSAL: Here, this is what you have to offer to the client. It does not have to be in the first message you send.
MEETING: You will get further in touch with the client, striving for a personal and personable approach with the client.
NEGOTIATION: Financial details will be discussed and settled according to both parties' wishes.
CLOSING: The settling of the sale.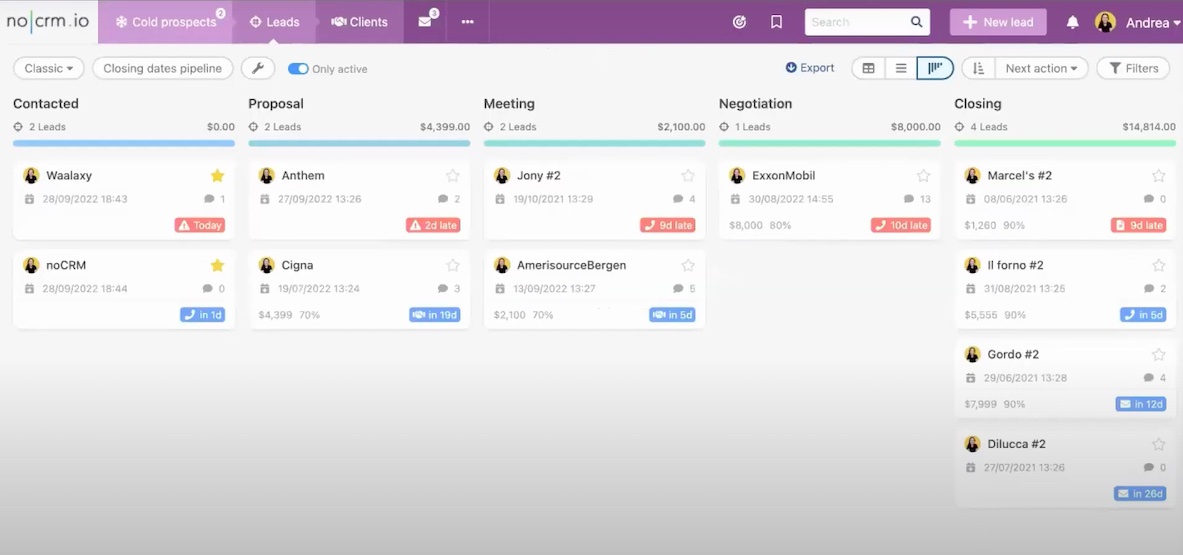 All ongoing sales will be present on the noCRM platform, offering a clear overview of all sales. Each sale can have a TO DO or STANDBY status.
TO DO, in red, indicates an activity that needs to be completed within the day;
STANDBY, in blue, indicates something that will need to be done later in the future. Once the sale is complete, it will be indicated in green. With this system, noCRM split a sometimes lengthy sales process into a series of simpler tasks.
noCRM is thus present during all the steps of the sale process, with the aim to always provide a personable approach to the client. Personability is at the heat of noCRM's business philosophy.
In the whole process, the first fundamental step is the initial contact. Here, we will provide some tips on first contact so as to boost response rates.
Tips for the initial contact on LinkedIn
"Sending the right message to the right person at the right time" is noCRM's guiding principle when it comes to prospecting on LinkedIn. For this to happen, initial contact needs to be optimised as much as possible.
noCRM works in collaboration with Waalaxy, a tool that enables you to automate the message you send as first contact in the prospecting process. Waalaxy thus serves as a tool to create campaigns for buyer personas (future clients).
Buyer persona
When using noCRM, it is necessary to have as clearly an understanding of who your buyer persona(s) will be.
A buyer persona can be determined by behavioural factors (i.e. hobbies, past work experience, social media presence etc.), demographics (age, languages spoken etc.) or a mixture of the two. Getting a clear image of your buyer persona will help you to write personal and targeted first messages to future clients.
The most important factor for buyer personas is the language you choose to write in. Many messages never get a response because they are sent to people who don't speak the language.
Once you have determined the correct language for your buyer persona, make sure that your message isn't too long -- a message shorter than 300 characters is twice as likely to get a response than one longer than 1,000 characters.
Also, make sure to avoid spam. Do not send more than 2-3 messages to the same potential client without a response. Repeatedly sending messages will flag your account as spam and may result in your account being suspended.
Profile optimisation
Before contacting any potential clients, make sure there is sufficient information on your profile.
This includes a professional and inviting profile picture, relevant information regarding work experience and qualifications, and contact information. Remember, the more complete your profile, the more responses you will receive. A complete profile won't look like spam.
Optimised sales funnel
The sales funnel is the process from first prospecting a LinkedIn profile to contacting them and potentially closing a sale: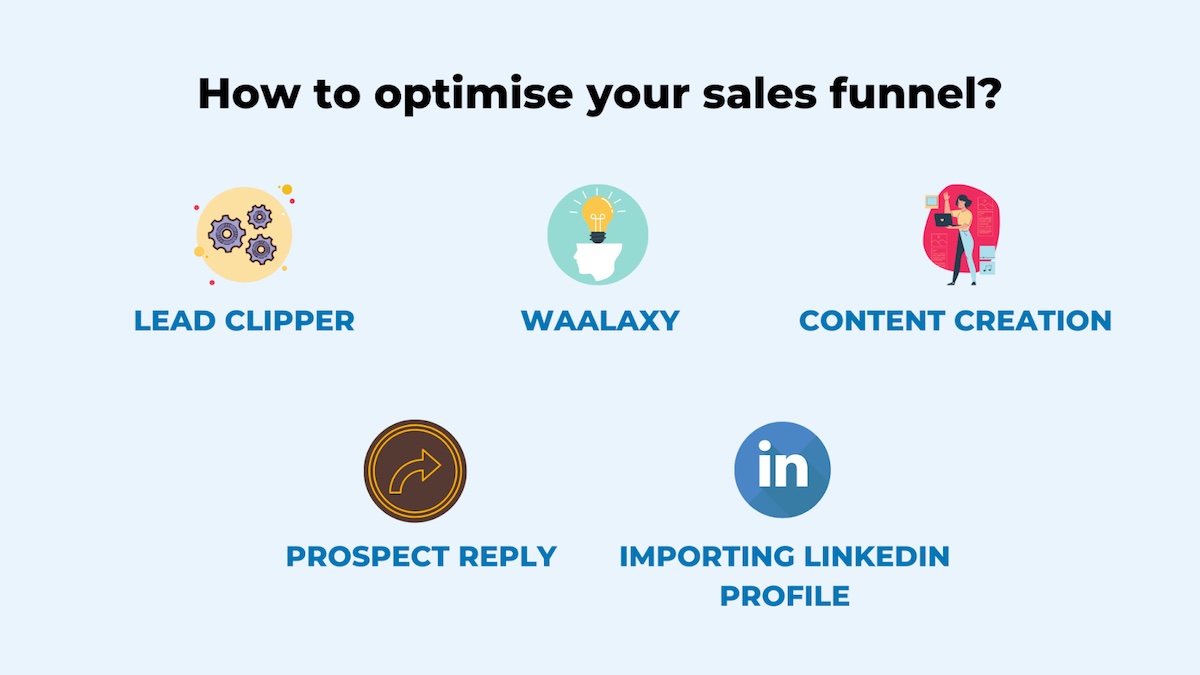 LEAD CLIPPER: A Google Chrome add-on that enables you to extract information from a LinkedIn profile to create a personalised lead for a prospect. This will facilitate a personable first approach. It also streamlines the lead-finding process. If you are interested, you can watch our dedicated video on lead-clipping.
WAALAXY: By automating messages, you can create large campaigns around your determined buyer persona(s). The automation will help you reach a larger group of individuals, without becoming spam. Waalaxy automates the initial contact, as well as the follow-up message, thus filtering out profiles that might not be as interested.
CONTENT CREATION: You can make your campaigns more efficient by creating content (Webinars, YouTube videos etc), to draw more interest.
PROSPECT REPLY: This is essential, you do not want to spam potential clients.
IMPORTING LINKEDIN PROFILE: The prospect's information will be imported onto the noCRM platform, where you will continue with the sale.
With noCRM, the initial contact and ensuing sales process has been optimised. noCRM values a personable approach, seeing it as conducive to closing sales.
If you have more questions about noCRM, don't hesitate to check out our webinars, available in multiple languages, or explanatory videos.
noCRM takes its sales-focused approach and applies it to LinkedIn, streamlining the acquisition of leads. With the noCRM tool, you will avoid spam and send more inviting and personable first messages to prospective clients.
Working with Waalaxy, finding future clients is automated, increasing sales productivity by reaching a larger group of people. In short, noCRM is a great tool for saving time when it comes to sales.