Log your activity & foster collaboration
This article answers the following questions:
It's very important that you log every interaction with your lead in order to keep a clear history of the lead that will help you next time.
For that, there's a "comment" field at the bottom of every lead. You can also use the comment field to help your colleagues by giving them advice or asking them questions. As a sales manager, you can use this feature to give valuable feedback to your sales. Also, it's possible to attach files in the comment field (for 1 attachment on a lead or a comment, you are limited to 50Mo per file).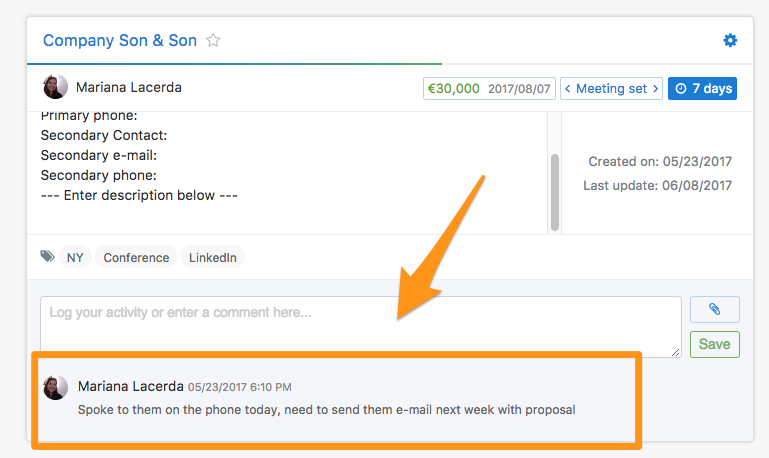 If you wish to create predefined activities, click here for more information. If you wish to change the comments' order, as an admin you can choose to have the most recent comments at the top or at the bottom of the lead from the Admin panel > Account Settings > Interface.
---
Mentions feature for Expert & Dream Team Edition customers
If you use the Expert or the Dream Team Edition, you can use the comment boxes to mention your colleagues and grab their attention on a specific lead, prospecting list, or prospect form. You can mention one colleague, several or an entire team!

Whenever you are mentioned somewhere, it will appear in the Notification Center of your noCRM account. If you're not logged in, an e-mail will be sent to your inbox after 5 minutes.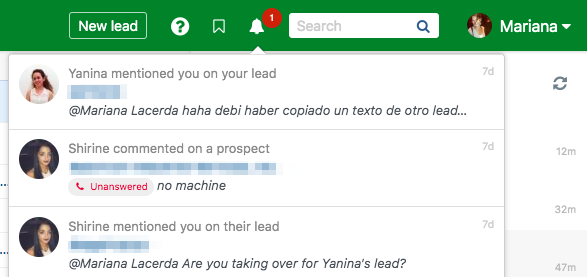 Bonus: the @mention feature is also available from the mobile app! Collaborate with your team, even on the go...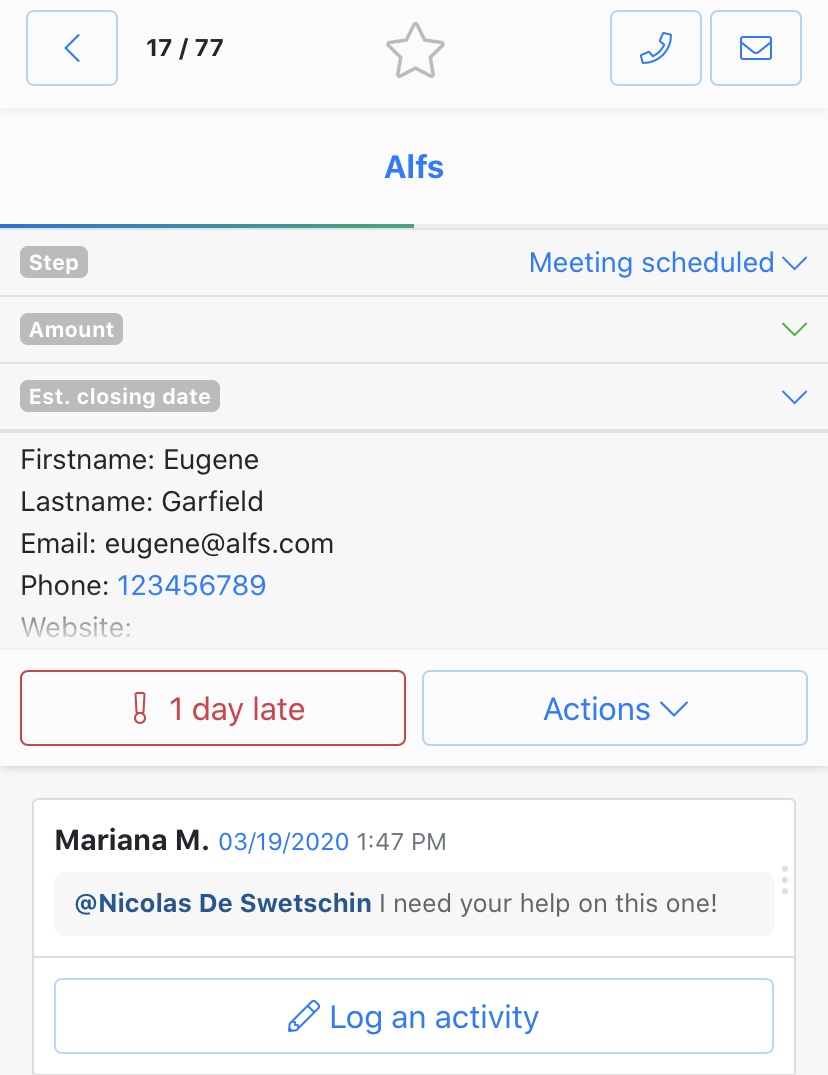 More on the notification center here
---
Reactions feature for Expert & Dream Team Edition customers
If you use the Expert or the Dream Team Edition, you can also react to comments!
At the moment, 4 reactions are available:
👍 : great

🙁 : too bad

👏 : well done

✅ : seen

---
Watch this quick video showing how to @mention and react to comments inside noCRM!
---
How to make important information stand-out?
A proper follow-up on a prospect or a lead means lots of comments on their forms. As time goes by, you accumulate information and some of them need to be found quickly, without having to browse all the interactions.
To help you with that, if you have the Expert or Dream Team Edition, you can easily pin the information that you consider to be the most important, as shown in the picture below: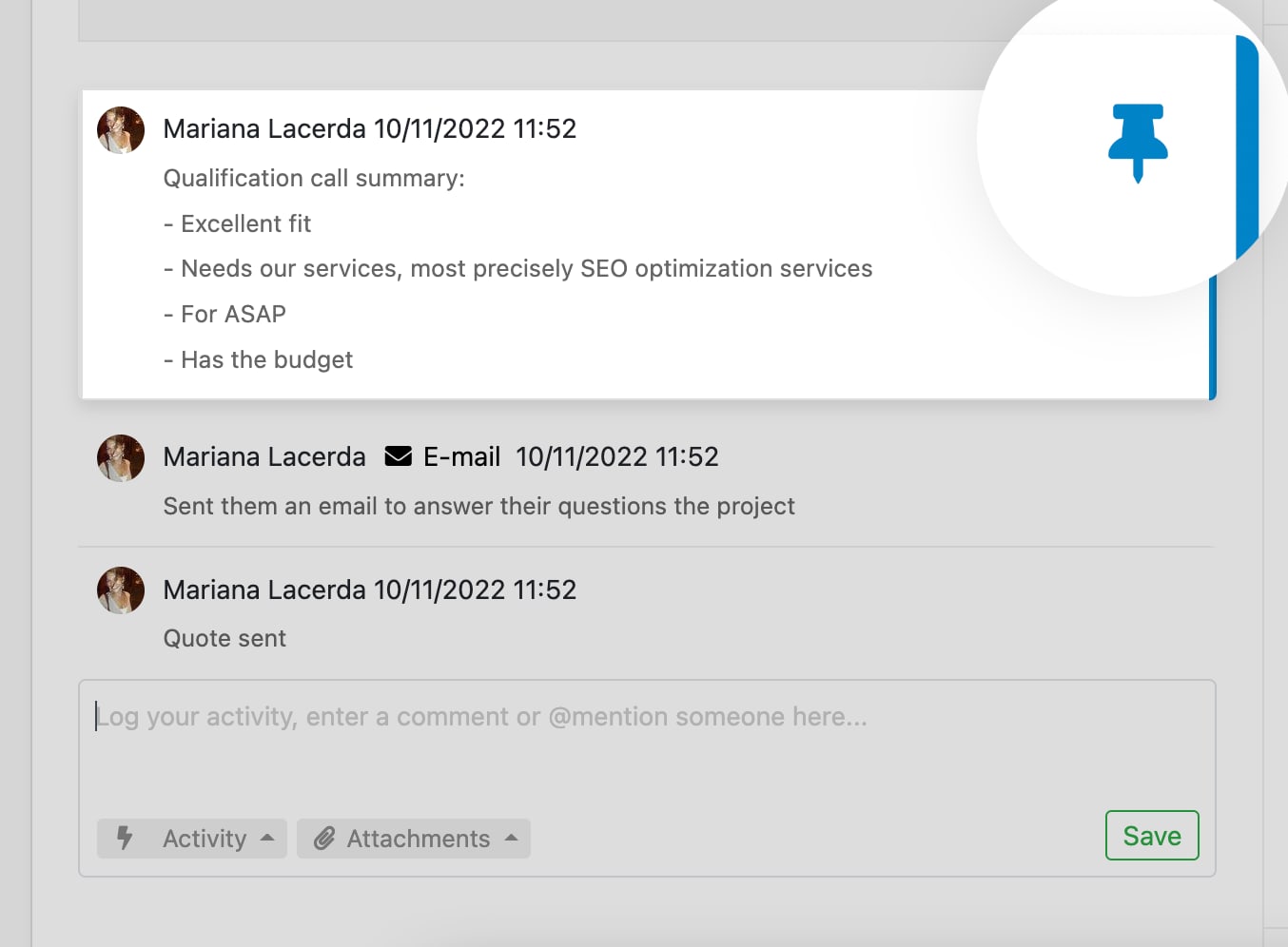 Simply click on the pin 📌 icon present at the right of the element you wish to stand out, and it will be pinned at the top of the comments section.