Assign new or old leads to other reps
This article answers the following questions:
Every lead created in noCRM must be assigned to a user to be managed in the sales pipeline.
An admin can easily manage the sales team in noCRM and change the owner of any existing lead by:
Choosing the user you wish to assign the lead to at its creation (right side of the lead form)
Going in the Actions menu in the lead and clicking on Assign to
Clicking on the small picture of the lead owner
Using the Compact view
Assignment rules
It is always possible for an admin to assign leads to other users. On the other hand, non-admin users will only be able to do so if they have the rights.
By default everybody can assign leads to anybody, unless an admin changes that setting in the Admin Panel > Roles and privacy settings > Lead and prospecting list assignment and checks the boxes:
Only admins can assign unassigned leads
Only admins can reassign items (leads, prospecting lists, posts sales tasks)
---
Assign unassigned leads
To assign a lead that entered the Cold prospects tab to go in the Unassigned leads, you will be able to:
Massively assign them by checking the first box that selects all the leads displayed)
Assign them 1 by 1 clicking on the Assign to... button displayed in each unassigned lead
If you have the Dream Team edition and have created teams and team manager, you will be able to assign the leads to a team. The team manager will then have the ability to assign the leads to their sales reps.
---
Reassign leads
The leads found in the Leads and Clients tabs are already assigned to a user. If you want to reassign them to someone else, you can do it:
Massively in the Compact view
One by one by clicking on the Actions menu ', then Assign to
By clicking on the small picture of the owner of the lead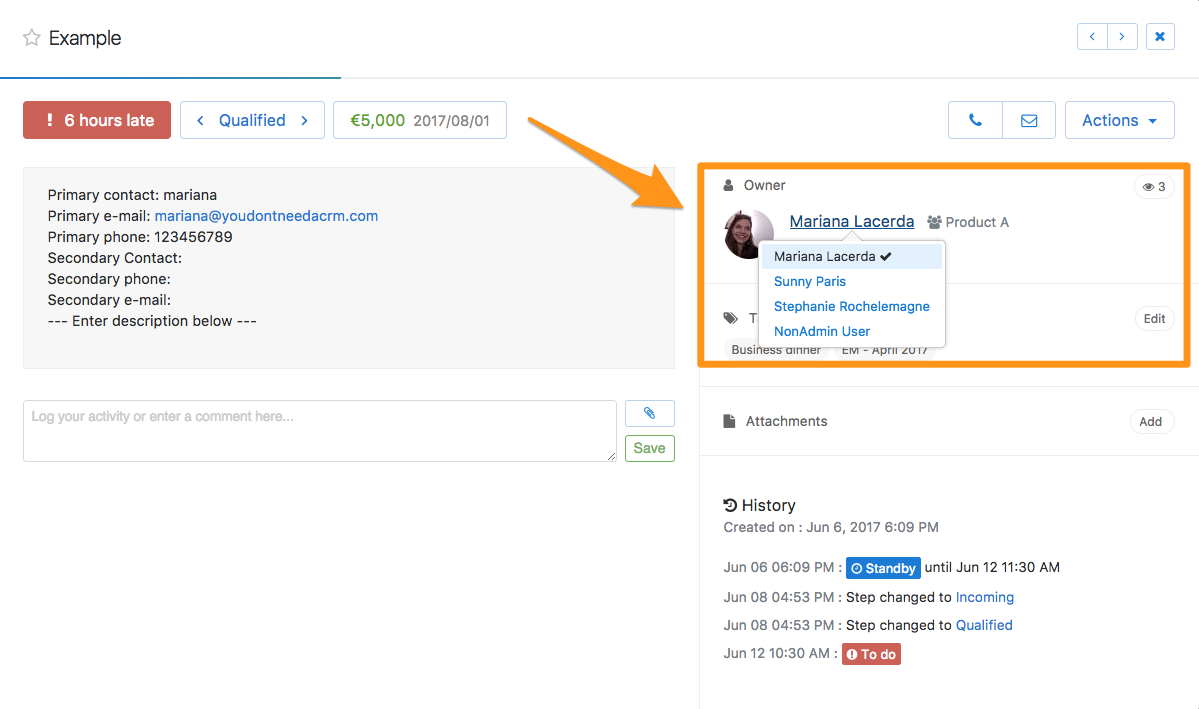 ---
Assign leads automatically when they are created in noCRM
You want to create leads from a contact form or via email, and have them automatically assigned to a user? It's possible.
Make sure that the email sent to your noCRM account via the address nameofyournocrmaccount@add.nocrm.io contains the smart field #user: email address of the user
More information on 'smart fields' in this Help Center article.